We receive many questions about our deer trapping efforts. So we decided to celebrate the close of the 2021 trapping season by answering some of our more frequently asked questions (FAQs) with Deer Forest Study facts!
Question 1: How do we age deer?
Aging deer down to the year can be very inaccurate.
Because aging deer is difficult (especially live deer), we do not determine the yearly age of each deer and instead classify individuals as fawns, juveniles, and adults.
Fawns are the easiest. We catch them in summer when they are still dressed in their cute little white spots. But we don't catch fawns all that often.
Most of our deer are captured as juveniles and adults each year in January through March.
Determining whether an individual is a juvenile or an adult is a bit more difficult. Generally, body size and tooth replacement can be used to classify each deer as a juvenile or adult.
For our purposes, adults are ≥ 1.5 years of age.
Juveniles are approximately 8 months old at the time of capture, born during the previous calendar year.
Below you can see how many juveniles and adults we capture each year (keep in mind we did the fawn study in 2015-2017)!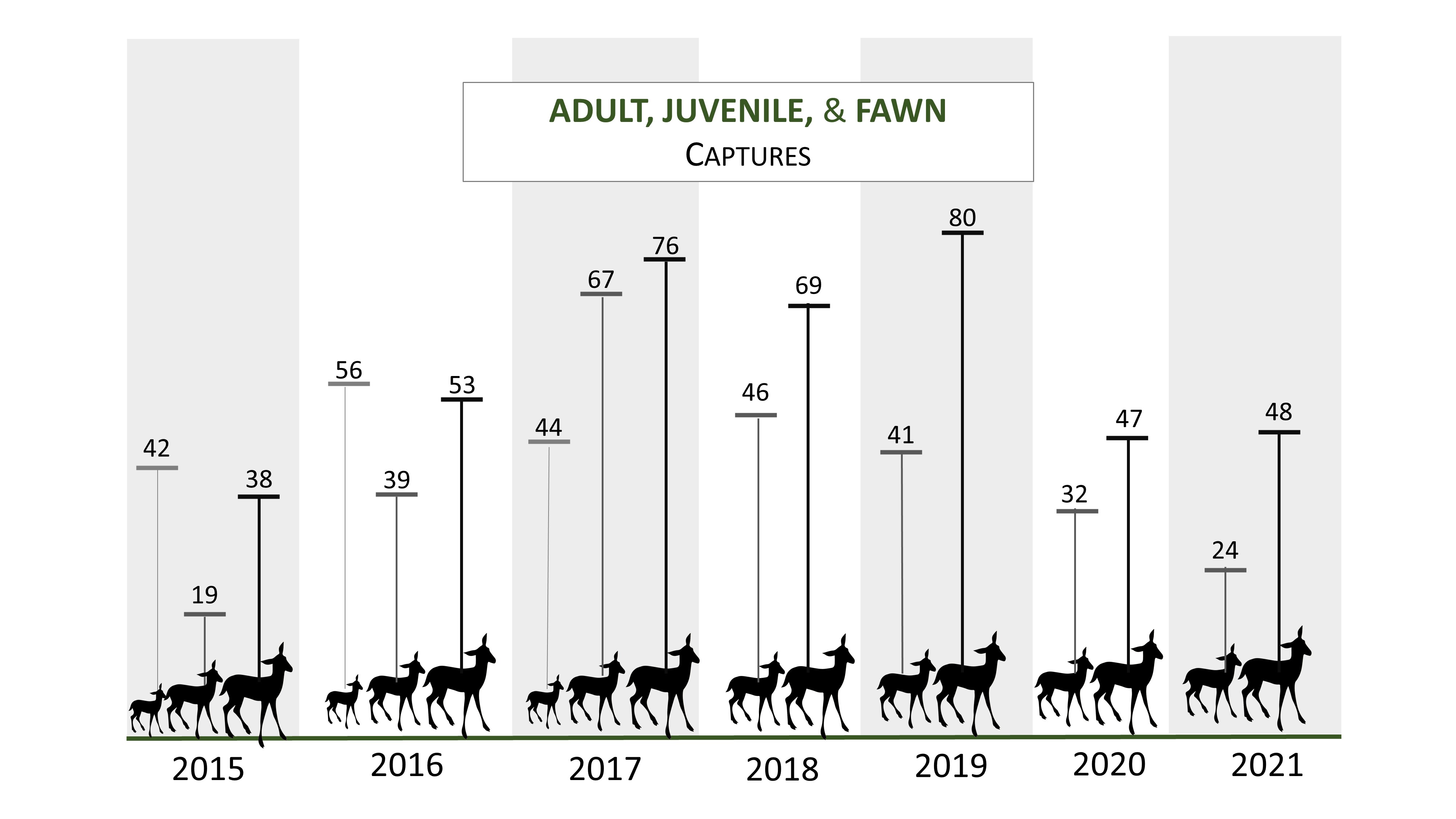 Question 2: How many deer do we capture each year?
Deer captures vary a lot depending on the project and location. The Deer-Forest Study has caught 656 deer – not counting recaptures!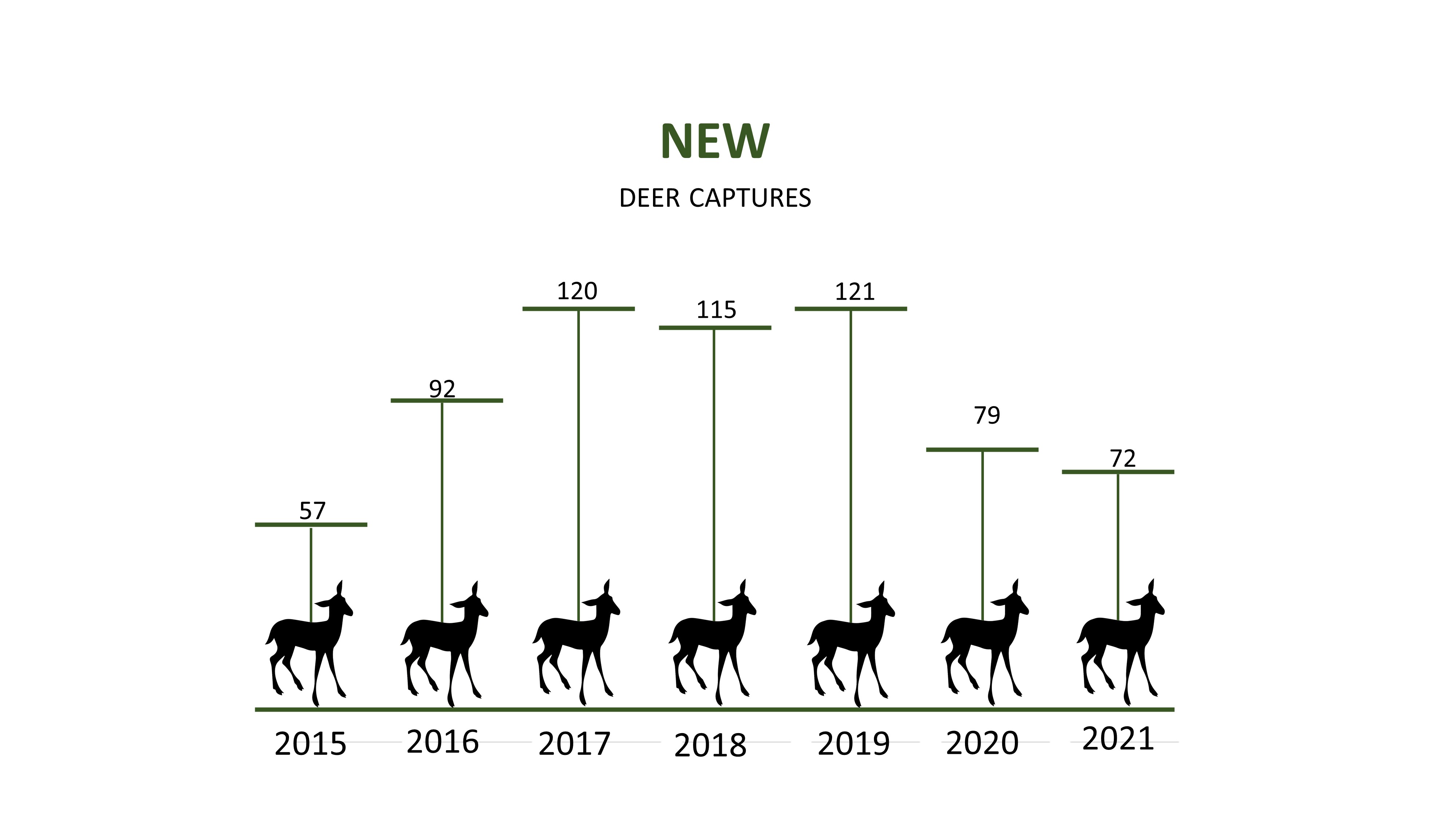 Question 3: How many males and females do we capture each year?
We usually capture more females than males each year. But the numbers are pretty close!
Question 4: What about adult bucks compared to juvenile bucks?
In the past (think 2002), we caught way fewer adult bucks than any other sex or age class because of hunting pressure. After antler point restrictions, we saw many more adult bucks in our traps.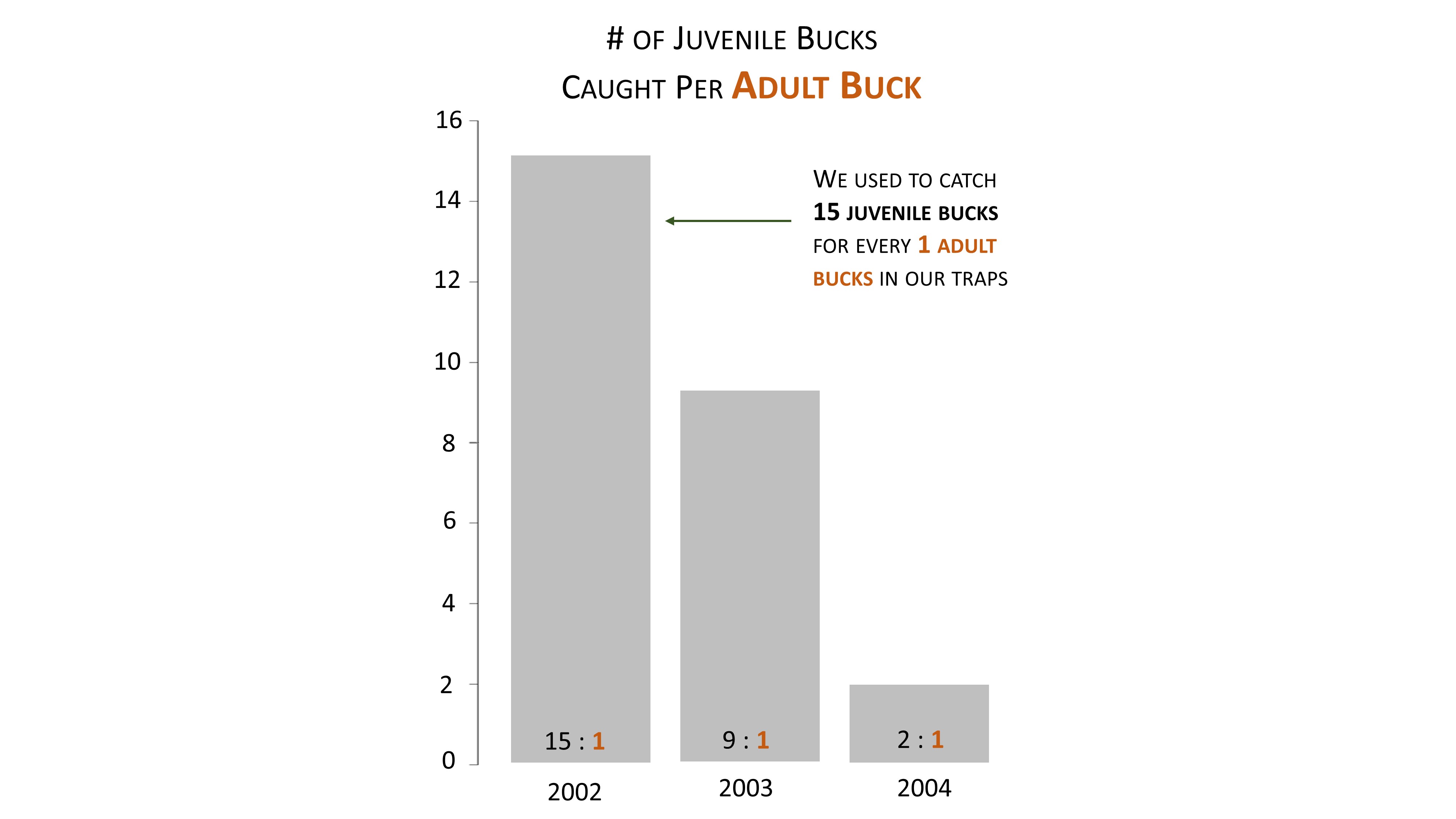 But that was back in early 2000's – so what's the trend now?
Well, now we catch more adult bucks than juvenile bucks (or about the same amount)!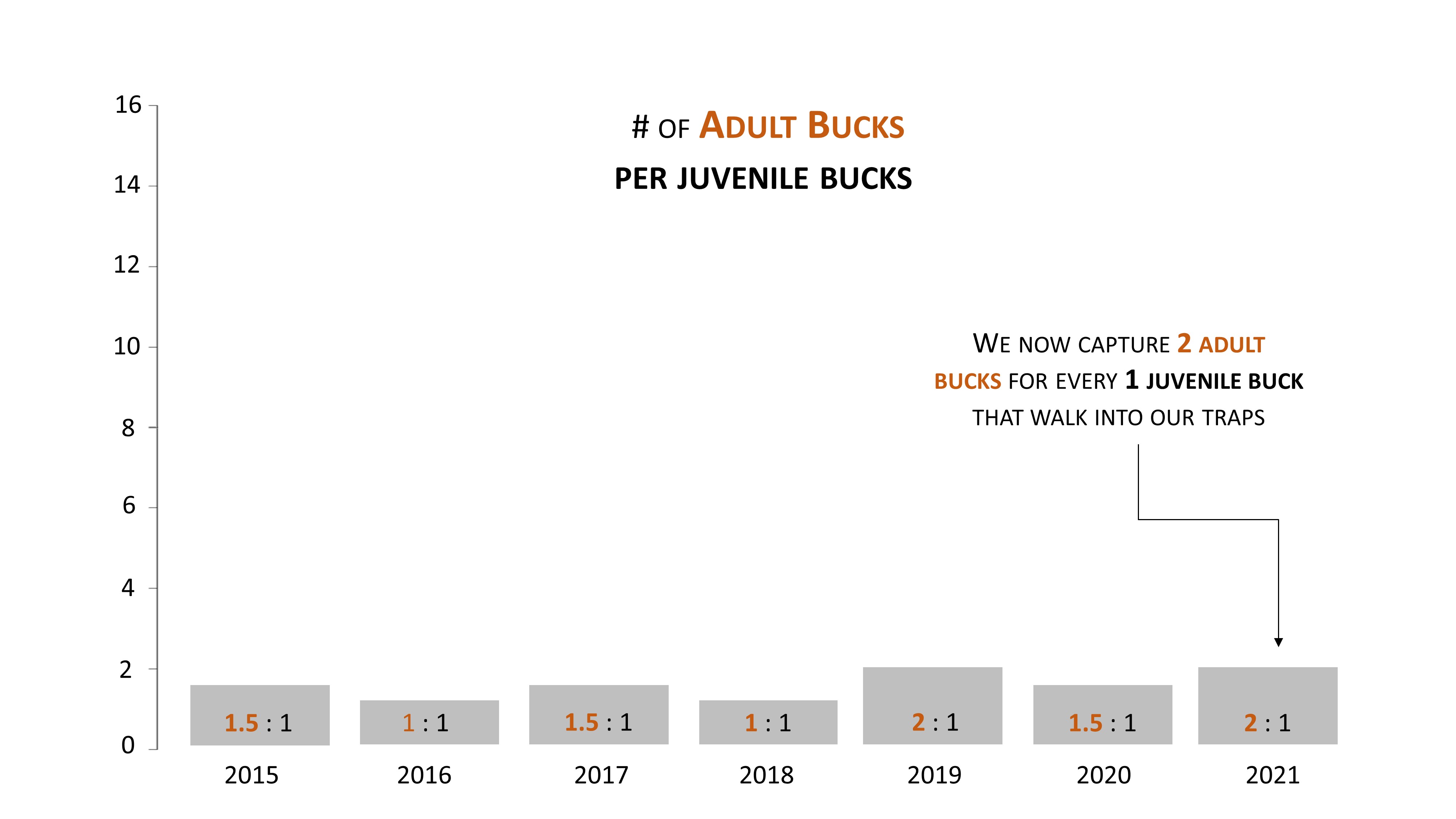 Question 5: How many deer do we recapture each year?
Trapping crews love new captures (Question 1) but sometimes they are disappointed with returning customers.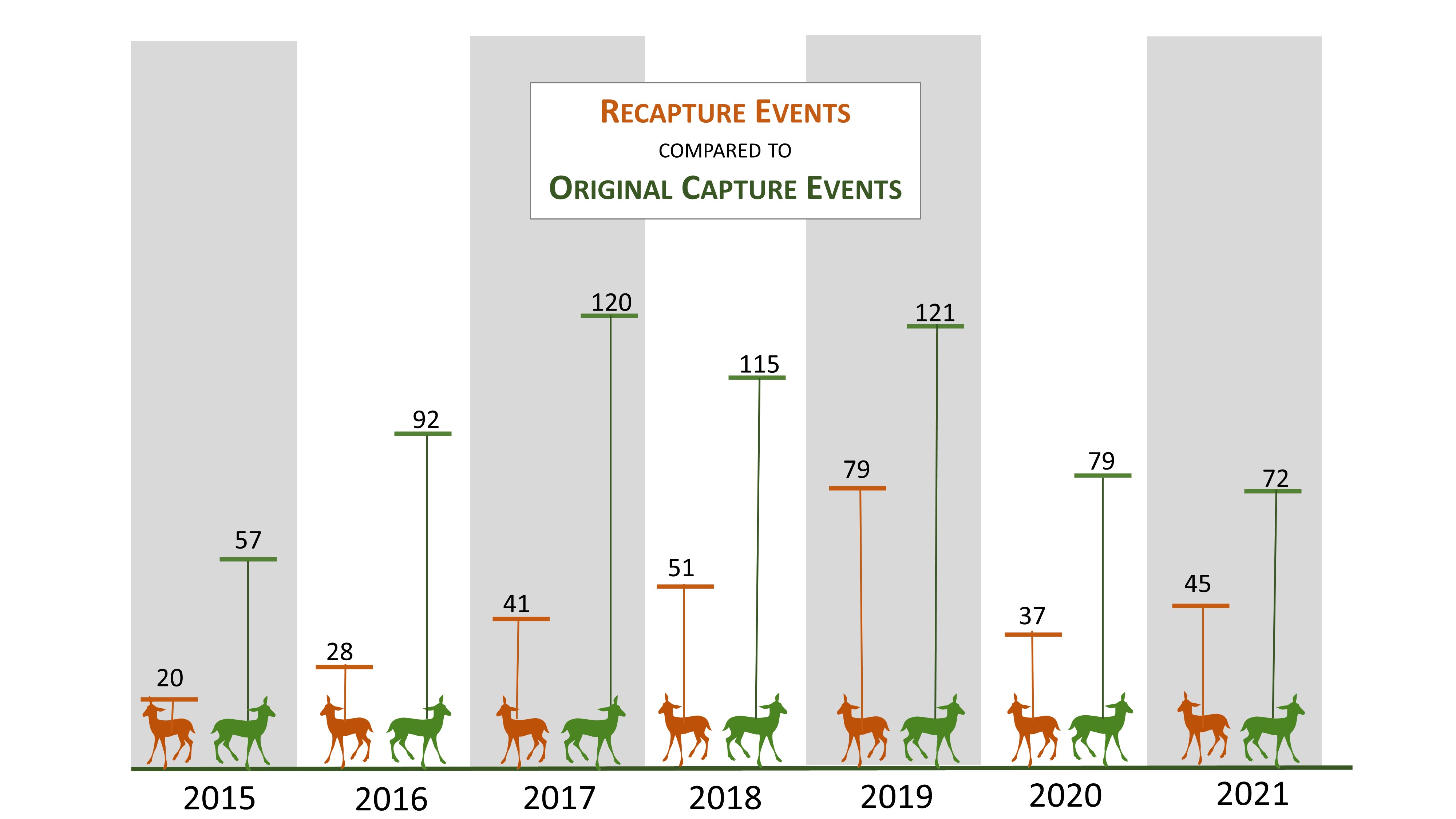 And just for fun…what is the record number of times we have caught a single deer?
The record belongs to our very own Buck 12842 being caught a total of 12 times. However, Buck 16189 has been caught 11 times. First caught in 2019, Buck 16189 visited our traps twice in 2020 and 8 times in 2021! 2022 might be the year he pulls ahead.
-Tess Gingery
Research Associate
The Deer-Forest Study