None of the Deer Forest Study objectives have anything to do with deer movements specifically. Deer are collared to understand harvest rates and monitor populations. A byproduct of that is location data which our readership loves.
While deer movement data are beloved and requested by the masses, it usually only perplexes us. Summer Vacations, Bachelor Pads, Gretel, and, of course, our biggest mystery, The Life and Times of Buck 8917 – all have what we would consider unusual movements.
Guess what? I'm going to add yet another to our growing list of "Why would s/he do that!?!"
Meet Doe 12866. She was captured as an adult on our southern study area in Rothrock State Forest on January 29, 2017. Behold her home range through April: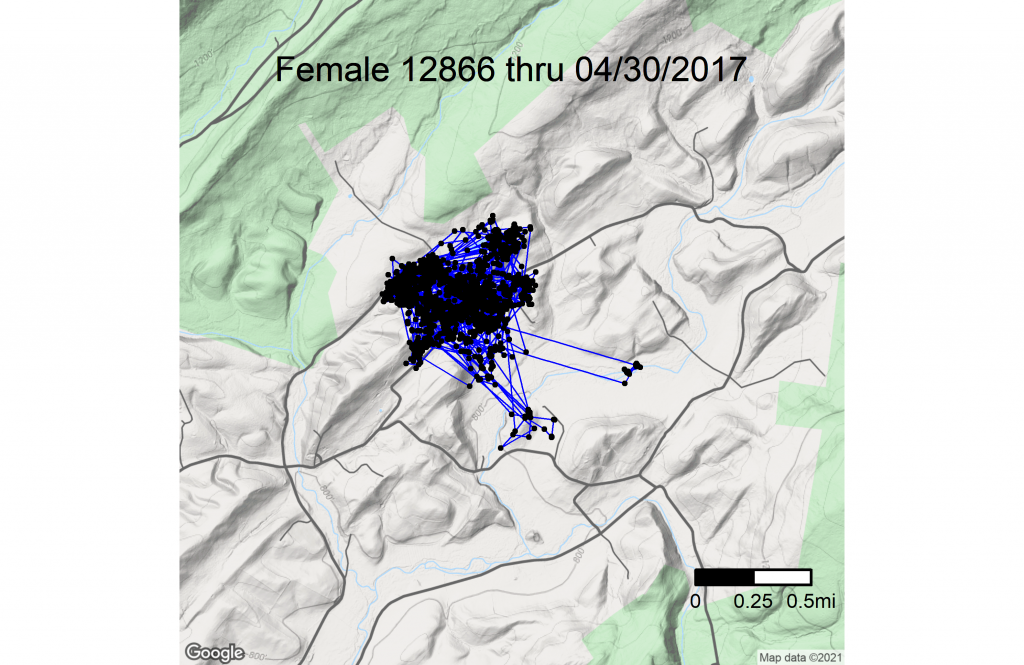 Not anything out of the ordinary. Her home range size is about half a mile across, which is on the small side for a doe in winter. One thing I forgot to mention. Doe 12866 was captured during the fawn survival project which means she received a VIT as well as a collar. It also means her fawn was captured and collared.
I also forgot to mention that this home range only includes locations through April 2017. If Doe 12866 garnered her own blog post, you can probably guess that something unusual happened during the time she spent on the air with us. And you would be correct but you'll have to wait until next week to find out exactly where her travels took her.
-Jeannine Fleegle
Wildlife Biologist
PGC Deer and Elk Section
All Posts in this series:
The Real Does of the Deer Forest Study: The New Norm?
The Real Does of the Deer Forest Study: Pregnant and On the Move
The Real Does of the Deer Forest Study: Maternity Ward
The Real Does of the Deer Forest Study: Love and Loss
The Real Does of the Deer Forest Study: Holiday Drama and Life Lessons