Check Facebook and you know what time of year it is.
Newsfeeds are plastered with photos of friends enjoying their respite from life – otherwise known as the summer vacation. A brief week or two spent pretending you did own that summer home or that bachelor pad. Alas, we are not all 1-percenters.
Deer get it too.
They can't all be like Ms. 12815 jet-setting off to her northern retreat the minute the snow melts or living life without a care like Mr. 12783. No, most of them have bills and responsibilities (well, maybe that's just us but you get the picture).
Like us, some have found their way around the realities of the world even if it's just temporarily. Meet 17163 and 17157 – the timeshare twins!
Female 17163
We captured Female 17163 on March 3, 2015. Now sporting a GPS collar, we could follow her every move and you won't believe what we saw. What on earth is going on with her home range? She clearly has a core area but she has also made a series of trips to the north – along the exact same 3.3 mile path.
Why? We have no idea. However, we have locations every hour for this deer because she had a VIT (link to VIT post) implanted. She first traveled north on July 17. Seems like a nice time of year to take a vacation.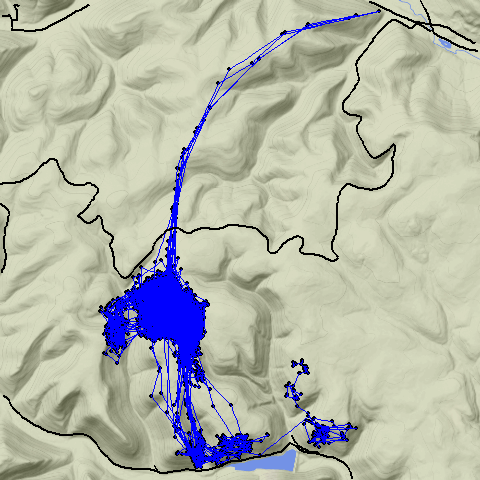 Female 17163 home range in 2015 showing several forays to the north.
Her second trip north was October 5th – perhaps it's a great spot for leafpeeping as well!
In 2016, she took a couple of late winter/early spring day trips on what appears to be her I-95 corridor but didn't quite make it to her vacation spot. I'm guessing it's not the best time of year to travel.
Female 17163 home range in 2016 showing several shorter forays to the north.
What is happening here? Who knows! We do know that some landowners are feeding deer at the northern end of this deer's travels. Maybe she's checking it out periodically. However, there are many shorter trips along that same path. So that really doesn't explain why she would venture out of her established range.
Female 17157
We first met Female 17157 in January 2014. She only received ear tags then. When she decided to visit our traps again in March 2015, she got the whole kit and caboodle, which means a GPS collar and VIT.
Similar to Female 17163, she hopped on I-95 on June 26 around 11am and spent a couple of days at the same vacation spot. But it's about a 10 mile trek for her! She returned June 28 at 2am. Probably trying to beat the traffic.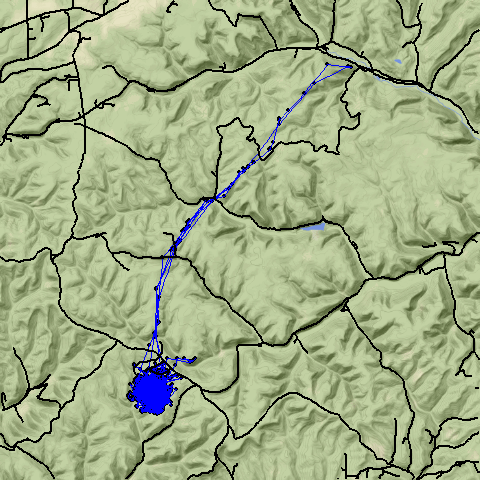 Female 17157 home range showing two forays to the north in June/July 2015.
On July 24, she hit the road again but decided it was just too far to go all the way to the timeshare. She stopped about halfway there coming home 2 days later.
Ms. 17157 also made a winter foray (maybe to ski if this timeshare is an all-season resort?) in January 2016 and spent a couple of days on the slopes. As you can see (image below), she likes to travel but doesn't like to be away from home for more than a few days.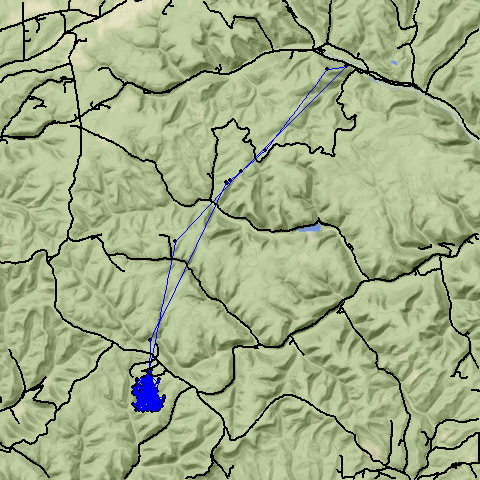 Female 17157 home range showing a foray to the north in January 2016.
Now take a look at the travels of both these females placed side-by-side!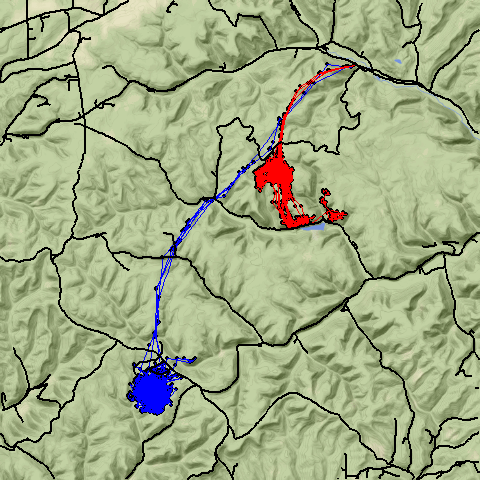 Home ranges of females 17163 and 17157 in 2015.
Two deer that live about 5.5 miles apart that go to the exact same spot and even travel the exact same path!
What can explain this behavior?
Unfortunately, we don't have the complete history of these deer because they were both captured as adults. However, we examined their DNA and they are not related to one another so we can't necessarily explain this movement as returning to their birthplace (at least from the same parent).
If they are traveling to this site because of feeding it has to be really special feed because for Female 17157 (southern deer) there is a lot more feeding going on in that area than 10 miles to the north.
It's a mystery to us what the motivation or cause of this behavior might be.
What is eye-opening (and concerning) about this movement behavior is that these females are traveling 3-10 miles across the landscape several times a year. These deer aren't traveling alone either – whatever diseases and parasites they have are taken along for the trip too.
Large scale movements are usually done by yearlings – an average of 5-6 miles for yearling males and about 11 miles for yearling females – but it appears traveling isn't just for the young.
As these data show, on rare occasions, even adult females are moving across the landscape at similar distances on a regular basis but then return "home." From a disease management perspective, these movements can have serious implications for diseases like chronic wasting disease.
Yikes!
-Jeannine Fleegle and Duane Diefenbach

If you'd like to receive email alerts for new blog posts, click here.
Related articles:
Summer Homes… or Bachelor Pads!
And Follow us on Twitter @WTDresearch