We've written about the movements of deer in October – these have covered rain, the wind, and the dreaded October Lull, not to mention the rut. But we've never addressed weather in the rifle season because it is hunter activity in the woods that influences deer movements – and we've shown you lots of movies of how deer avoid hunters. My favorite is Hillside Doe.
But what about this year? It was one of the most unenjoyable from a weather perspective in recent memory.
About 8am on opening day I was hoping the rain was not going to be as bad as predicted. But I could see by the radar app on my phone that some heavy stuff was headed our way.
By 8:30am the rain was coming from the south. And hard! Glad that I had purchased lens covers this year for my scope, I noticed the water was beading up nicely on my newly-refinished stock. What fun!
By 9:30 the rains had made their way down to my lower back and were puddling in my seat pad. I had seen enough rain and no deer. I went back to the house.
My daughter was sheltered under a pine tree during the initial rain onslaught, so she wasn't ready to give up yet and she headed up to the pines to sit. When she returned soaked and cold an hour or so later she only saw one deer. It was a sub-legal buck that watched her walking as he was bedded chewing his cud. When my daughter stopped he just looked at her and eventually got up and slowly walked away.
He didn't seem to be in much of a hurry to leave his comfortable spot. Were other deer doing the same thing? None of my friends and neighbors saw many deer. But maybe that was just because most of us got wet and headed back to the house?
I thought if the weather on opening day would have an effect on deer movements, it would be this year. So let's see what the data show.
I took all our locations of deer collected on the first Monday and Tuesday of 2013-2018. Six years of data! I only used locations between 6am and 6pm. My prediction would be that in 2018 there would be substantially less movement compared to previous years if the rain influenced deer as much as it influenced hunters.
If you've read our previous posts on weather, we found that female movements were less influenced by rain than were males. Males tended to move less when it rained.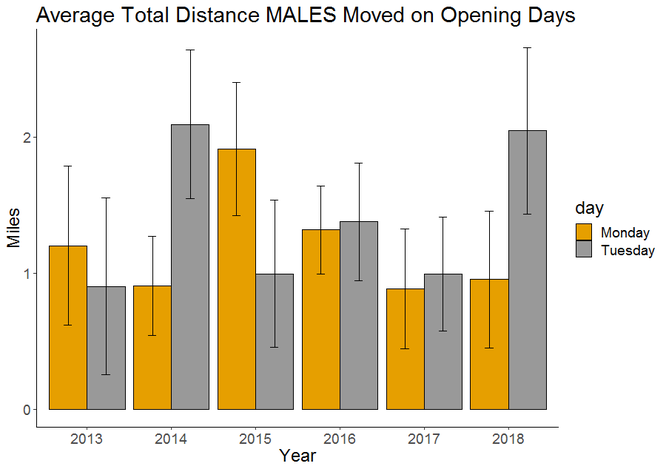 I'd have to conclude weather had little effect on buck movements (males at least 2.5 years old). Although some years saw almost twice as much movement as other years (even between Monday and Tuesday!), there wasn't anything unusual about our Monday opener this year.
Females showed no evidence of the rain on Monday influencing their movements. Females also show substantial variability among years – even between Monday and Tuesday.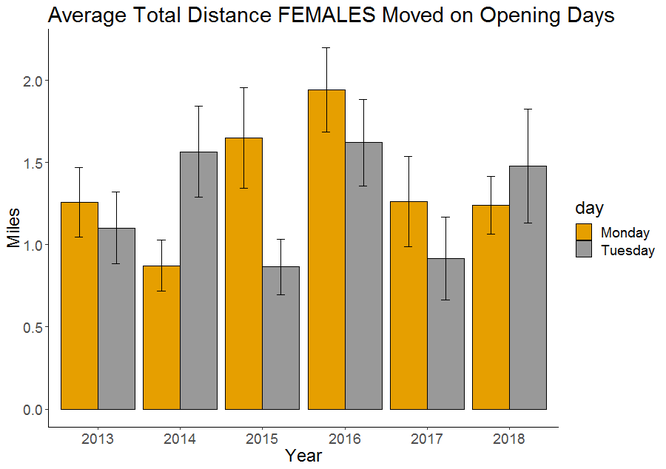 I have two conclusions to take away from this little exploration of weather and deer movements during rifle season. First, the distance moved seems to vary from year to year, but we have no evidence the 2018 rain event greatly affected those movements. Second, if I didn't get so wet and cold I should have kept hunting!
-Duane Diefenbach
If you would like to receive email alerts of new blog posts, subscribe here.
And Follow us on Twitter @WTDresearch