For most buck movies, it's pretty evident when the rut starts because they either expand their home range dramatically or leave their summer home range altogether.
There is an exception to every rule of course. Meet Buck 12786. He doesn't have an obvious change in his home range during the rut which is unusual. For most of the year, a buck's home range is only slightly larger than a female's home range.
But when the rut starts, watch out! Buck home ranges are, on average, double the home range size of a female. Some of our bucks have home ranges that triple or more. With that expanded area, they are traveling as much as 80-90 miles over a 4-week period.
But not Buck 12786. Watch the movie and see if you can tell when the rut starts for him. It's not so easy to figure it out.
It's clear there is something going on by mid-November. But none of his movements are that extreme when compared to his August-September locations (in light blue). It looks like this buck never needed that credit card. Maybe instead he just visits the cash machine on his way to the next ridge top.
If you don't think he was ever in rut mode, look at this graph of his daily movements. The y-axis is the distance traveled per day and the x-axis (not labeled so you can't see the dates and cheat on the survey 😉 starts August 1st and ends November 20.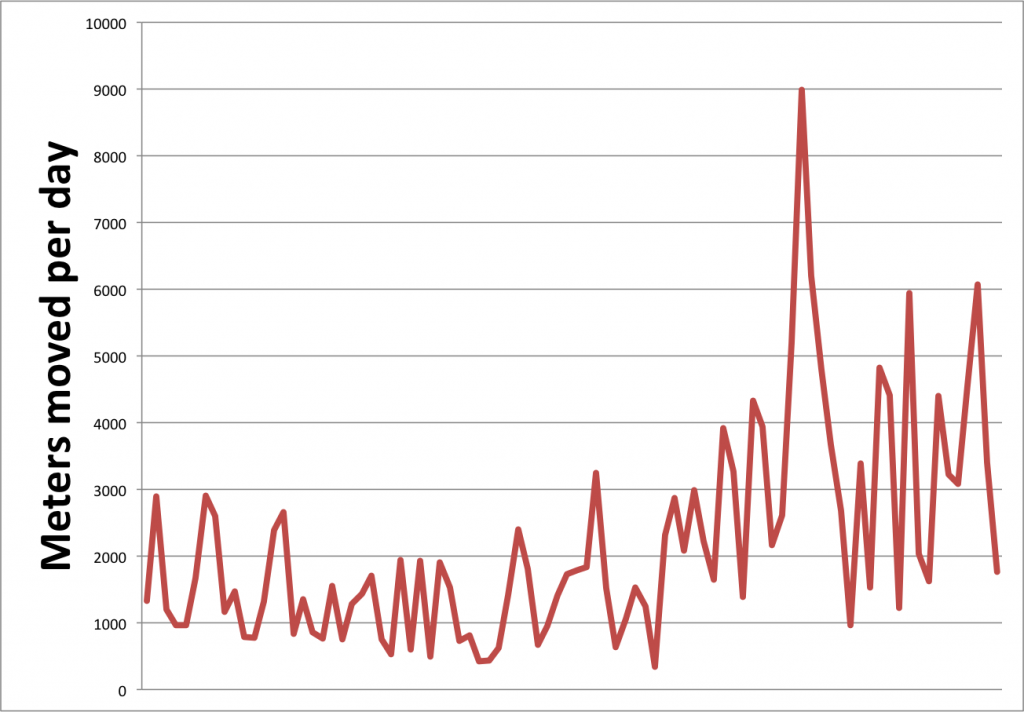 Clearly something is going on because in one 24-hr period he traveled 5.6 miles (9000 m), which is 3-4 times farther than in late summer!
Watch this movie as many times as you like! When you think you know when this buck begins and ends his rut movements, enter your dates in the online survey. The survey will be open until 11pm on November 15, 2016.
We end the movie on 20 November because that's when bear season starts. Although there is still some breeding that occurs through the end of November, the bear season and rifle season have a greater influence on buck movements than finding the love of his life.
-Duane Diefenbach
Links to other movies of bucks in rut: 12785 12792
If you would like to receive email alerts of new blog posts, subscribe here.
And Follow us on Twitter @WTDresearch