After a rough first week, my crew has really hit their groove this week with vegetation surveys. Good thing too, because we made 4 trips to Bald Eagle State Forest and had to survey at least one site per day. Several of the plots this week were a 1½- to 2-hr drive from State College, so we had to make up for car time in the field by maximizing our productivity.
Why such a tight timeline?
The summer survey season is only 12 weeks long (if you don't include the time we spend training crews). And since we work four 10's instead of five 8's—that means there are only 48 total work days. It doesn't leave much room for error (or uncooperative weather for that matter!).
Even more important than getting the work done, though, is getting it done at the right time. Timing of plot visits is crucial because vegetation characteristics change over the course of the summer. Species come and go (remember those spring ephemerals we told you about?), and a site will look much different in May compared to August.
If we try and detect long term changes by comparing apples (May) to oranges (August), we won't answer our research questions. This is why we revisit plots within a 7-day window each year, making sure we're comparing apples to apples and oranges to oranges.
Of course, I try and build in a buffer day for surveys by spending two days in a row at each plot we visit. The first day is for vegetation data collection, and the second is for fixing fences, collecting soil samples, and taking canopy photos. That way, if we are behind the first day because of weather or unforeseen circumstances, we can wrap up what we didn't get to within that 7-day window.
No such luxury this week! Monday was uneventful (I like those!), but has now been unofficially deemed "bird day" after the number birds we saw. These included an ovenbird with a nest of chirping little ones, an American redstart with a clutch of eggs, and several eastern towhee fledglings being fed by Momma as we ate lunch.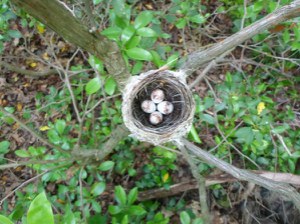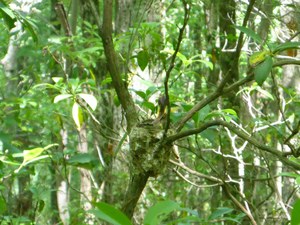 American redstart nest (left) and female on the nest (right). They commonly make nests in the crotch of small trees and shrubs, in this case mountain laurel.
We also found a GIANT American chestnut tree that was fruiting. I'm too young to remember how common American chestnut trees were before the blight. But this one? 11 inches at DBH (diameter at breast height, which is 4.5 feet above ground level)! In hopes it may be blight resistant, we GPS waypointed it so it can be found again.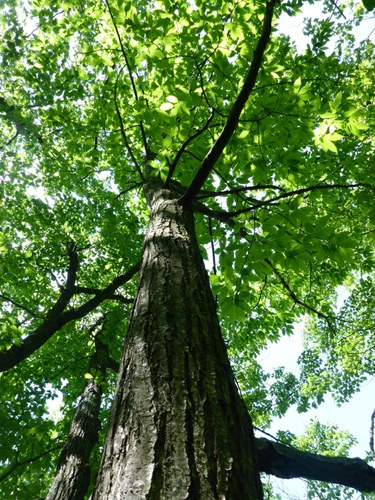 Tuesday we managed to avoid rain, but had a false alarm with a thunderstorm. We rushed down to the truck after lunch to take shelter, only to have the sun shine on us like fools. Of course, the week would not be complete without rain, so on Wednesday it was chilly and rained off and on all day. Fortunately for us, we were near the truck on Wednesday and had cell service, so we could take shelter when conditions worsened. Safety first!
The week ended on a very positive note. The weather Thursday was absolutely beautiful (75 and sunny!) and we managed to get some extra work done before calling it quits. We also found a garter snake that had recently shed that was easily 3-4 feet long. Pretty nice find!
-Danielle Begley-Miller
Ph.D. graduate student
Department of Ecosystem Science and Management
PA Cooperative Fish & Wildlife Research Unit