Buck 12783 is quite the character.  He has a bachelor pad during the rut that is in a different location from his winter, spring, and summer home range.
We don't get to follow him anymore because his collar's battery has reached its life expectancy. Not to mention he's exceeded what we anticipated would be his life expectancy!
Let's reminisce about our last rut together.  On October 13, 2016, he returned to his bachelor pad and beginning October 27, 2016, we began collecting locations every hour.
In Pennsylvania, breeding begins to pick up in late October. By the end of October, 10-15% of breeding females will be pregnant. By November 13th, it jumps to 50%. Keep that in mind as you watch his activity.
In the movie below you can watch his speed (miles per hour) and cumulative distance traveled. Both are pretty interesting.
But what's really cool is the MILES of hills he climbs. Check it out!
To be sure he's climbing miles, he not running them.  There are only 3 time periods where his speed exceeds 1 mph. More than half the time he's traveling <0.1 mph. The graph below is simply a tally of his speeds during all the 1-hour intervals we monitored him.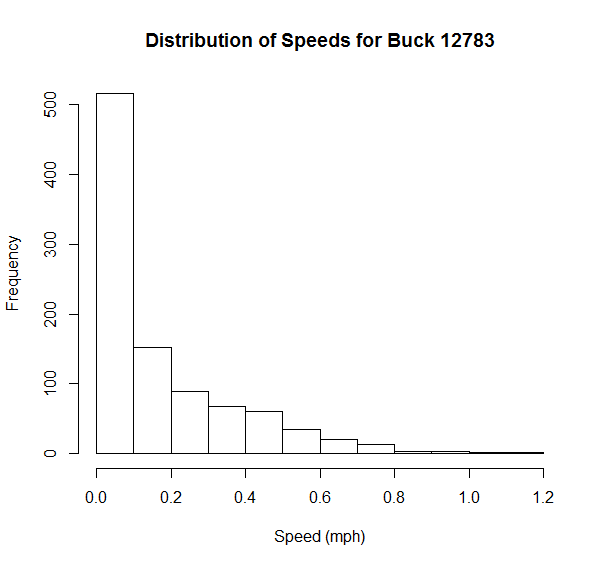 We followed Buck 12783 through the peak of the rut from 10/27 through 11/24. In that month he was a century buck traveling over 100 miles.  That's a little on the high side but not unusual for the bucks we follow. But in addition to those 100 miles, he climbed (or descended) over 16 miles in elevation!
The graph below plots the cumulative distance he traveled over time. Notice in mid-November the line is a little steeper? That suggests he was covering a little more ground leading up to the peak of the rut (November 13).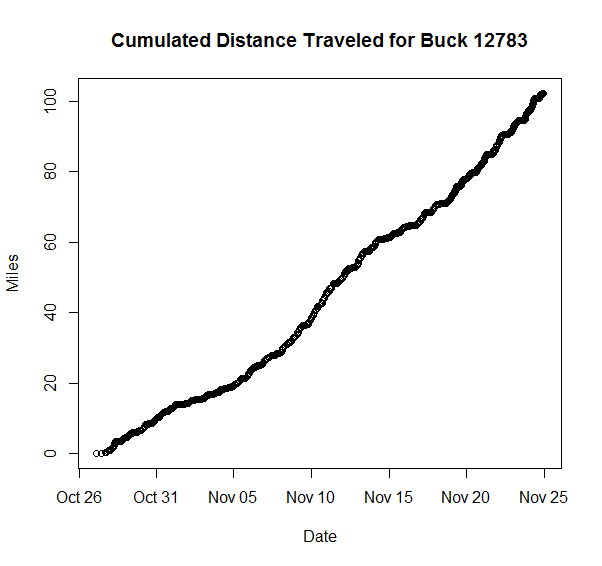 So over the course of almost 30 days, Buck 12783 averaged more than 3 miles a day and half a mile in elevation. That's one way to get in shape and shed some pounds before the holidays.  We can call it the Rut Weight Loss Program!
-Duane Diefenbach
If you would like to receive email alerts of new blog posts, subscribe here.
And Follow us on Twitter @WTDresearch