All the radio-collared deer in this study were captured as 1.5-year-olds or older, so by the 2013 hunting season they were all at least 2.5 years old and already survived two or more hunting seasons.
If you watched Hillside Doe during the rifle season, you know deer that survive two hunting seasons have a much better chance of surviving a third. It's because they found a place they can hide from hunters.
Bucks do the same thing as doe – find a hiding place – but I think they are even more cunning.
We first show you the hiding place of Deer 8917 in a movie. We'll then follow it up with the hiding places of two other bucks. I think you'll see the pattern.
Ok, so let's start with the movements of Deer 8917 for the whole rifle season. We shared with you his moves on the last day of rifle season in a previous post. In that post, Chris Rosenberry, Deer and Elk Section Leader for the PA Game Commission, pointed out that a lot of bucks make afternoon movements. And some of them are quite audacious – if totally unpredictable. But these bucks are also cunning in how they lay low. Watch the video (I highlighted his hiding area in blue).
Now for two other hiding places of bucks during deer season. What do you notice?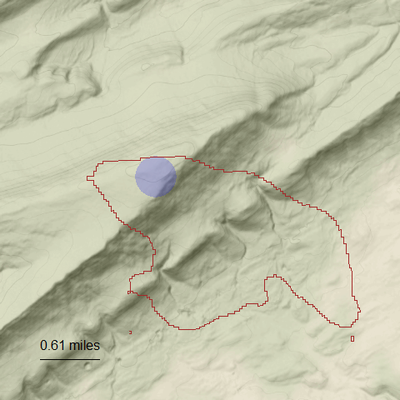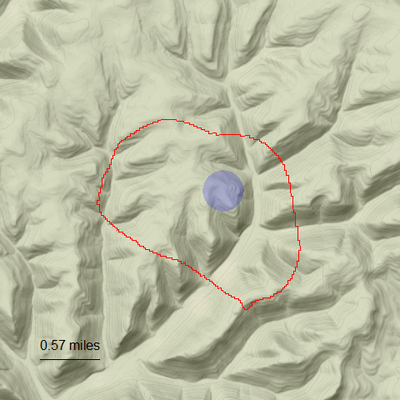 That's right, these bucks find what I call "vantage points." Places where the prevailing wind comes from the west – nothing is going to sneak up on them from that direction. And to the east? A steep slope where they can make a quick getaway – or definitely see or hear some hunter struggling up the slope!
The thing is about these hiding spots is that even if you knew where these bucks were, how do you sneak up on them? The bucks are often in place before dawn so they will hear you coming in the dark. And in less than 30 seconds they can be hundreds of feet downslope from you.
The one question we can't answer (yet!) is what is the habitat at these vantage points? Is it open woods or thick laurel? Does the downslope have a clear view or is it dense vegetation? This is something we'll be investigating and hopefully provide an answer to another piece of the puzzle about how these bucks survive. You'll find the answer here in a future post (just can't promise when).
Anyway, I told you they were cunning!
-Duane Diefenbach
If you would like to receive email alerts of new blog posts, subscribe here.
And Follow us on Twitter @WTDresearch