Field crews have started prepping for the upcoming trapping season. Trapping is a lot of work from beginning to end. Right now it consists of getting equipment field ready and locating potential trap sites.
Potential trap sites are pre-baited to grease the skids before the traps are put in place. As we all know, deer are keenly aware of their environment – what is supposed to be there and what is NOT supposed to be there.
Last week the northern crew was on one such pre-baiting expedition "way back" in the Susquehannock State forest. As we have stated in the past, being on a trapping crew is not for the faint of heart. I need not tell you how fickle the weather has been as of late. A snow squall had moved through while the crew was out.
Snow squall – a sudden moderately heavy snow with blowing snow and strong, gusty surface winds; often referred to as a whiteout and is similar to a blizzard but localized in time and space.
Snow squalls are to be feared in my opinion. Viewing one from the comfort of your living room is altogether different than viewing one from behind a steering wheel. I've lost years off my life because of this!
The crew braved the squall and were heading out of the forest. They paused to remove some downed tree limbs from their path when they heard it. That unmistakable hiss.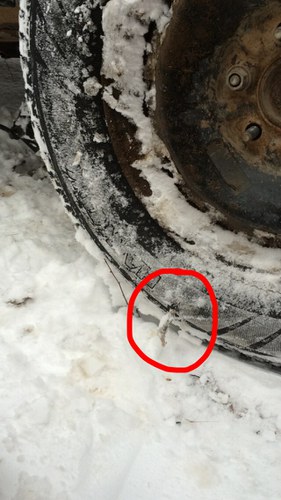 A stick (a STICK) had punctured one of the truck tires. It's one of those times you ask the powers that be, "Really?" And they answer, "Yes, really."
So add this to the list of tasks – change truck tire and bring in for repair…immediately. If there is one thing you don't want to leave home without during trapping season, it's a spare tire!
-Jeannine Fleegle (but Hannah White lived it)
PGC Deer and Elk Section
If you would like to receive email alerts of new blog posts, subscribe here.
And Follow us on Twitter @WTDresearch