If you read the last couple crew diaries, you may have noticed my name. I joined April and the rest of the gang for a day in the field a couple of weeks ago.
I love fieldwork. My first field job was an internship at the Rachel Carson National Wildlife Refuge doing spotlight surveys of deer. I learned what a woodcock was. My next field job was on uninhabited Marmot Island, AK with 3 other field techs watching Steller sea lions 10 hours a day alone in a tiny hut on the side of cliff. I learned the true value of water-proof boots. Then I became a deer trapper for a field season. I learned that deer made noise. Grad school and more glorious fieldwork followed. If this is what being a biologist is all about, SIGN ME UP.
So I signed up. No one told me that this was not reality. You can't make a living on a tech salary (at least not for very long). That's why these positions are filled by young people. Let's face it – the older we get, the less fun stuff we get to do. There is no bigger killjoy than life and it's ever increasing responsibilities.
The one plus to being a grown-up biologist is that I get to pick my days in the field. Unlike our crews that are out there every day in good weather and bad, I get to choose the best days. I picked February 24. February is the thick of trapping season. Crews have had time to work out the kinks and find the best sites. It's winter and the deer are hungry. I am well versed when it comes to wildlife capture. I know there are no guarantees. But I had set the odds in my favor.
The date was set and childcare arranged (in my case, a dog walker). And then…winter decided to go on hiatus. To say winter has been fickle this year is an understatement. Periods of frigid temperatures. Then warm. Followed by seemingly endless rain. Saturday's forecast was not promising. Rain…all day. But no matter. I had rain gear and it was only for the day. Unlike my summer in AK, I now own a pair of Bogg boots!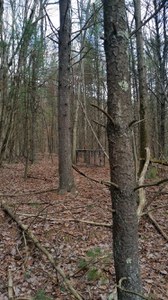 No deer were caught. Yes, I was skunked on my one day in the field (and we didn't see any of them either). On the plus side, it didn't rain on us. There was still plenty of mud and zero sunshine but at least we were not actively getting wet. Did it suck getting up at 0500 and driving 2.5 hours for no "reward"? Sure, but I had a great day with April, Nick, Randi, and Graham (Look – I remembered everyone's name!).
And as the saying going – a bad day in the field is still better than a good day in the office.
-Jeannine Fleegle
Wildlife Biologist
PGC Deer and Elk Section
If you would like to receive email alerts of new blog posts, subscribe here.
And Follow us on Twitter @WTDresearch