What is the probability an adult deer that survives the hunting season lives to see the beginning of the next one?
This question is not only an academic exercise but one of much importance to deer managers and hunters. The answer tells you whether you can "stockpile" deer – that is, protect deer this year to have them available to breed and be harvested in following years.
The question was answered quite well by Dr. Bret Wallingford, PGC deer biologist, when he studied the effects of Pennsylvania's antler restriction regulations implemented in 2002. Because what would be the point of protecting yearling bucks if they didn't survive to be 2.5-year-olds the following hunting season?
We now know that they survive in large number – 92% of bucks that survive the hunting season survive to the following hunting season. And other research we have conducted since then has shown it's just as high or higher for female deer.
But what do those 8% die from? Of the almost 200 2.5-yr-old deer Dr. Wallingford monitored he found that only 16 died outside the hunting season.
| Cause of Death | # died | % died |
| --- | --- | --- |
| Road-killed | 8 | 4% |
| Disease | 2 | 1% |
| Illegally killed | 2 | 1% |
| Starvation | 1 | <1% |
| Crop damage | 1 | <1% |
| Predation | 1 | <1% |
| Unknown | 1 | <1% |
| TOTAL | 16 | 8% |
So what is interesting about all that, besides so few deer die? Not much, but sometimes the diseases are curious.
One such example is a deer discovered on camera by James Farley near our study areas on the Susquehannock State Forest. This deer developed an osteochondroma – a type of bone cancer – on it's skull.
Jim wrote me that the buck "appeared on camera with an open wound in the area of his right antler pedicle, and swelling on the right rear cranium area. I naturally assumed that he was possibly shot in the head with a small caliber rifle, or developed a soft tissue fibroma. I recorded images of him feeding almost daily, continuing to watch his condition deteriorate."
Here's a picture of him in late January.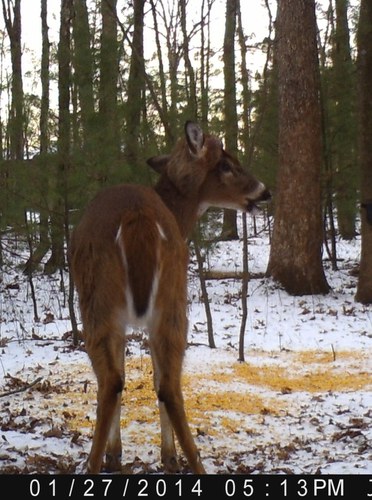 This buck's condition worsened and it was rather gruesome towards the end. Jim wrote me that "February 9th was the last time I captured an image of him, and soon after I figured he succumbed to his injury."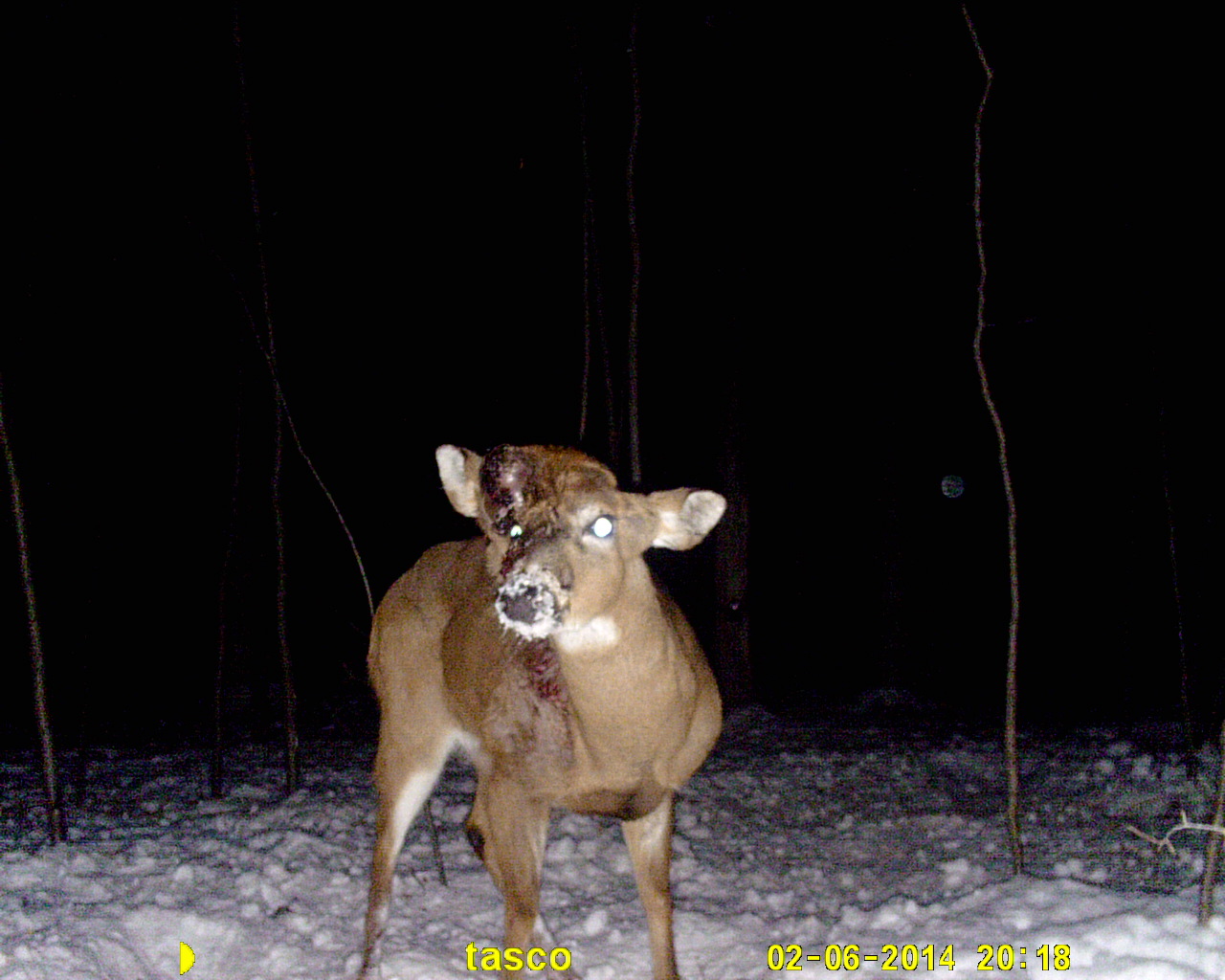 What is really interesting about this story is that Jim stumbled upon the deer's carcass months later near a creek. That's when he realized his game camera photos didn't document an injury but a disease. The skull clearly shows the extent of the cancer and that the growth on his head was not soft tissue – it was bone!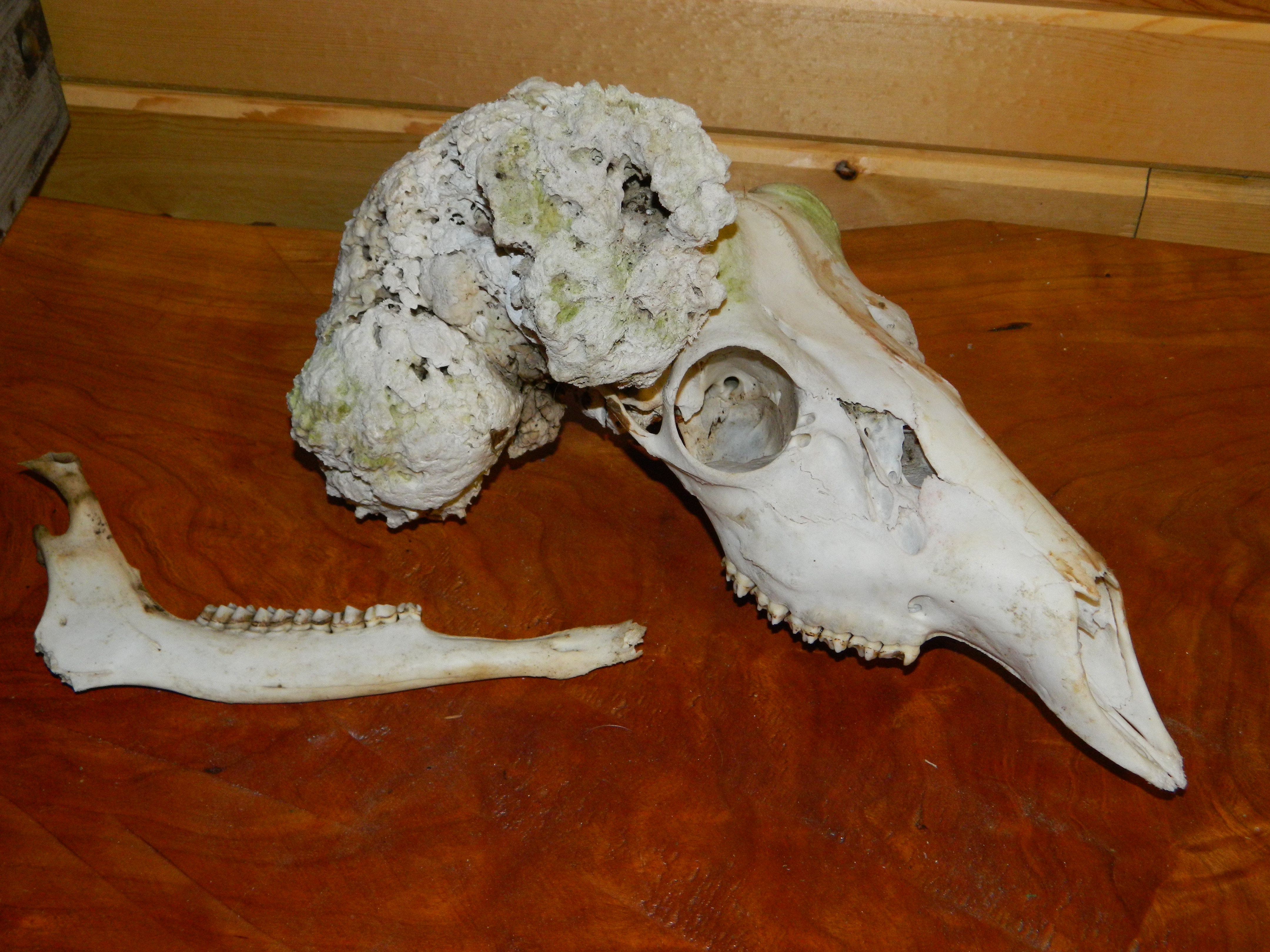 So how rare is this disease in deer? Extremely. I asked the PA Game Commission's veterinarian, Dr. Justin Brown, about it and he told me there are only a half dozen or so cases reported in the literature and they tend to occur in females. The earliest published record of this disease was in Wyoming in 1989.
Keep in mind that there are many diseases that causes "bumps" on the heads of deer, but most involve soft tissue, such as cutaneous fibromas or the mysterious "Bullwinkle" disease.
So not only is deer mortality outside the hunting season relatively low, a deer getting hit by lightning is probably more likely than dying from bone cancer.
-Duane Diefenbach
Acknowledgment: I'd like to thank Jim Farley for allowing us to share his story and photos.
If you would like to receive email alerts of new blog posts, subscribe here.
And Follow us on Twitter @WTDresearch