It is no secret that deer can live into their teens.  I've written about several old "ladies" in the past.  What I haven't written about is old men.  Bucks with their flashy head gear are highly sought after during the hunting seasons.  Needless to say, not many of our tagged bucks make it to a ripe old age.
That doesn't mean we haven't tagged some old bucks.  But if they are adults at the time of capture, there is no way to determine their exact age.  
Well, I can finally write a post about old "men."  A couple of weeks ago, we got a phone call from a hunter reporting a tagged deer.  Nothing out of the ordinary about that this time of year.  Reward tagged deer are reported to us throughout the hunting seasons.  
When we looked up the tag, we discovered that this buck was tagged in 2010 as a yearling which means he was 8.5 years old!  The hunter was nice enough to forward some photos and he was rather impressive.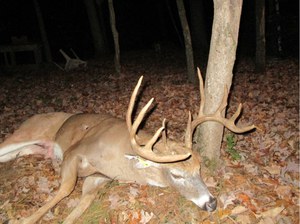 This buck was harvested during the archery season.  So, rifle, muzzleloader, and late archery hunters are out of luck this year.  But he was available for harvest as a 7.5-year-old, 6.5-year-old, 5.5-year-old, 4.5-year-old, 3.5-year-old, and 2.5-year-old for every deer season!  That means this buck outsmarted hunters for 6 years.  If he was a legal buck as a yearling, that would make it 7!  And let's not forget, he was an antlerless deer for one year too.
He wasn't as old as our Katniss Everdeen of 2G, but 8.5 years old is pretty old for a buck.  To give you a little perspective, less than 1% of bucks harvested are older than 7.5 years old.  
The hunter who harvested this buck was pretty awesome too.  He declined the $100 reward and asked that it be used on future research.  I guess Buck 11144 was reward enough.
-Jeannine Fleegle
Biologist

PGC Deer and Elk Section
If you would like to receive email alerts of new blog posts, subscribe here.