Many look forward to December 11 months of the year. If we surveyed the general populace as to why, the answer likely would be the biggest of gift-giving holidays. If we surveyed the readers of this blog, the answer likely would be deer season.
Anticipation is a large part of any experience, especially a happy one. Then when the big day gets here, we relish it even more!
But then it's over. Months of buildup and hours of enjoyment vanish… and it's winter. January is not the most festive time of year. What's a deer hunting junky to do?
Start obsessing all over again of course.
Recently we've been asked, "What's going on with deer movements after the rifle season? Do deer respond to late-season archery and flintlock hunters like they do in rifle season?"
Well, we can't say too much about it as most radio-collars were not programmed to collect intense locations like they do for rifle season.
The first few years of the study we collected locations every 3 hours beginning in October and every 20 minutes leading up to and during the rifle season. That provided some interesting insights into the movements of deer during rifle season – for bucks and does.
But those intense locations eat up precious battery life. Most of the year, we collect a location every 7 hours – three times a day. Why 7 hours? First, it's an odd number and over the course of a month we get locations at every time of day. Second, with this schedule the manufacturer calculated the batteries would last up to 3 years. And we have had some deer collared for 3 years!
But do not despair. We have some data and some data is better than no data. We can look at deer movements as a function of home range size. Taking all our deer data from 2013-2020, a semi-monthly home range was calculated for every deer. We have data from 180 different deer at this point in the study and this is the most comprehensive analysis of deer home range size we have shared on the blog to date. See, anticipation.
Check out the graphs below and pay attention to these things:
Male and female home range size is very similar through mid-October with males averaging just over half a square mile and females just under half a square mile,
Male home range size peaks in the first half of November, which makes sense because 50% of females are bred by 13 November,
Female home ranges slowly increase through January.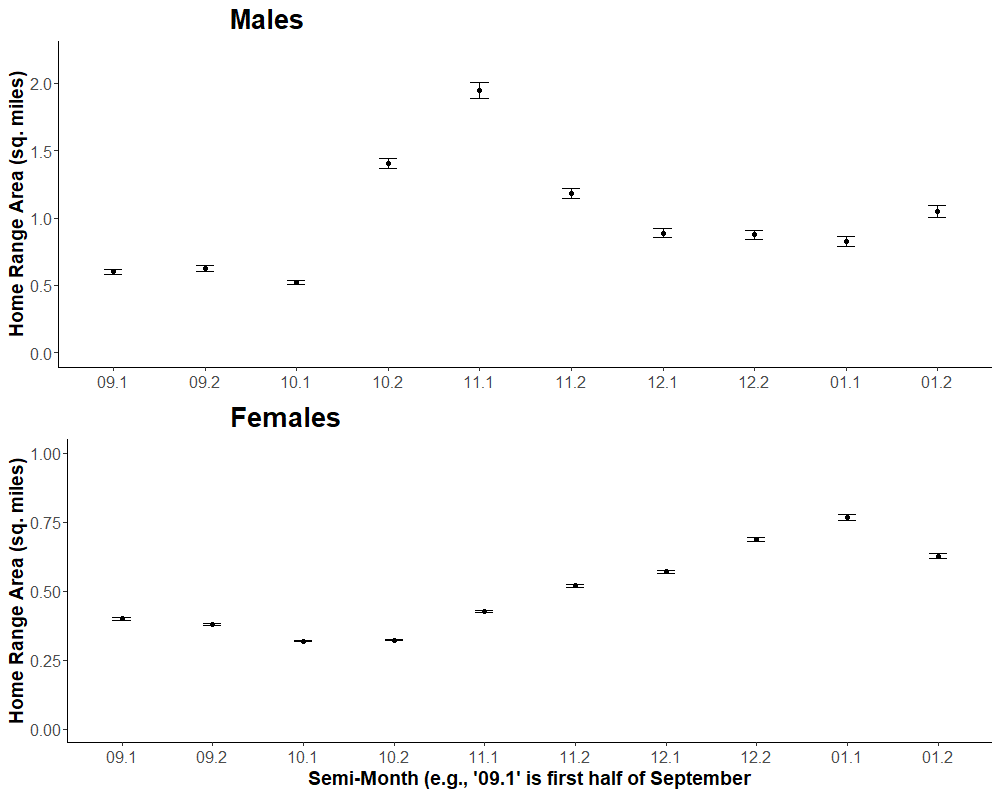 If you constantly captured a buck on your game cameras in September, you can see why he "disappeared" when the rut kicked in. The average buck is covering four times as much area in November.
Here are some examples of locations of deer throughout the year and just from mid-December through the end of January.
First up is Female 12371 – she was captured 17 March 2016 and tracked through 9 January 2017. We don't know the fate of this deer because the collar batteries were running low and we remotely dropped the collar. However, she did provide hourly locations.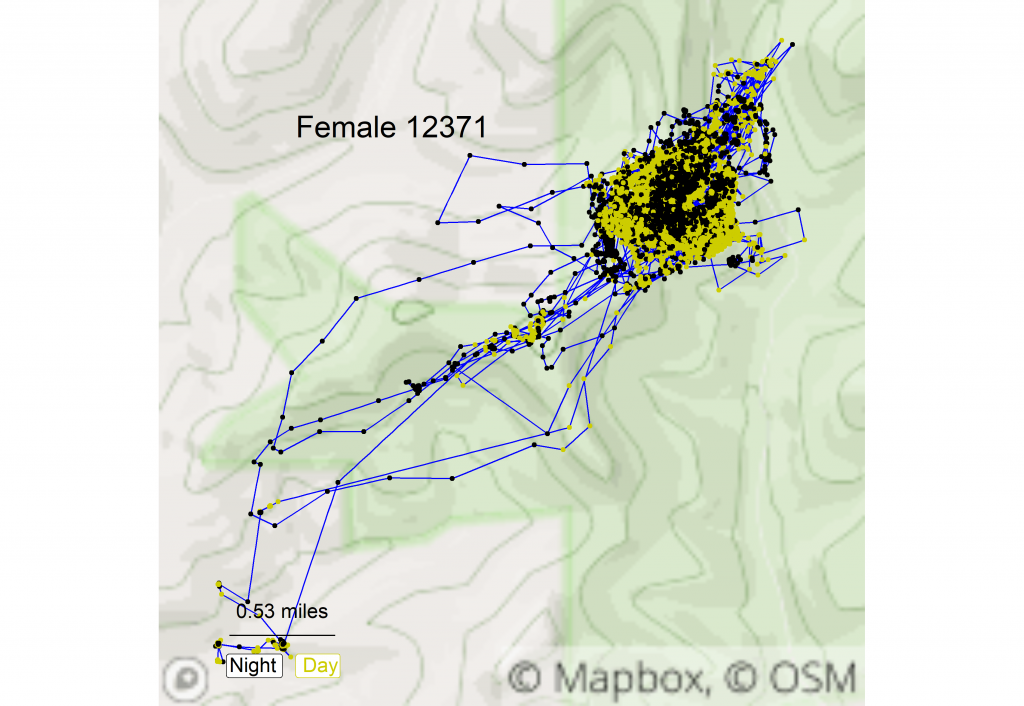 Here are her locations just for 15 December 2016 through 9 January 2017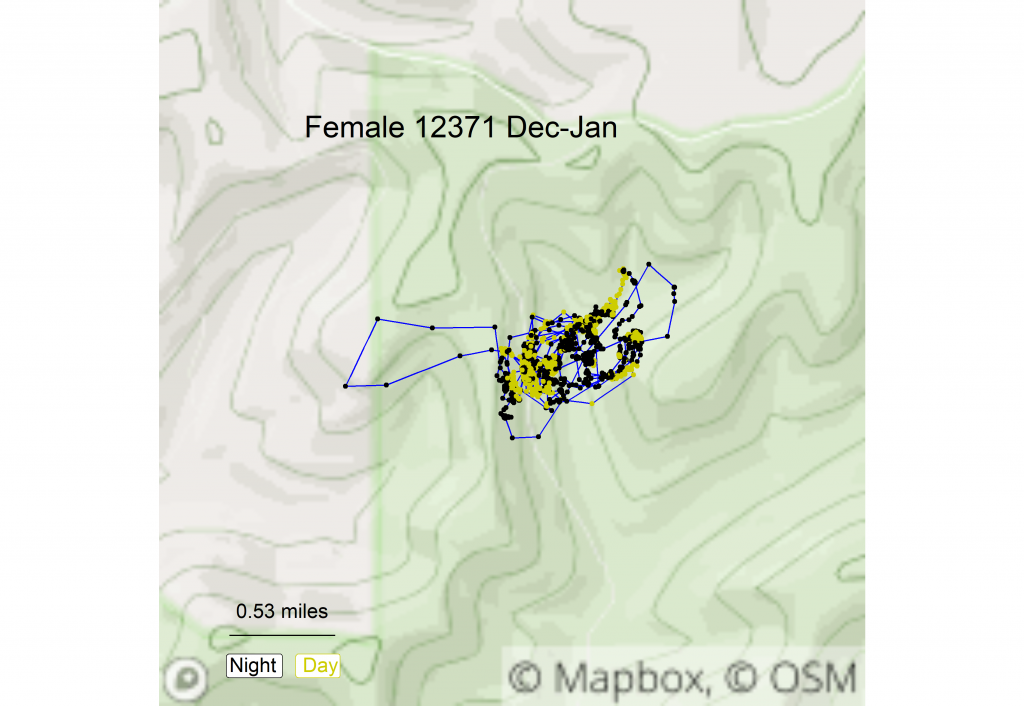 Here are all locations for Male 11993 – he was captured on 25 January 2016 and tracked until 20 January 2019 when we dropped the collar because of a failing battery. This buck was at least 5.5 years old when we dropped the collar. The map below contains 11,619 locations for this deer.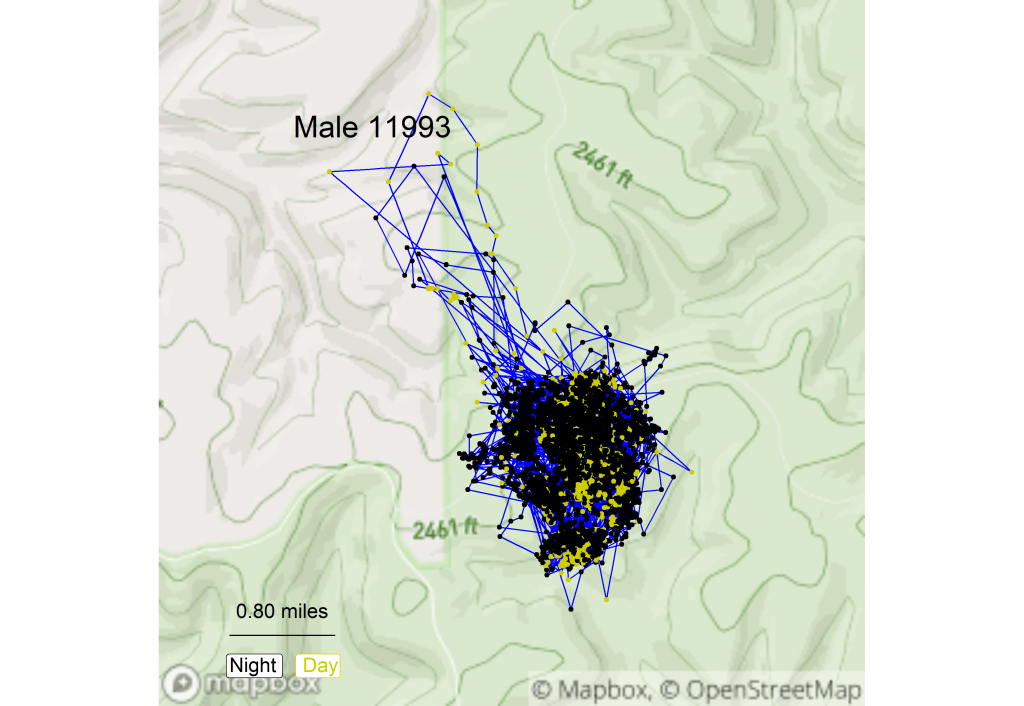 And here are his locations for 15 December 2016 – 31 January 2017. Of course, there are only 161 locations because the collar only obtained ~3 locations/day over those 45 days.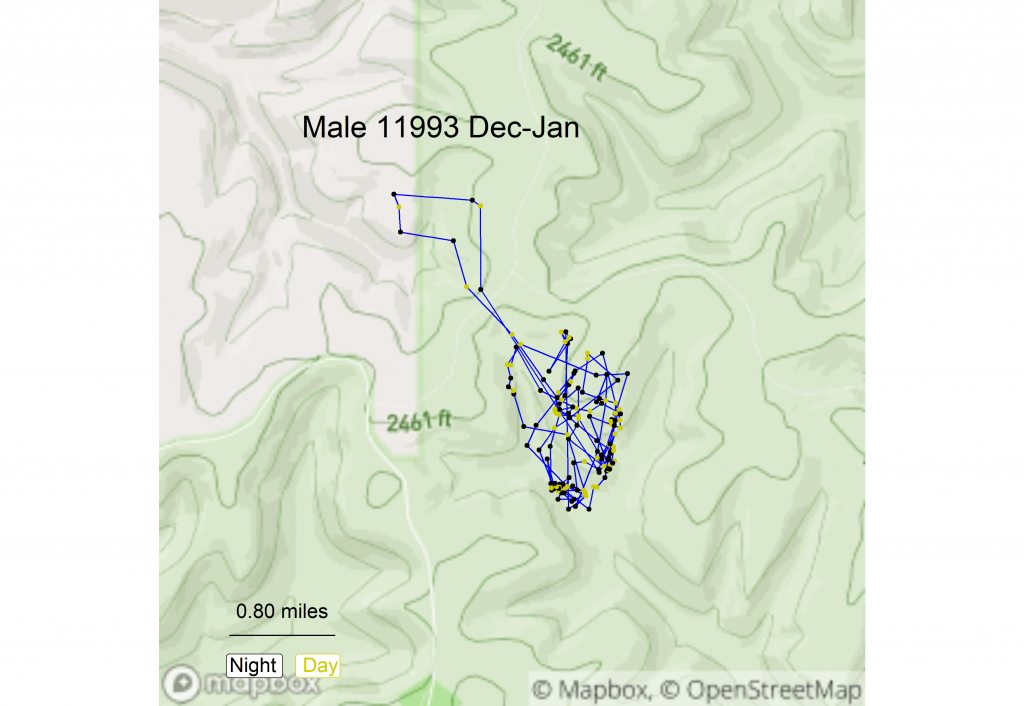 Since Male 11993 was collared for 3 winters, we can compare movements for different years over the same time period just for fun.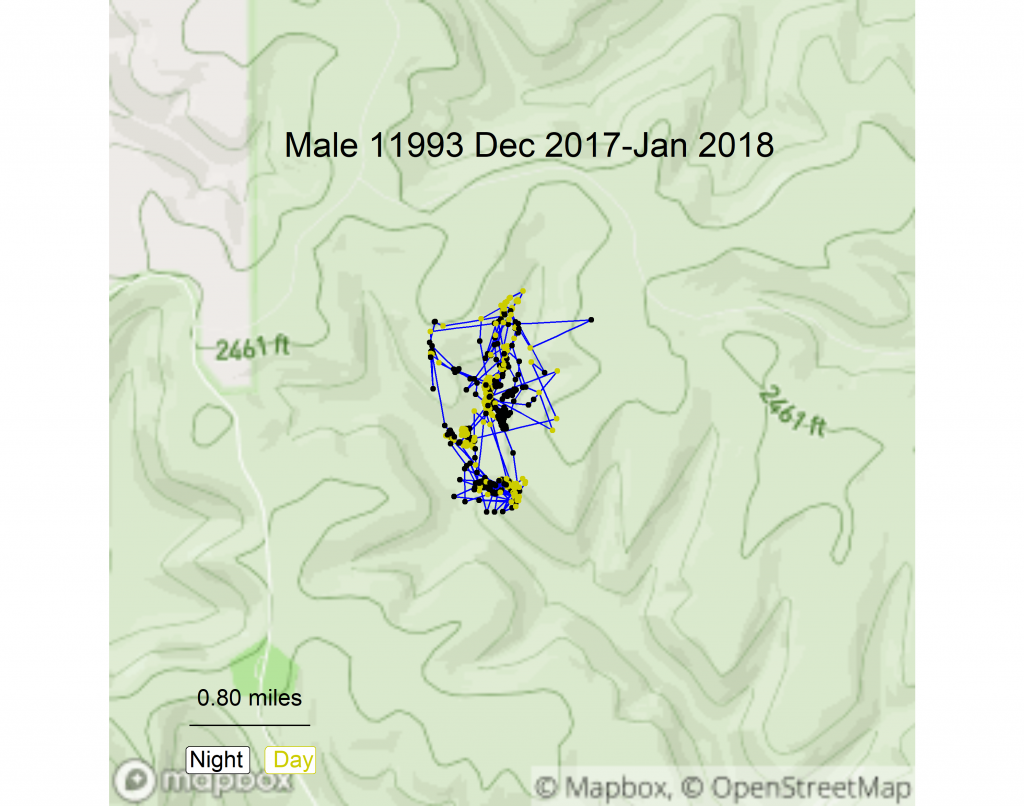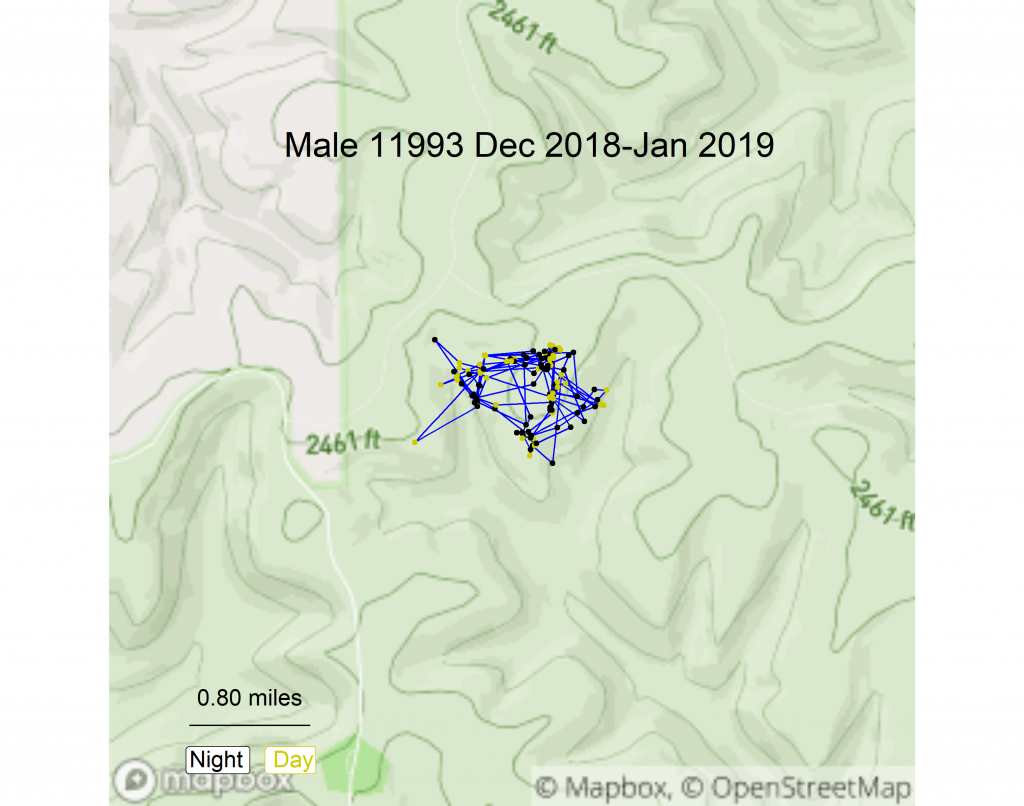 In future posts, we'll be taking a closer look at our deer movements and home range sizes throughout the year. Hopefully, that's enough to chase away those January blues.
And remember – Only 325 days left until the opening day of gun season!
-Duane and Jeannine