Every year, we spend two weeks training field technicians to collect quality vegetation survey data across both the Susquehannock and Rothrock/Bald Eagle State Forests. With the right attitude, vegetation survey work can be a lot of fun. You see lots of exciting plants and wildlife (the "extra stuff"), but on days when it's buggy and muggy, it can be tedious, repetitive, and unforgiving.
Lucky for us we've hired a great crew that is eager to get started and learn all there is to learn about Pennsylvania flora and the ecology behind Penn's Woods. Their attitudes will make for a great summer.
The last two weeks we've found a lot of "extra" stuff while surveying some practice plots: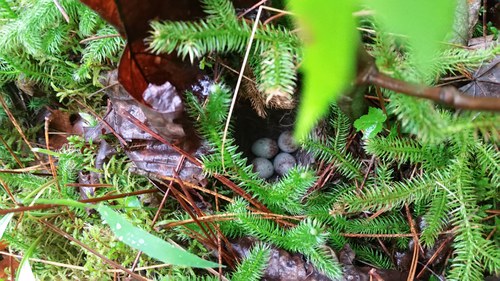 Ovenbird nest (hidden among the clubmoss (Lycopodium sp.))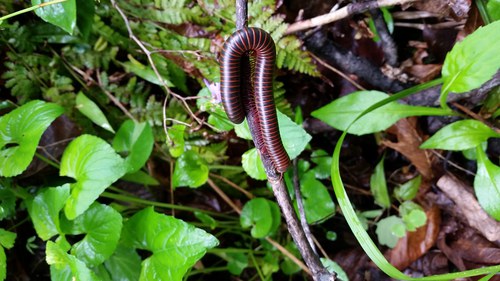 Millipede!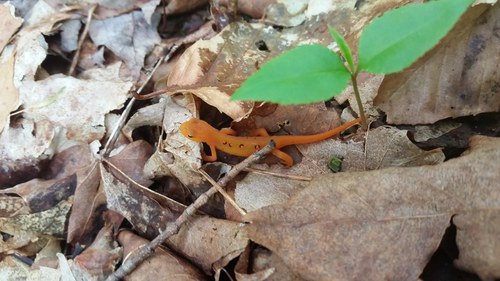 Eastern newt (Notophthalmus viridescens) in the red eft stage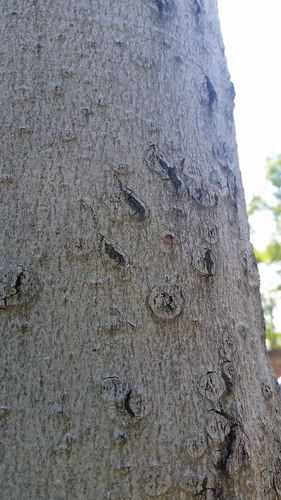 Someone was motivated (and hungry). A black bear left these marks up a beech tree.
How impressive are these new hires? Members of each crew learned how to identify over 100 different taxa and follow an intensive 20 page data collection protocol in 10 working days. That's 80 hours of taking notes, pop quizzes on plant ID, surveying practice plots with new technology, and getting to know your new workmates/roommates. They've passed all tests with flying colors.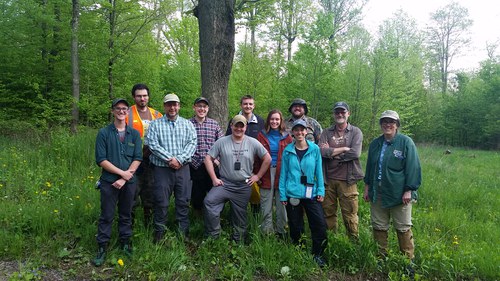 From left to right: Jacob Peters (north crew lead), Jonathan Kearney (south crew), Michael Antonishak (south crew lead), Zachary Warning (north crew), Jerry Kreiser (south crew), Kaj Overturf (north crew), Amanda Van Buskirk (new graduate student, Deer-Forest Study), Curtis Burns (south crew), Rosa Kome (north crew), Marc McDill (principle investigator), Chris Firestone (DCNR Botanist).
The coolest thing about training field techs is seeing some pretty incredible flora. Showy orchid (Galearis spectabilis), American Ginseng (Panax quinquefolius), Bluebead lily (Clintonia borealis), and Baneberry (Actaea sp.) were some of the highlights.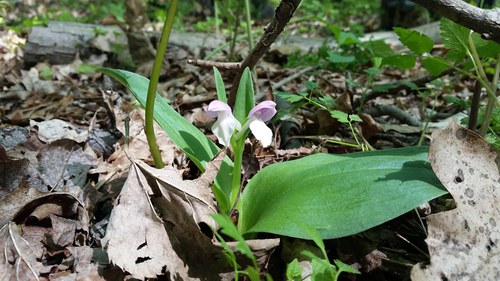 Showy Orchid (Galearis spectabilis)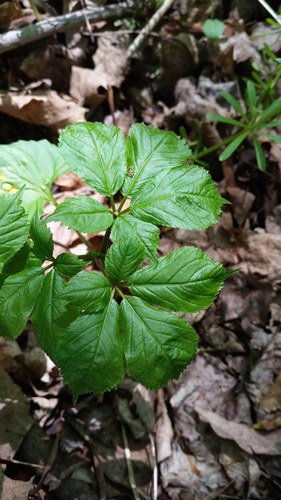 American Ginseng (Panax quinquefolius)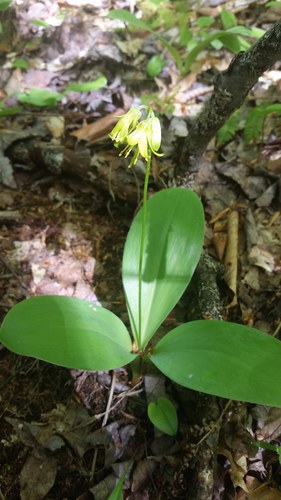 Bluebead Lily (Clintonia borealis)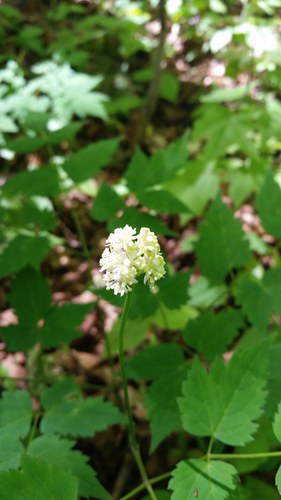 [
Baneberry (Actaea sp.)
Do you think you could keep up with our field crews? Test your plant ID below with some of the more common species we encounter: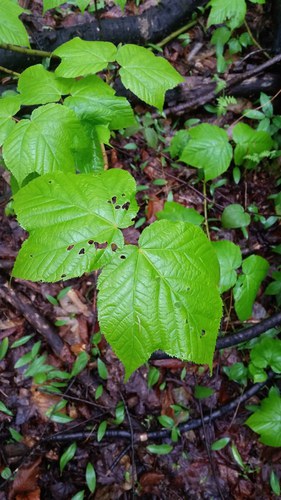 Veg Quiz #1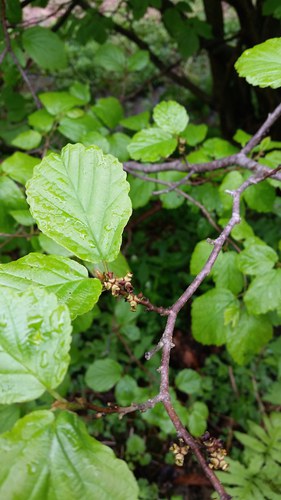 Veg Quiz #2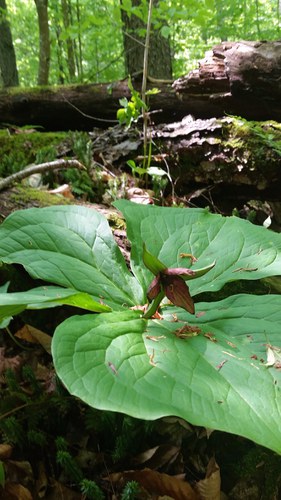 Veg Quiz #3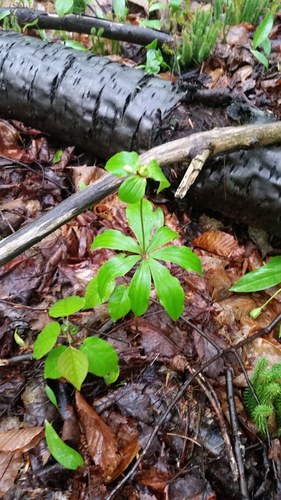 Veg Quiz #4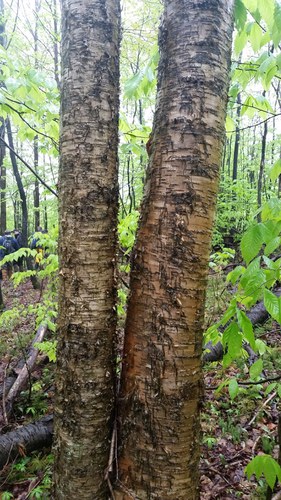 Veg Quiz #5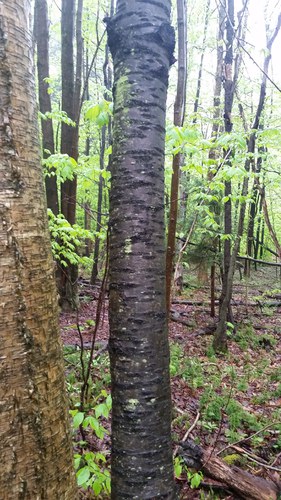 Veg Quiz #6
Do you know them?
Answers
#1 = Striped maple (Acer pennsylvanicum)
#2 = Witch Hazel (Hamamelis virginiana)
#3 = Purple trillium (Trillium erectum)
#4 = Indian cucumber-root (Medeola virginiana)
#5 = Yellow birch (Betula alleghaniensis)
#6 = Fire or Pin Cherry (Prunus pensylvanica)
Did you pass? Do you want to learn more?
Be sure to tune in each week for the 2018 Veg Crew Diaries to follow a week in the life of our survey technicians. You're sure to learn something new, and you'll get in straight from the source. Crew leaders Mike (Rothrock and Bald Eagle) and Jacob (Susquehannock) will be writing posts each week to give you a taste of what it's like to botanize as a part of the Deer-Forest study.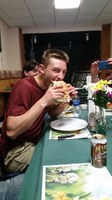 Enjoy!
-Danielle Begley-Miller, Ph.D.
Post-doctoral Scholar
Penn State University
If you would like to receive email alerts of new blog posts, subscribe here.
And Follow us on Twitter @WTDresearch