When our collared deer die we get an email. Not a sympathy card, but an actual email notifying us the deer has likely died. As soon as the collar stops moving for more than 6 hours the collar sends a signal to the satellite and then we get an email message written in bold red letters. Along with the email are the coordinates of the location of the deer.
The problem is the technology isn't always perfect. Sometimes during storm events we have had deer stay so still for so long the collar goes into mortality mode. But then the deer starts moving again. Other times some collars don't work as planned, usually because the battery starts to fail.
A false alarm occurred with Deer 8807 (a buck that was at least 3.5 years old) on January 24th, but then he continued moving around.
However, on Friday, January 30th, the project's database manager, Alyssia, emailed Katie, the crew leader for the Susquehannock study area, that Deer 8807 had transmitted a mortality signal and it did not look like he was moving again.
Here's the story as told by Kelsey Wellington, one of the deer trappers:
"Guess what we get to do tomorrow?"
My coworkers and I looked at each other, unsure how to answer our crew leader's question. There were a handful of things we could spend our day doing—scouting for bait sites, moving traps, attempting vehicle maintenance and repair, sitting at rocket net sites…

"We get to look for a dead deer!" Katie told us, her voice filled with excitement. That was not one of the tasks that crossed our minds, but we instantly joined her in her enthusiasm. It was definitely a change of pace from our usual routine, and we welcomed the chance to do something different.

When we finished work on Friday, January 30th, Katie checked her email and received a notice that the collar of a buck in our study area sent a mortality signal. According to the GPS coordinates of the collar, the dead buck was located about a mile off the road, but close to a hiking trail.
The eight-or-so inches of snow on the ground, coupled with a lack of snowshoes, meant we were in for a bit of a hike. (We later discovered that a snowmobile trail ran through the forest only fifty or so yards from where we found the deer, a fact we all managed to miss when studying the map beforehand. Still, we didn't mind the walk.)

Thankfully, Saturday blessed us with beautiful weather, and we trekked out onto the snow-covered trail with high spirits. I volunteered to drag the sled—which we brought to collect the carcass—in the hopes that our hike would take us down a few hills that were ideal for sledding. (Sadly, the snow was too deep to gain much speed, but that didn't stop me from trying!)
When our GPS informed us that we were 0.2 miles from the collar, we turned on our receiver and set to work tracking the radio signal. We stepped off the trail and maneuvered our way around many beech and pine trees, finding ourselves at the bottom of a valley with a narrow stream winding its way through.
It wasn't long before one of us shouted "Deer!" and we all jumped in excitement. The carcass was lying in a relatively open area a few yards from the bank of the stream.
Our excitement quickly turned to disappointment when we approached the buck and realized that all that remained of it was a skeleton. The animal had been stripped clean; there was barely even much of a hide left.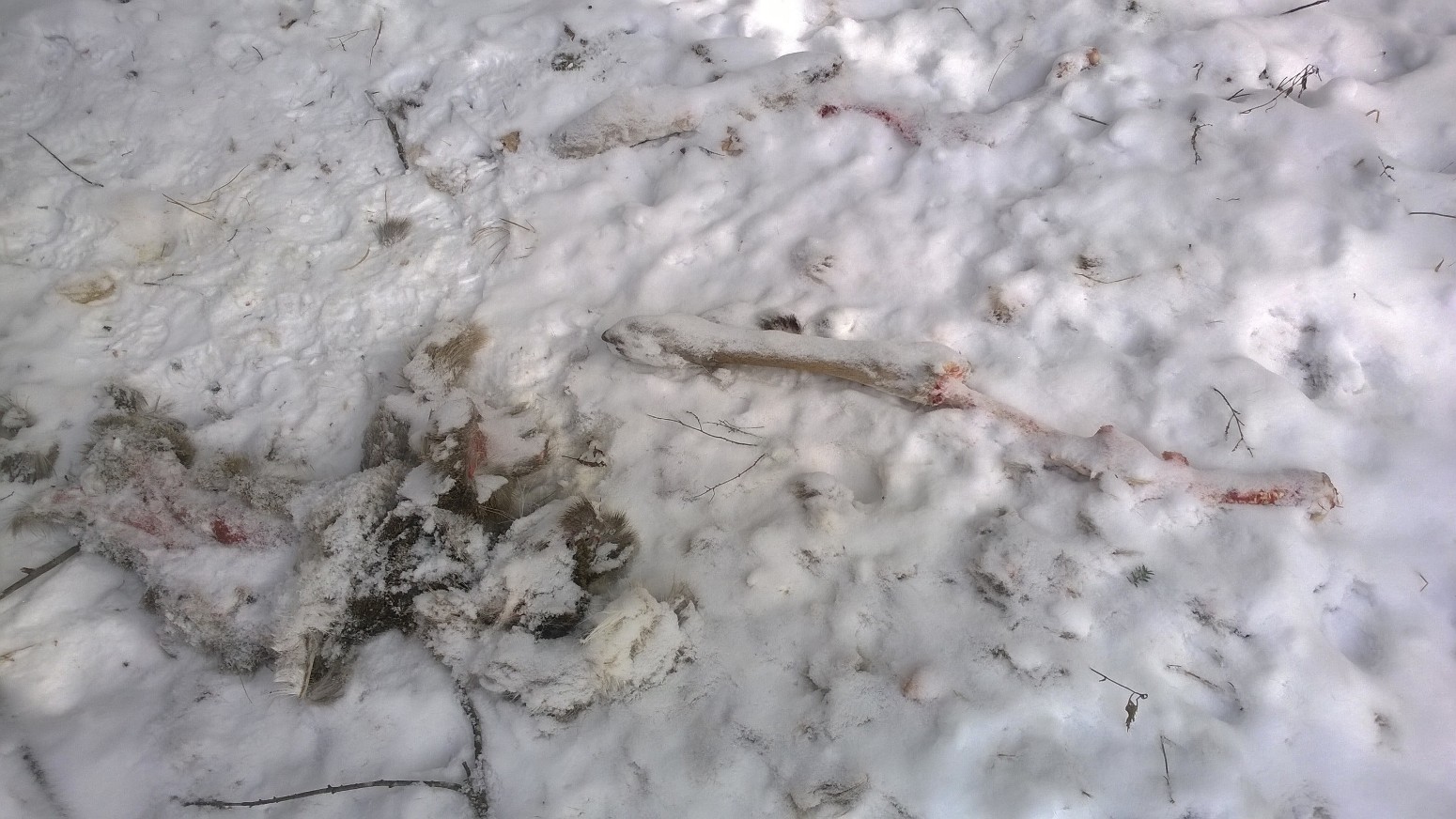 We had hoped to perform a necropsy to determine cause of death, but we had to satisfy ourselves with taking the lower jaw bone (which was firmly packed in ice and required quite of bit of hacking at with the end of our shovel in order to separate it from the skull) to age the deer. After determining it was between three and four years old, we grabbed its collar and turned back to retrace our steps through the snow.
What happened to Deer 8807 we can only surmise, but there are a number of possibilities. He might have been become ill and died (e.g., we have documented pneumonia in deer in winter). That could explain the false mortality signal we received on the 24th. Also, deer will often make their way towards streams when they die, like where the crews found this buck. Or he might have been injured by a hunter. An encounter with a vehicle is unlikely given the distance he was found from a road. Or he could have been ill or injured and then killed by coyotes.
For Deer 8807, we'll never know his true fate. Just that he is one of the 2-4% of deer that die each month during winter.
-Duane Diefenbach and
Kelsey Wellington
If you would like to receive email alerts of new blog posts, subscribe here.
And Follow us on Twitter @WTDresearch