However, the Forest has more agents of the dark side than just predators. We've discussed causes of death that include natural causes such as starvation, drowning, hypothermia, and parasites as well as predation.
The first two months of life are a battle of epic proportions. Last year 52% of fawns survived Fawn versus Forest in their first two and half months. So how is the battle going this year?
Our rebel fawns have experienced a survival rate of 69% for the first two months of life! A graph of this year's fawn survival is shown below. The dashed lines represent the statistical confidence we have in our estimates.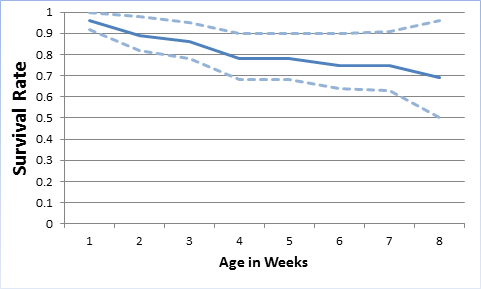 Last year we discussed the use of bigger sample sizes to help increase our statistical confidence. The 57 fawns caught this year will be added to the 42 caught last year, and our future fawns in 2017, in order to increase our sample size for the study overall.
So what about our unlucky fighters? Han Solo and Obi-Wan did not come save them. With the results from DNA swabs pending (but remember that doesn't always confirm predator ID either), our preliminary causes of death include:
4 unknown
2 by coyote or dog
2 by black bear
1 by bobcat
2 by an unknown predator
You might remember that 15 years ago a previous fawn study in Quehanna Wild Area (2000-2001) recorded a similar survival rate to 9 weeks at 57%.
Across North America, fawn survival rates can vary depending on my factors such as: land type composition (i.e. forest cover, agricultural land, private land, and public land), predator composition in the area, and deer density to name a few. Not only will our fawn survival data be used to examine fawn survival patterns in Pennsylvania, but also in identifying potential patterns of survival across North America.
There are many fawns fighting their own battle at this time of year and for the remaining fawns – May the Forest be with you!
-Tess Gingery
M.S. graduate student
Department of Ecosystem Science and Management
Pennsylvania Cooperative Fish and Wildlife Research Unit
Subscribe to the Deer-Forest Blog by email
And Follow us on Twitter @WTDresearch