From the Northern Crew:
Dear deer people,
It snowed last week! I woke up to snow and frost on the trees Thursday morning, but it didn't last long in the rain. Not a lot, just enough to dust the ground and it didn't last long in the rain.  Coincidentally, I saw a cute little snow bunting this week as well 🙂
Bret drove up Friday morning to swap out some vehicles and gave me a ride to Wellsboro to retrieve Roof Rack, which is finally road-worthy again! Unfortunately, I can't yet say the same for my other truck which is still awaiting repairs from our run-in with the stump a week or so ago. 
This week, the skilled folks at DCNR are going to weld a few Clover traps for me (what would I do without them) while I assist at the elk check station in Benezette on Tuesday!
-Hannah
Field Crew Leader
PGC Deer and Elk Section
From the Southern Crew:
Hi all,
I saw our collared fawn on the Bald Eagle study site on Tuesday! While taking a location, I realized that I was close to her. So, I hopped in the truck and drove down to where it sounded like she was. Sure enough, she was standing next to the road feeding. She was alone again and her left ear tag had been ripped out [and that's why they get 2!]. Enjoy the photo of her.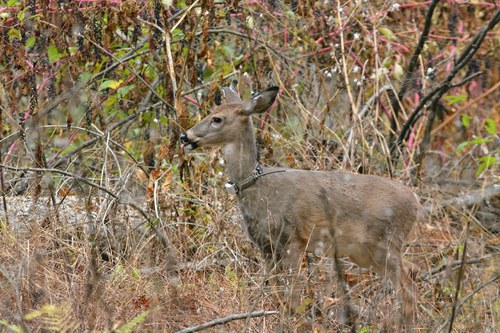 Tuesday, I retrieved the jaw from last week's doe mortality. I revisited the site and found 12 heaping piles of fresh bear scat within 4 meters of the mortality site and more beyond the mort site. When I visited the site last week, there were only 3 piles of fresh bear scat. Obviously, the bears found a good meal and took advantage of it for days on end. They also removed and cleaned the deer's lower jaw for me. How sweet of them! I would have loved to put a trail camera on this site. It saw a lot of action.
Thursday must've been my lucky day. I saw a large and healthy looking 10 point buck on a landowner's property. In Colyer as it was nearing dark, what I initially thought was a black bear cub standing on the road in the distance turned out to be a bobcat. I pulled the truck up next to the cat as it wondered parallel to the road for another 20 seconds then it disappeared into the forest. 
I also saw four of the collared fawns in Colyer at dusk. One of those fawns went missing for about 3 days. I must've spent 10 hours total walking and driving around listening for her signal. I finally found her signal at the end of the day Wednesday and by Thursday, she was back near where we captured her.
I'll be working at the elk check station on Wednesday. I also hope to bust out the tire chains, so that I can inspect them for winter trapping.
-April
Field Crew Leader
PGC Deer and Elk Section
If you would like to receive email alerts of new blog posts, subscribe here.
And Follow us on Twitter @WTDresearch