It's been a month of long hours.  But spring is over and so is fawn capture. 
From the Northern Crew:
Dear deer people,
As the final week of fawn searching comes to a close, we are happy to report that it was a banner year! Even with 1 of our 3 trucks broken down in the repair shop the entire season (unfortunate timing) and with little outside help from volunteers, we managed to radio-collar a record-setting number of fawns in the Susquehannock. Our smallest fawn weighed 4.7 pounds, while our largest fawn weighed 19.4 pounds. Our first & last fawns were captured on May 16th & June 16th [which pretty much lines up with all we know about fawning season].
Of the VITs that were deployed during winter trapping, we've succeeded in finding fawns with 4 that have been expelled. The first VIT was expelled on May 4th and although we weren't able to find any fawns at the time, we know at least 1 was born and survived until May 30th because we received trail cam photos showing the collared doe and her fawn together—one (of many) that got away!
We received our dip nets on Monday and managed to catch 1 fawn with them (the 19-pounder). The fawns are lucky we didn't have these nets sooner or we might have captured many of the fawns that evaded our foot pursuit. Next year! 😉
Also, there are lots of other things we encounter while searching for fawns!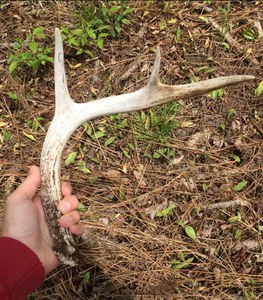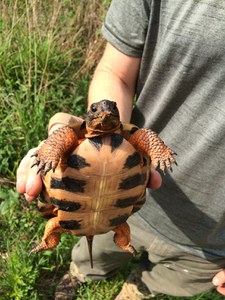 Antler shed and wood turtle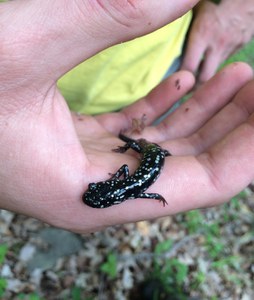 Slimy salamander and Virginia ctenucha (Ctenucha virginica)
This upcoming Wednesday, we will attend necropsies on several of the deceased fawns. And then begins veg plot repair! The fun never stops around here, folks.
-Hannah
Field Crew Leader
PGC Deer and Elk Section
From the Southern Crew:
Hi all,
This week, we captured 5 fawns to bring our capture total to 23! Without the dip net, we may have only captured 2 of the fawns. We observed many Vanilla fawns with and without the does throughout the week. Hard to believe how fast they can run in only a few weeks' time.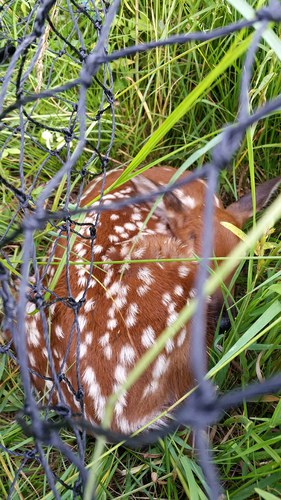 The dip net doesn't phase this fawn!
We received a few calls this week from those who observed fawns. Two fawns were spotted by Reeds Gap State Park, so the crew went over to see if they could capture them. We were only able to capture one of the large fawns; even though they were bedded together when the crew found them. 
However, while getting telemetry locations, we've seen both fawns together a few different times. When the crew first saw them, they were bedded together near the road. When I saw the two of them, they were walking near the road while browsing small seedlings. We're all hoping that they will soon venture away from the busy roadway.
In other fawn capture news, our 23rd fawn was seen and captured at the same spot that our 21st fawn was captured. We're wondering if they may be siblings [we can check on that later with DNA analysis – tissue samples are collected from all captured deer – we've seen this happen before]. Also, I saw three yearlings together outside of Rothrock and realized that my 2016 winter crew had captured and tagged two deer from this group during deer trapping.
It sounds like Tuesday may be our final day for fawn capture, but it's possible we may be able to finish out the week with a little more fawn searching and hopefully, fawn capture. I guess we'll see!
-April
Field Crew Leader
PGC Deer and Elk Section