——————————————————————–
From the Northern Crew:
Dear deer people,
I spent the better part of my week tracking undead deer that sent, what turned out to be, false mortality messages [no technology works perfectly!]. Last Saturday, Sunday, and the following Tuesday, I was hot on the trail of Buck 8809, which was collared in February of 2014.
Looking at his GPS locations online, I could see that his normal home range is in the Susquehannock State Forest. However, with the rut in full swing, he had crossed over onto a large swath of private land owned by a forestry company and leased to several hunting clubs.
This made getting land access slightly more complicated. But after talking to some folks in the area, I was able to track down the right people, who were all very gracious in granting me permission. My search for this potentially dead buck ended anticlimactically when I hiked into his last-known location on Tuesday and found nothing but a deer bed and some tracks. He has since resurrected back to life and returned to the Susquehannock for the time being.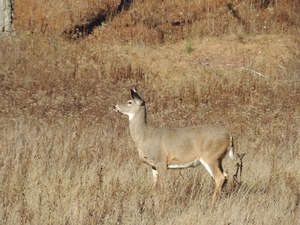 Also this week, I picked up one of my trucks from the shop while dropping off another (a never-ending cycle), compiled a supply list for trapping season, and searched for the MIA fawn with no success (missing since 11/7). I also attended the Soup to Nuts presentation given by Duane and Chris on Sunday at the Lumber Museum – very interesting stuff!
Fun fact: I saw a group of 11 does in the Susquehannock on Monday! And where there are does this time of year, there are bucks 😉
-Hannah
Field Crew Leader
PGC Deer and Elk Section
——————————————————————–
From the Southern Crew:
Hi all,
Levi assisted me with trapping tasks on Tuesday. Since our old 1999 F-150 (Greenie I) was sent to surplus this spring and was replaced by Greenie II (the crew truck), we had to go through the rusty tire chains to find something that'll work for the winter.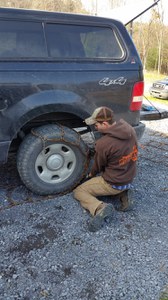 We tested the tire chains that I kept in my truck to make sure that they were still usable. I also hosed out the bed of Brock's (elk bio aide) old truck since it smelled like a dead elk and topped off the fluids.
I monitored and obtained locations for all fawns. I also went through the shed and my supplies to nearly complete a "winter trapping supply needs" list.
I had to cancel my volunteer for Sunday, because I didn't want her driving to State College in potentially nasty weather. She's planning on coming out in December though.
Since next week is Thanksgiving, many of us will have a shortened work week! I'll be headed out-of-state for Thursday but will be back by Sunday before deer rifle season begins.

Sunset from Lake Rd
I'm planning on attending the Beavertown bear check station on Monday, getting Clover traps from State Game Lands 215 on Tuesday with Levi's help, and obtaining locations on the fawns on Wednesday.
It's beginning to feel like fall with the cooler temperatures and snow beginning to show up on the radar in our region, just in time for deer rifle season.
-April
Field Crew Leader
PGC Deer and Elk Section
If you would like to receive email alerts of new blog posts, subscribe here.
And Follow us on Twitter @WTDresearch