From the Northern Crew:
Dear deer people,
As of Tuesday, one of my fawns has seemingly vanished off the face of the Earth. I got a location for this fawn on Monday, but haven't heard its signal since.  I've driven every road within about a 2-mile radius. It had been hanging out near an active logging operation, but that's not unusual. I'm thinking (hoping?) this deer was potentially harvested and just hasn't been reported yet. Time will tell.
As an aside:  there was a collared doe that used to hang out in this same area; she was the one that made 1.8 mile treks to the now infamous site off Route 6 and ultimately got killed. So I suppose there's a chance my MIA fawn could travel there as well and meet the same fate.  For good measure, I did listen for the fawn's signal near where the poached carcasses were dropped off and all along Route 6. Nothing but static though.
There is a lot of hunting pressure in this fawn's home range, so I wouldn't be surprised if the fawn was harvested. That, or it's on the adventure of a lifetime! I will keep it on the whip [antenna mounted on the truck to pick up VHF collar frequencies] as I drive around next week, but hopefully it turns up.
One of our VIT does was harvested recently so I went to retrieve her collar from the hunter. We talked for a while about the project, how trapping works, and how the collars and VITs work. I told them where their deer was captured which was actually just on the other side of the mountain from where they live. We never did find any fawns with that VIT, but I guess their neighbors have seen or have trail cam pictures of a fawn with that doe. Sneaky little buggers those fawns, I'm tellin' ya!
Next week, I hope to FINALLY have a completed list of equipment and supply needs for trapping season.
P.S. The rut is in full swing up here in the Susquehannock. I've been seeing lots of bucks and just deer in general running around in broad daylight.
-Hannah
Field Crew Leader 
PGC Deer and Elk Section
From the Southern Crew:
Hi all,
Route 322 has struck again! This time the road "took" the 2016 Deer Trapping Crew's very first VIT doe. This doe was captured and GPS collared on 2/11/2016 with a juvenile male and female. She was the largest doe that we captured all trapping season.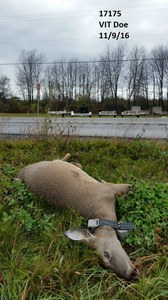 The "good" news was that this VIT doe was still lactating. Why is that good? Well, we captured two of her fawns back at the end of May using the VIT technology. Her first fawn was killed on 6/22 by a predator. We received the mortality signal for her second fawn on 8/19; however, we only found a collar at the mort site and no signs of predation. This leads me to believe that the fawn that lost her collar is/was still around. This is our third (that we know of) tagged roadkill deer, just in the last two weeks [which is expected given the time of year].
Levi, a former fawn capture crew member and 2017 deer trapping crew member, is volunteering next Tuesday to assist me with tasks to prepare for winter trapping. I'm very grateful that he contacted me to help. Over the next month or so, we're hoping to haul the rest of the Clover traps from State Game Lands 215 to Penn Nursery. He's also going to help me finish looking through tire chains and getting our ground blinds/tree stands together. There is also a volunteer coming out to learn radio telemetry next weekend.
If you would like to receive email alerts of new blog posts, subscribe here.
And Follow us on Twitter @WTDresearch