Our crews have hit the twilight of this year's trapping season. With only a week or so left, their focus will soon shift away from deer capture.
——————————————————-
From the Northern Crew:
Dear deer people,
Week 8 stats:
12 captures (excluding 2 escapees; 3 recaptures)
4 bucks (2 juveniles, 2 adults)
8 does (5 juveniles, 3 adults, 2 of which received a VIT & corresponding radio-collar)
This week brings our totals to 48 newly-marked deer in the Susquehannock, 68 tackles including recaptures, & 14 VITs on-air.
The highlight of our week was no doubt launching our first successful rocket net which caught 2 deer! Unlike last week's rocket net mishap, all 3 rockets fired this time (like they're supposed to). High fives all around! The icing on the cake was 1 mature doe! So we were able to deploy another VIT-radiocollar pair in a part of our study area where we need marked deer.
[Here is video of untangling a sedated deer from the netting]
I don't even know how many times we've attempted to rocket net this winter. We've spent hours on-end sitting silently waiting for deer to no avail. We were beginning to abandon all hope. Thankfully, we've been able to depend on our Clover traps to catch deer when rocket nets were not effective.
One of our 2 recaptured bucks from this week was a radio-collared deer we've caught a total of 6 times now, 5 weeks in a row! Despite our efforts to move & shift our trap line around (since we'd been catching him in the same trap week after week), he still sniffed out our new bait location & apparently figured the corn was worth another tackle.
You'd think a deer that is this familiar with our crew would know the drill by now & be relatively passive when it comes to a tackle (to read the ear tag numbers) & release. Not this buck! Even as a yearling, he has consistently been the most difficult deer to restrain. A few of the crew members can personally attest to this with shredded pants & bruises a-plenty.
With the trapping season coming to a close here in the next week or so, we're hoping to deploy our remaining VITs and yearling doe collar. Hopefully our rocket net success continues!
-Hannah
Field Crew Leader
PGC Deer & Elk Section
——————————————————-
From the Southern Crew:
Greetings all,
We captured 7 deer this week. Our Clover traps unexpectedly produced more captures than our rocket nets did.
Deer activity was observed at all three of our rocket net sites this week. In short, there was never a good time to fire the net over deer. Delays included: target deer not on bait, deer standing in line with the rockets, deer spooking or leaving too soon (before in position), and a chubby raccoon snacking at the net with the deer in position.
We did capture one mature doe at a rocket net on Wednesday. The primary reason we are having such success [in deploying VITs] at this site has to do with the number of [adult] deer visiting. The review of the trail camera photos at this site often shows pictures of mature deer. We are seeing more photos of last year's fawns at all of our sites. We also have a good blind set-up. The deer are used to seeing vehicle activity at this site so we can use a trucks blind and it does not phase them. 
Between Thursday and Friday, we captured 6 new deer in our clover traps. Thursday, we captured two yearling does and one juvenile buck. We did attempt to GPS collar one of the females, but the collar did not properly fit being too loose on her neck. Friday, we caught a mature doe and 2 juvenile bucks. Yes, you read that right – our first mature doe in a Clover trap! We, of course, attempted to insert a VIT but we were not able to get the VIT "in place" so we simply collared the doe.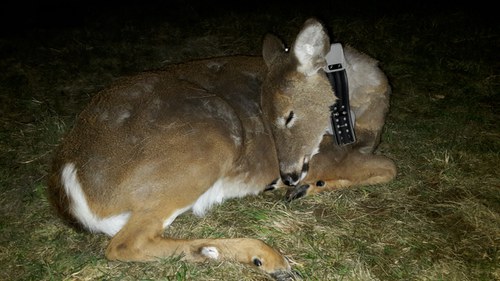 [PGC Photo: doe recovering from sedative]
The weather is calling for 1-2 inches of snow on Sunday. Of course, nothing that will stick around for Monday. Without snow to brighten up the landscape at night, our night vision monocular and regular binoculars have not been much help after twilight. Luckily, the thermal imaging optics have been useful. The rockets are harder to see than they previously were but they are still visible in the thermal imaging optics.
Next week is our final week of trapping. We'll Clover trap and rocket net through Tuesday and possibly Wednesday if our work hours allow it. A Juniata College class will be joining us on Thursday to check Clover traps and for a rocket net demonstration.
Really hoping for a safe and successful final week of trapping! Wish us luck!
-April
Field Crew Leader
PGC Deer & Elk Section