The latest report from the field. They are still hard at work trying to squeeze as much out of the waning trapping season as possible.
[Comments in brackets are by Jeannine and Duane.]
—————————————————–
From the Northern Crew:
Dear deer people,
Week 7 stats:
8 captures (6 new, 2 recaps)

5 bucks (2 juvies, 3 adults… although 2 of the 3 adults in this tally account for the same trap-happy deer)

3 does (1 juvenile, 2 adults, 1 of which received a VIT; second adult was a yearling & received a regular GPS collar)
We now have 56 tackles under our belts, 39 newly-marked deer, & 12 VITs on-air in the Susquehannock.
Even with the balmy weather, we managed to catch deer 5 out of 6 days this week. Highlights included catching 2 fawns in 1 trap, finally launching a rocket net over deer, & recapturing a collared buck 2 times in the same week–making the 4th & 5th time we've caught this deer now; initially captured/collared on February 19th this year, we've caught him every week since.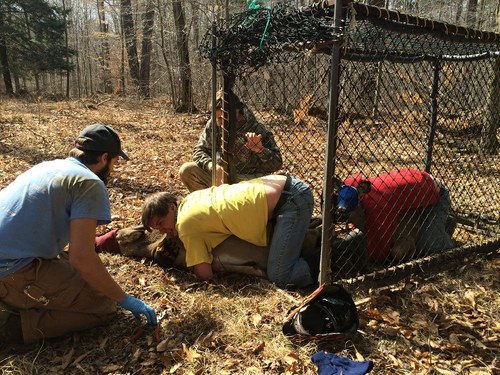 We're finding that we have better luck getting deer to show at our rocket-net sites when we use a tree stand rather than a ground blind for the person with the charge/trigger & keeping the rest of the crew parked back away from the net waiting in trucks. After countless nights this winter staring at deerless rocket nets for hours on end with nothing to show for it, our luck seemed to be taking a turn for the better.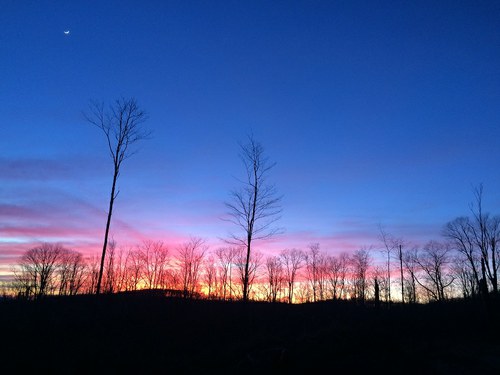 We finally got to launch a net on Friday night! But, for whatever reason, only 2 of the 3 rockets went off, and the deer escaped…(bah humbug!) So maybe I jumped the gun on our luck turning but hey, if nothing else, we got to watch some stunning sunsets over the mountains this week while waiting for deer.
More unfortunate news: we have another MIA fawn that seems to have vanished. Unlike the previously MIA fawn which was always difficult to find & hear on the receiver, this new MIA is a bit of a puzzler as we have never really had a problem finding her. There is ample road access & a high-elevation lookout where I have always been able to pick up the signal. But this week, nothing… hoping she turns up soon! [Fawn collars have a finite battery life expectancy. Some of these collars are reaching that point.]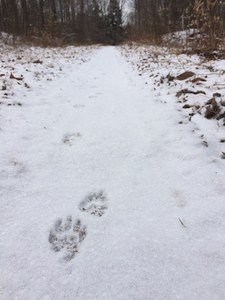 The muddy forest roads aren't great to drive on, but we've been seeing some cool critter tracks in them the past few weeks. Of particular interest: fisher, mink, & bear. Yes, the bears have awakened. As long as we don't find any in our traps, no harm done. However, if a bear did wander into a trap, I'm fairly certain they would easily escape, either by tipping it over or shredding the netting.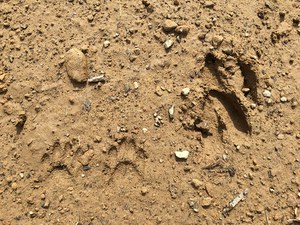 We have a trail cam video of a VIT-collared doe & her fawn moseying around a trap south of Cherry Springs State Park. This could be the doe we VIT'd last week in that same trap or it could be a VIT collar from last year as there are several in the area. Can't quite read the number on the collar. You can see they are shedding their winter coats & rightfully so!
-Hannah
Field Crew Leader
PGC Deer & Elk Section
—————————————————–
From the Southern Crew:
Greetings all,
A warmer week, indeed! We had the week that we expected, but at least we still captured 3 new deer and 1 recapture in our Clover traps. On the other hand, we did not capture any adult does, and our rocket netting attempts were not successful. We did see deer though!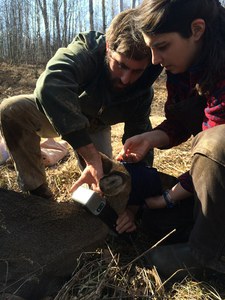 As usual, we set traps and checked trail cameras on Sunday. On Monday, we caught a juvenile female. Tuesday, we captured a yearling doe and fitted her with a GPS collar. On Wednesday, we recaptured our old friend for the fourth time—the adult buck that keeps coming back for more. Finally, Friday we captured an adult buck. 
At one of our rocket net sites, we had deer feeding on the bait and in a good position for capture, but all were fawns. We were waiting for larger deer in hopes that they'd be mature does. At one time, a skunk, 2 foxes and a fawn were feeding on our bait, certainly an interesting combination.
At a different site, around 14 deer came into the fields. They all proceeded to a far field, where we could watch them. Many of them were running laps around each other. After a few minutes, they disappeared beyond the hillside. Five or six deer walked the crest of the hill in front of the rocket net field. I could see their heads and backs from the net, but they slowly disappeared into the windrow.
They didn't show any interest. I used the thermals to search the back fields. Three deer stayed and fed in the back field for about 2.5 hours and hardly moved from the area.
This week I was excited to see that we finally acquired trail camera photos of a GPS collared deer. Based on the area and color of the collar, I determined that it was a VIT doe that was collared by last year's crew in Rothrock. She is visiting a baited rocket net site on a daily basis. Last year when I was on the fawn capture crew, we captured one of her fawns on May 16th. This doe gave birth to our earliest VIT fawn and the earliest fawn of the capture season.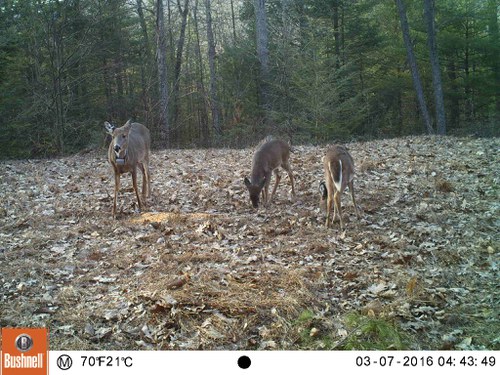 This coming week we will be putting most of our focus on rocket netting. Unfortunately, our clover traps aren't producing as much as we'd like. Although, they did turn out to be more successful than our rocket netting attempts this week. We'll see what next week brings. Wish us luck, we'll need it!
-April
Field Crew Leader
PGC Deer & Elk Section