Trapping deer may sound like fun but it's a lot of work. Our crews have been at it for over a month. It's definitely a marathon, not a sprint.
[Comments in brackets are by Jeannine and Duane.]
——————————————-
From the Northern Crew:
Dear deer people,
Week 5 Stats:
11 captures (1 recapture)
6 does (1 fawn, 5 adults, 4 of which received a VIT)
5 bucks (2 fawns, 3 adults)
5 new radio collars deployed (all on adult does, 4 associated with VITs)
This week brings our running total to 36 capture events this year, of which 24 have been new deer (the other dozen account for recaptures & 1 escapee, the buck that tore through our purse net). We currently have 7 does with VITs on-air in the Susquehannock.
The fawn that was MIA last week is still missing & we're losing hope of finding it.
We have searched extensively on different days at different times, on foot, from the truck, both in its core home range & I've been listening for it on the whip antenna everywhere we go to check traps. We've searched high & low (literally) all over the study area. At this point are just hoping it miraculously turns up.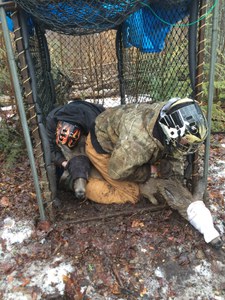 This is a doe fawn, so I wouldn't expect any dispersal movements [not to mention it's the wrong time of year for this behavior]. Our only thought is that the fawn collar fell off somewhere deep in the woods or in a location where the signal is being blocked by topography. Her last-heard live signal was on Thursday, February 11th, at 4:05 pm.
On a positive note, we caught 2 deer in 1 trap on Wednesday! A doe & a fawn. We ear-tagged & released the fawn. The doe received a GPS collar and a VIT.
We worked dawn to dusk all week moving trap lines (which seems to be paying off since we only had 1 recap this week). We will be moving 1 more trap line this Sunday & then opening all 28 of them for another week of deer tackling.
-Hannah
Field Crew Leader
PGC Deer & Elk Section
——————————————-
From the Southern Crew:
Greetings all,
We are truly missing what little snow we had. Even a few inches helped make the difference for capturing deer.
Some of our sites in Bald Eagle that were once considered good sites with a layer of snow, have since dropped off in activity. At the beginning of this week, there was one potential rocket net site that I had considered pulling because all that had visited were two bucks.
We checked the camera, and what do you know – with a little snow, a whole herd of deer appeared. We checked back two days later after the snow had melted to see if it was still worth putting a net up. Guess what. No deer since the day we checked the camera.
The difficult winds we had this week also made it tough to sit at a rocket net. At one point, we had winds coming in all directions at a site we had planned to net.
Surely, the deer would have smelled us. We're hoping for better conditions this coming week, and already have tentative plans for rocket netting certain sites. The lack of snow will make it more difficult.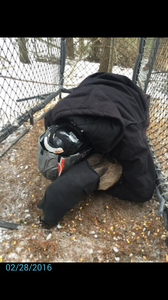 We captured 3 deer this week, 2 recaps and 1 new capture. The two recaps were one of our GPS collared bucks and a button buck. Both were initially captured on February 19th but both were caught in new traps. Our new capture was a button buck, as well.
We also had a few minor setbacks this week. Greenie slid on some ice and got stuck in a ditch on Wednesday. So we spent the rest of our evening/night getting her out of the ditch. She's a champ though.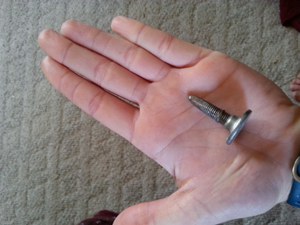 The next day, we found a screw the size of Timbuktu in the tire of my truck. Needless to say, we visited the auto mechanic a few times this week [It was a snowmobile stud. Our crews are usually on a first name basis with the mechanic by week 2 of the season].
The rest of the week was dedicated to finalizing our baited sites for trap placement. We ended the week by beginning to move our Clover traps to new areas. We've got plenty more to move, but luckily we've made a good start.
We'll begin our trapping week by checking Clover traps on Monday morning. We're hoping to dedicate the rest of our time to moving our traps and conducting rocket netting.
-April
Field Crew Leader
PGC Deer & Elk Section