Like most things in life, there is more to deer trapping than meets the eye. So we thought we would share with you the Deer Crew Diaries – we hope these will be weekly updates direct from the field covering all aspects of what it means to be on a deer trapping crew.
[Comments in brackets are from Jeannine and Duane for clarification]
——————————————————–
From the Northern Crew:
Dear deer people,
SUCCESS! We began Clover-trapping this week. With 18 traps set on 5 trap lines, we had a total of 9 captures Monday & Tuesday. There were 2 recaptures from last year (1 collared buck, 1 ear-tagged doe). We deployed 4 new GPS collars (1 buck, 3 doe), 2 of which had VITs associated with them. Big thanks to Bret for making the early-morning venture up north to help us check traps for the first time on Monday.
Attached are some photos from our capture events, including a huge buck we caught that took two guys to take down (Pat's a survivor, he may or may not have been trampled briefly… but we called in backup, aka Doug),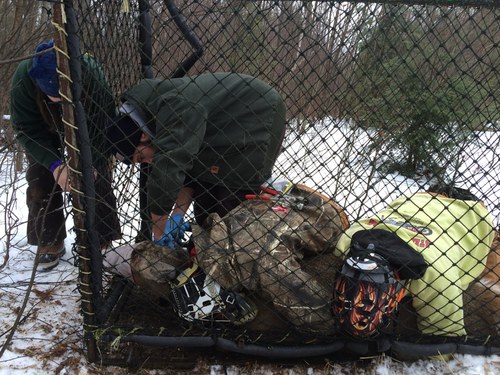 & a VIT processing moment (recovering from sedation).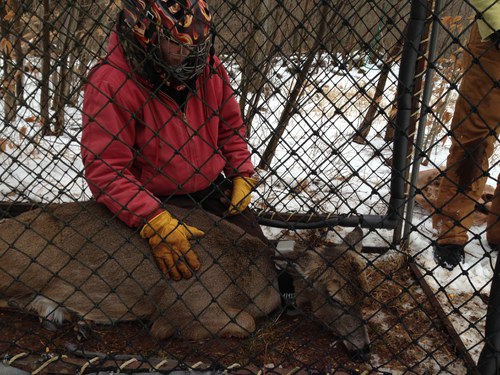 We also caught some previously collared deer on trail-cam – it's not every day you get to see the deer you're tracking, so I was pretty excited!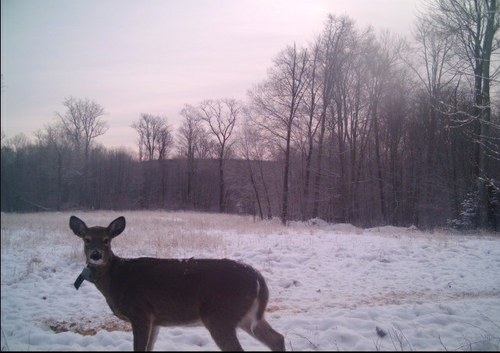 To continue our excitement for the week, we participated in CPR/1st-Aid training on Wednesday. Thanks to Duane & Alyssia for restocking us with collars & trail cameras, & thanks to Bret for getting new tires on our truck.
Thursday/Friday we rebaited some sites & set up a few more rocket nets. Next week, we will continue Clover-trapping & hopefully launch a rocket net over some deer!
Fingers crossed.
Hannah
———————————————————-
From the Southern Crew:
Hi everyone!
As with all field jobs, you can expect a few bumps in the road. The plans for the beginning of this week were altered due to the snow, and we didn't achieve everything that I wanted. That's ok though, because the rest of the week went as planned and everyone was feeling good.
We quickly learned the difference between practicing how to use tire chains, and actually using them to navigate the state forests. We now have a love/hate relationship with tire chains.
A few of the crew members got sick and had to take a day off, but we were able to make it work. We've decided that our motto is "We'll make it work," and we certainly have done so.
The green truck at the Nursery had to go in for a tune-up, because it began having some issues last week [this will likely be a recurring theme – most of our vehicles have over 100,000 miles on them]. It's back up and running!
We, of course, continued to re-bait and check cameras for activity. We checked our trap line this week to see if they were ready to be set, but unfortunately, the activity isn't quite where we want it to be. We set up rocket nets, and as long as I get the ok from Bret and everything goes as planned, we should be rocket netting either Monday or Tuesday.
A week ago, I set up the wireless camera [donated to the project by Bushnell]. This morning, I woke up to 181 text messages with photos of deer throughout the night. This isn't including the 40 photos I got between 5 PM and before I went to bed, and the 30 photos I got between waking up and 12:45 PM. I LOVE this camera, and wish we had more! We've had pretty consistent activity and we are planning to rocket net early next week.
We also had an exciting First Aid/CPR course.
Today, Chad and I attended a chainsaw training. In just four hours, we learned about chainsaw safety, how to run a saw, and a little about the maintenance of a saw. I really benefitted from this training, and hope to gain further training with chainsaws at some point in my career.
Depending on time tomorrow, the crew will check our trap line, re-bait a few sites, check cameras, put a blind out for our rocket netting operation, and begin the set-up of another net. We'll pick up where they left off on Monday. We have already done so, but I want to go over the capture process and supplies in the backpacks again before we do any trapping.
We'll continue checking our sites, re-baiting, and hopefully move into more trapping opportunities as time goes on. We just need the deer to cooperate! ☺
April
—————————
[We're not sure what happened at CPR training but apparently it was pretty exciting!]
-Jeannine Fleegle and Duane Diefenbach