[Comments in brackets by Jeannine and Duane]
From the Northern Crew:
Dear Deer People,
A full week of trainings, fixing traps and blowing off collars. We started baiting this week and putting our freshly fixed traps out in the woods.
By Monday, we had gone through all the rope that was available in the area for trap repair so Brian and I drove to Lowes in Mansfield to get a bunch more. I had spent quite a bit of time calling around to all the different hardware stores to see who had the largest amounts and the cheapest price. Lowes had over 1,000' of the stuff. My original estimate for repairs was close to 2,600'. This 1,000' would keep us going a couple days until another 2,000' arrived at the local hardware store.
We used almost all the rope we had bought on Monday getting a few more traps completed and headed into the field to blew some collars off. We found a good spot where the signal was really chirping and set off our first couple drop-off codes. We started in following the signal and continuing to send more drop-off codes every 100 meters or so.
We found some fresh deer track, but still had no collar. This continued for over an hour and had tracked them to where we had to drive in. Clearly something was not right. Tom and Kim had mentioned some troubles with the transmitter antenna the day before, so I took a closer look. There was a very tiny sensor in the end of the antenna housing where a solder point had broken. Our plan to blow collars off all day quickly came to an end.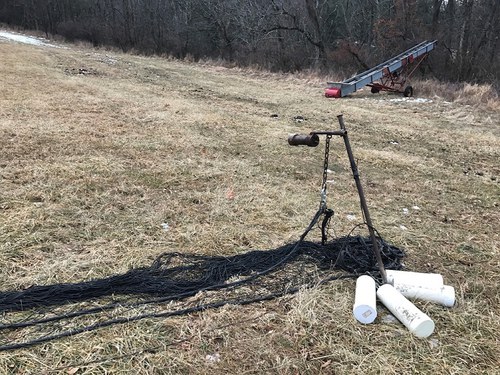 On Wednesday, we started off the morning with a bang, literally. We launched a rocket net so that the crew could get familiar with set up. This was also the first time that I got to see a rocket net go off, so I was quite excited myself. After walking through the steps on how to set it all up, we hooked up the charges and went back towards the trucks. I set up my phone near the net on slo-mo video in order to see how the rockets launched and to make sure out angles were correct.
We picked out traplines that we wanted to start baiting and marked bait sites. I knew that it was going to warm up, so we took advantage of the snow seeing where the deer had been traveling over the last couple weeks before the history was erased. We split up and marked 8 traplines with about 60 total bait sites.
The antenna was fixed by the end of the week and it was back to blow off duty. Everyone took turns doing telemetry since some had not done it before. We ended up successfully blowing off 5 collars with a very hard attempt to get a 6th!
On Friday, we picked up bait and the shipment of rope that came in. We have around 8 out of 30 clover traps that still need to be repaired which I hope to get done next week along with blowing off the rest of the collars.
I also hope to have some clover traps placed on our hottest bait sites. We are getting very close to catching our first deer!
-Nate
Field Crew Leader
PGC Deer and Elk Section
From the Southern Crew:
Hello all,
First thing Monday morning, we went to the mechanic's to pick up our crew truck. The mechanic had replaced and rewired our trailer connector and replaced the gas springs on the cap window. Then it was off to the Alan Seeger Pole Shed for training.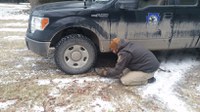 We began by setting up and firing a rocket net. I wanted the crew to see our set up and to understand how different angles would propel the rockets. Next, we pulled out each of our rocket nets to be looked over and repaired. Then it was onto use tire chains. We practiced on my truck. I showed them how to properly use a come-along and taught them some basic vehicle recovery techniques. Finally, we briefly went over how to use a ladder stand.
Tuesday, the crew repaired clover traps in the morning while I ventured to Millheim to pick up our shipment of rope and cable. I also purchased a few shackles to be used for vehicle extraction and ordered more rope for Friday. In addition, I swung by Farm Store to put our first order of corn in for Friday.
Graham and I went looking for a collar in Rothrock that had apparently been missing since March 2015. We had no luck, so I took Graham back to Penn Nursery to help with traps. I completed a mort run and ventured to Bald Eagle to see if I could pick up a doe collar that hadn't communicated with satellites since August 2016. It was getting late, but I wanted to at least try to locate the collar signal so that Graham and I knew where to start on Thursday. I was lucky enough to locate the signal as soon as I neared the doe's home range. I also triangulated the collar. The collar was giving off an odd signal I hadn't heard before—a double beep with a one second pause. Maybe it meant the collar battery was dying?
Wednesday, we did a Deer Trapping Demo for a mammalogy lab of about 20 people. Bret also attended to help conduct the trapping demo. We covered deer handling and restraint, immobilization drugs, antibiotics, tagging, the importance of datasheets, and monitoring vital signs. We also spoke about the PA Fawn Survival Study and the functionality of the GPS and radio collars. We then transitioned over to explaining the clover traps and rocket nets. The students were able to trigger the clover traps and set off the rocket net a few times before heading out.
Thursday morning, I conducted a timesheet training for the crew. Then Randi and Nick worked their butts off on clover traps again while Graham and I went out to retrieve the malfunctioning doe collar in Bald Eagle. It sounded like it had been in the same spot as Tuesday. Graham and I hiked up the ridge. I handed Graham the telemetry equipment and told him locate the collar.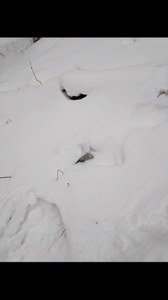 After about 10 minutes, we stumbled upon the collar. I actually saw the collar about 15 feet ahead of us in the snow. No fresh tracks in the area and the snow had formed somewhat of a pocket around the collar. The collar had been laying there for some time and was not triggered by our drop-off efforts that day. I am pretty certain that my 2016 trapping crew searched for this collar in January 2016 because it was malfunctioning then.
This is where I was first introduced to bounce and, boy oh boy, have I come a long way since then. I can confidently say that the collar was still on the doe in January of 2016, but I am not certain when she actually lost the collar. The collar lost contact with satellites 7 months later, so you would have thought if the collar had been dropped by us in January 2016 that we would have gotten a mort signal for the deer within that 7 month span.
Next week, we are focusing on baiting our trap sites and I would love to get at least a trapline or two out in Bald Eagle by the end of the week. That is best case scenario, though. We have First Aid and CPR Training on Wednesday and I have one more collar to drop! We have about 20 out of 31 clover traps completely repaired, so we have enough to get us started. The rest will be repaired when we have a few extra hours at the end of a work day or if the weather throws us a curve ball. This will be our last 40 hour week until April!
-April
Field Crew Leader
PGC Deer and Elk Section
If you would like to receive email alerts of new blog posts, subscribe here.
And Follow us on Twitter @WTDresearch