From the Northern Crew:
Dear Deer People,
I hope everyone had a wonderful Thanksgiving and got some quality time with family. This last week was a whirlwind.
On Monday, I spent the first part of the day getting fawn locations and checking on some problematic does. The woods were very busy with bear season in full swing. It was a pleasure talking with many of them how their season.
After locations, I wanted to find that doe collar with the irregular VHF frequency and try to blow it off again. I replaced the batteries in the "blow-off" transmitter and followed the signal into the woods. I got to a point where I felt I was quite close to her location, so I armed the device and pressed "Fire". Pressing the "Fire" button is kind of anticlimactic since there is no indication of a successful transmission. I continued to follow the signal along a deer trail and found some fresh tracks which led to some deer beds with even more fresh tracks leaving them. About ten meters from the three beds lay the collar. Success! [This what real happiness looks like]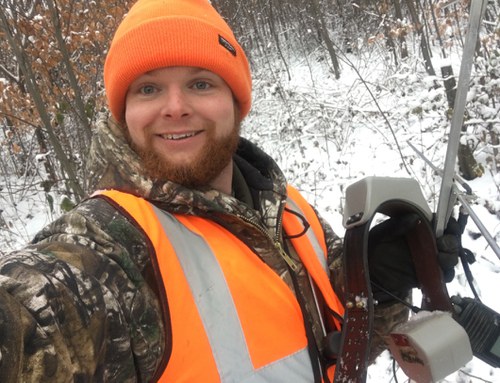 After getting locations done and finding the doe collar, I headed over to the bear check station. I was informed that "business" was pretty slow so I headed home to get some office work done. When I returned at dusk, bears where flowing in quite steadily and the crowds began to gather.
I talked with many people about bear ecology and research, and even got to see a couple bears with ear tags from this last summer. Brandon and I had caught quite a few bears over the summer for the fawn study and now the data was returning through hunter success.
Tuesday and Wednesday, I did a mort check and another round of locations. I am hoping they will all still be local and alive this next week with the start of gun deer season.
April was able to send me much of the paperwork and protocol that was used last year for deer captures. She also sent me the equipment list. I will start inventorying everything that I already have at the shop and see what I will need for this upcoming trapping season.
This week, I will be concentrating on mortality checks and locations along with any adult mortalities that occur during this opening gun season week along with equipment inventory and Clover trap inspection.
-Nate
Field Crew Leader
PGC Deer and Elk Section
From the Southern Crew:
Hello all,
Did someone say "four day weekend!?" A short week lead to a short agenda. Thanksgiving festivities followed!
My Monday morning began with a routine mort run to assure that everyone was still kickin' after the weekend. I then headed out to assist at the Bear Check Station for the rest of the day. Bret was in charge, so I thought I'd go bug him for the day!
I assisted at the check station until close. I believe we processed around 30 bears the entire day. We had a number of harvested bears with ear tags. Two of which had tattoos on the inside of their upper lip. Not only did we check for tags and tattoos, but we also sexed each bear, pulled a tooth for aging and obtained weight.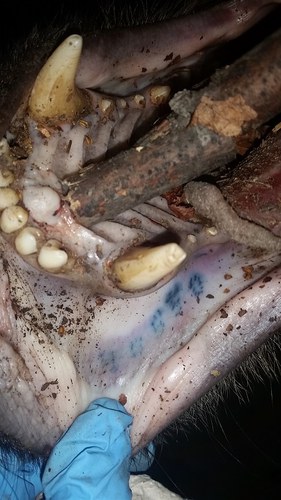 Tuesday and Wednesday was dedicated to fawn monitoring. I obtained at least one location for each fawn this week.
I will work on Sunday to conduct a mort check prior to the opening day of gun season. I will also complete a basic trap inventory to prep for repairs this January. Tuesday, I'll conduct another mort run and obtain locations on as many fawns as possible. I am also hoping to swap trucks out at the garage. Otherwise, most of my week will be consumed with deer aging. Something a little different than I'm used to, but it'll be fun to change things up a bit!
-April
Field Crew Leader
PGC Deer and Elk Section
If you would like to receive email alerts of new blog posts, subscribe here.
And Follow us on Twitter @WTDresearch