——————————————————————–
From the Northern Crew:
Dear Deer People,
The north has been pretty busy with scouting, deer duties, running trucks around, and a mortality this week.
On Monday, Hannah, the previous crew leader, was gracious enough to make and send me a map of all the trap lines that she established and where she caught most of her deer. I was very thankful for such information as I know she had to start from scratch originally. After receiving the maps, I ventured out since many of the trap lines don't correspond to fawn locations. I started writing down where I would like to put traps on all the different lines and found some other spots for the drop nets. I am getting more and more excited for this winter.
I shuffled all the trucks on my inventory around to different shops to get them ready for the crew's arrival and winter use. Truck 5773, which was in the shop for the EGR valve, finally passed its emissions test and was given an inspection sticker. I also took truck 5775 into the shop for a new steering shaft and a check engine light. I am hoping that it will also be totally finished up and ready by the end of next week.
Enough about truck stuff… On Wednesday, while on my last fawn, the dreadful sound of a mortality signal beeped over my receiver. Fawn 6651, that had been moving around quite a bit, had now not moved at all for over 4 hours. The signal led me a little over a quarter mile into the woods. I knew I was getting close and really started to look for any signs of a deer or kill site. All of a sudden the signal reversed so I knew I had just walked passed it.
I looked back and could barely see one of the back legs sticking out from under the leaves. Some critter had cached this guy very well, almost completely covering the fawn with leaves and surrounding vegetation. After taking some pictures of the cache, I uncovered the basically whole deer to find a small amount of consumption on one of it's hindquarters. There weren't any other signs of struggle of distinct kill wounds. I ended up tossing the whole deer up on my shoulders for the trek out.
The carcass will be sent to the lab for necropsy to properly determine the culprit.
After hauling that fawn back to the office, it was too large to fit into the freezer with the two others already in there. So, on Thursday I met Bret to deliver the carcass to be stored elsewhere until a necropsy could be scheduled.
On Friday, I performed a mort run on my remaining fawns and received an email from Tess about a problematic doe collar that needed to dropped from the deer. The doe collar was emitting an abnormal mortality signal that sounded more like the "lub dub" of a heartbeat compared to the more metronomic signal I am used to. I attempted 5 separate times to blow the collar off and knew that I was very close to her since I was following her fresh track through the snow. The abnormal signal was hard to track. After almost two hours, I noticed I had tracked her in a large circle with no collar to be found. The malfunctioning collar was not receiving the drop-off code and the deer was most certainly alive.
This week I will attempt again to drop the doe collar. It will be a very short week with Thanksgiving holiday Thursday and Friday. It will also go by quickly because I will be helping with the Coudersport bear check station on Monday. I am excited to be working with some bears again and to mix up the schedule a bit. In the meantime,
I hope everyone has a Happy Thanksgiving!
-Nate
Field Crew Leader
PGC Deer and Elk Section
——————————————————————–
From the Southern Crew:
Hello all,
It was a busy week with fawn monitoring, the trucks, and a mortality. Yes, that's right, I said a mortality!
Bret and I trekked north on Tuesday morning to pick up a truck at the Loyalsock game farm. First, we made a quick pit stop in Selinsgrove to pick up a GPS collar from a deer that had been harvested in the Northern Study Area. I also had the oil changed in my truck on Wednesday morning. Otherwise, I spent my week monitoring the fawns. Collar 6650 made an appearance at her home base on Thursday.
After almost two tranquil months of being "mort-free," I had a fawn mortality. I began to think that my fawns were off the hook, but I received a mort signal for collar 6596 late Friday morning. Luckily, it was only a 100m hike into a cornfield to the mort site. I seem to get endless biangulations for the fawns in this area, so I was pleased to report that it was a quick and simple search. I ended up having just enough time to complete the mortality investigation and make it to my dentist appointment on time!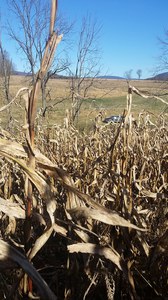 At first glance through the cornstalks, I noticed a complete carcass, which seemed untouched; however, I observed more closely and saw that the hindquarters of the animal had been eaten and cached underneath flattened cornstalks and dead grass. I carefully proceeded to take photos of the carcass and mort site and look for predator tracks.
Imprints of small round pads and rounded toes with deer hair settled in the mud amongst the flattened cornstalks and dead grass. I studied the tracks and determined they were likely those of a bobcat. All that I observed on the carcass was a 4 inch bloodied scar down the back of the right ear, a healed puncture behind the right shoulder, eaten hindquarters and what appeared to be hemorrhaging at the eaten portion of the hindquarters. There were punctures in the hide at the hindquarters, but I couldn't determine if they were inflicted in post mortem stages.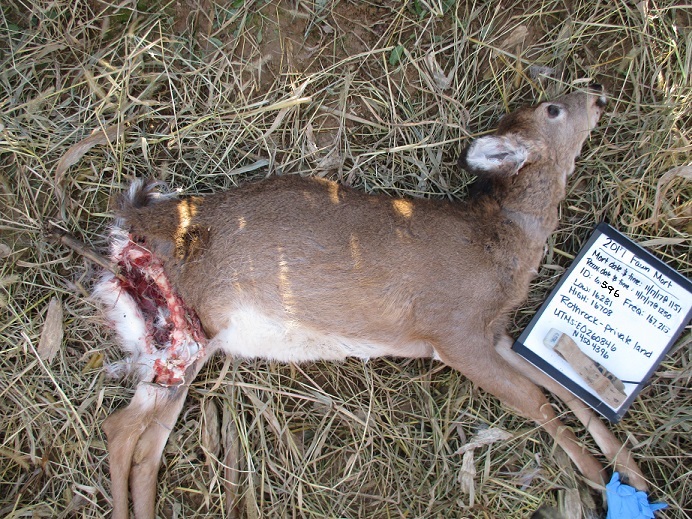 After I completed the mort investigation, I dragged the fawn out to my truck, bagged him and loaded him up to be dropped off later in the evening. The mort certainly did add more excitement to my work week!
Next week will be a much shorter work week. I'll work at a bear check station on Monday then fawn monitoring which will be dedicated to locations!
-April
Field Crew Leader
PGC Deer and Elk Section
If you would like to receive email alerts of new blog posts, subscribe here.
And Follow us on Twitter @WTDresearch