From the Northern Crew:
Dear Deer People,
This last week has been quite exciting. On Sunday morning, I got locations on fawns. I got a nice "Live" location on my first fawn and continued with my day. Shortly after, I received a call from a gentleman saying that his relative had shot a collared fawn and couldn't find it. I informed him that the use of telemetry/technology to find his deer would be illegal and an unfair advantage so I could not help him.
When I heard where they were looking, I knew exactly what fawn it was. I finished up with my locations and started back home. It just happened that this fawn was on my way back, so of course, I punched the frequency in. Sure enough, it was now in "Mortality Mode." I knew they had called off the search, so in I went. I found it not 50 yards from where they had parked their truck that morning. It had been half consumed by coyotes and was full of maggots. I called the gentleman back and showed him where the deer ended up. They left the meeting thankful.
The fawns have been cooperating quite well all week except for one. Fawn 6598 has been MIA with not a beep to be heard. I have driven high and low listening in every direction possible with nothing but static. I have been checking every day, but may have to fill out a mortality report since I haven't hear the signal for over a week.
On Wednesday, I had the pleasure of getting to "blow" a doe collar off. The collar had been offline since it was deployed in 2016 and had not been transmitting any locations. Then on 10/07, it started up and sent a location. Since she hadn't moved very far from where she was caught, I went in to blow the collar off while we had the chance.
I drove to the location and hoped the VHF signal was still working. I dialed in the frequency and it was loud and clear. I figured from where I had parked, I was within the 500 meters to trigger the collar to release. I pressed "Fire" and hoped for the best. I followed the signal into some of the thickest early successional forest I have ever had to walk through…with a yagi. I was relieved when I found the collar in good condition and my trek wasn't in vain.
Thursday, I accompanied Brandon to Penn State Dubois for a presentation on chemical immobilization. It was nice to do some public speaking again. We talked about many of our experiences bear trapping over the summer and I got to add in some of my experience with trapping deer and bobcats in Wisconsin.
Over this next week I will continue with locations and mortality checks and hope that there aren't any more mortalities. October is coming to a quick close and I look forward to the cooler temperatures along with getting amped up for all the winter festivities.
-Nate
Field Crew Leader
PGC Deer and Elk Section
From the Southern Crew:
Hello all,
Fortunately, I was blessed with another ordinary week. Doesn't sound very exciting, does it? Wrong! The weather was beautiful (a little warmer than I'd like, but hey, beggars can't be choosers), the deer were wondering about and the work got done without any troubles! [ordinary is always good in the field]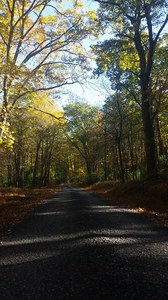 I started my week off with some good old-fashioned telemetry. Then met Bret and Nate in the afternoon to move the broken-down snowmobiles to a different location at the nursery. I spent the rest of the evening with them catching up on what's happening in the deer world. I also swapped out trucks at the mechanic.
I sent an update on our VIT does and fawn capture success to a team member of Vectronic. I thought he might be interested to know how everything went!
I saw two of the collared fawns on Monday morning. One fawn (6635) show herself from time to time which is exactly how the crew caught her in May. She was standing near the road when they spotted her. The second fawn (6607) doesn't show himself during the day. Monday was the first day I've seen him since his capture date in June. I've been very close many times but haven't walked in on him to avoid disturbing him.
Lastly, I chased around a fawn who disappeared and got nothing…until she returned to her capture area. She's a tricky one, but I love the challenge!
-April
Field Crew Leader
PGC Deer and Elk Section
If you would like to receive email alerts of new blog posts, subscribe here.
And Follow us on Twitter @WTDresearch