From the Northern Crew:
Dear deer people,
We completed all 98 pellet transects in the Susquehannock on Wednesday last week, right on schedule. Each transect is a half mile long (800 meters), and we managed to hike all of them in about 7 days, collecting roughly 400 samples.
To maximize efficiency, we split into 3 teams. By working long days, each team was able to complete 5-7 transects/day if they didn't get rained out.
I may have been under attack by briars or distracted by the aching of my swollen knees, but in the end I have poo patrol boot camp to thank for shedding that winter-trapping (sit-in-a-truck-and-eat-all-day) weight!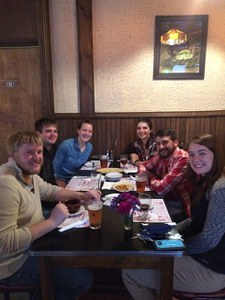 We cleaned and organized all 3 trucks as well as the storage shed (no small feat after the whirlwind of trapping season). On Thursday, the crew conducted a mortality run on the fawns and pulled a few trap anchors that we couldn't get out when the ground was frozen. I also met with Bret to hand over some supplies and equipment.
I have accepted a position in Oregon working with sage grouse and ravens, so this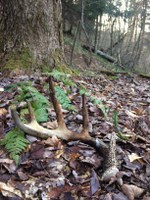 will be my final weekly update. After spending the last year and a half in the mountains of Pennsylvania, I am headed to the high desert! But I'll be sure to keep tabs on the project here on the blog.

P.S. It's not just deer poop that we find in the woods.
-Hannah
Former Crew Leader

PGC Deer and Elk Section
From the Southern Crew:
Hello all,
We had 3-4 crews conducting pellet surveys all week in mountainous, rocky, mountain laurel-y, tick covered terrain. With the assistance of Wyatt and Brandon, we completed 47 pellet transects this week. Only 12 to go!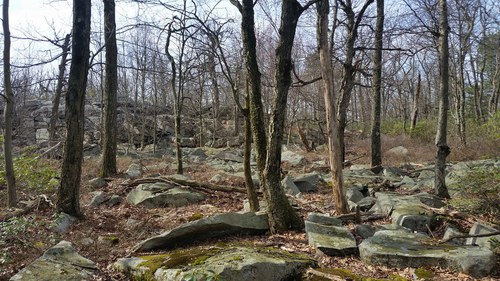 One for the pellet transects in Rothrock State Forest
The nice weather helped us kick butt. Mandy (Rothrock District Office), Brandon (bear bio aide), Tony and Anthony (northern deer crew) will be assisting us with our final 12 pellet surveys. We should be finished up by Tuesday.
Snakes were moving this week, as expected. I busted out the snake chaps and we geared up but we didn't come across any rattlesnakes.
I saw our first 2017 VIT doe with 6 other deer on Monday when I was conducting a mort run.
Once our pellet collections are complete, I'll finish uploading everything (tracks, waypoints, datasheets) then get all of our trucks organized to begin preparation for fawn capture 2017. ☺
The southern deer trapping crew finished up this week. I had a great deer trapping crew this year. They never had a problem laughing at each other – Corey for his tendency to bring pizza for every meal; Levi who pronounced "Rothrock" like "Roothrock"; me for being the leading greenhorn of the crew; Kate for being Tom's keeper; and Tom…well, what didn't we pick on Tom for? He was our high maintenance redneck.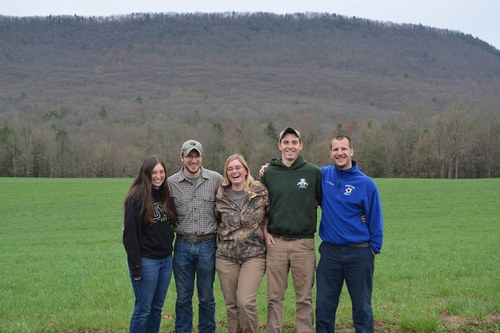 Southern crew posing with their "favorite" mountain – Knob Ridge, Bald Eagle SF
Many thanks to my crew for working hard and maintaining a positive attitude during this tough but exciting capture season.
Southern Deer Trapping Crew 2017 signing off.
-April
Field Crew Leader
PGC Deer and Elk Section
If you would like to receive email alerts of new blog posts, subscribe here.
And Follow us on Twitter @WTDresearch
p.p3 {margin: 0.0px 0.0px 0.0px 0.0px; font: 11.0px 'Trebuchet MS'; -webkit-text-stroke: #000000; min-height: 12.0px}
p.p4 {margin: 0.0px 0.0px 8.0px 0.0px; font: 11.0px 'Trebuchet MS'; -webkit-text-stroke: #000000; min-height: 12.0px}