[Comment in brackets are by Jeannine and Duane]
From the Northern Crew:
Dear deer people,
It was a shorter trapping week on account of the big Nor'easter, the worst of which ended up missing us here in the Susquehannock. We closed traps Monday night as a precaution, but it only snowed maybe 4 or 5 inches by Tuesday morning. Over the course of another 24 hours, we got about 8 inches in total.
Since bears have shut down most of our traplines, we're only checking 20 traps. Even so, we managed to catch our 70th new deer and deploy our final VIT collar, making for 95 total captures! The trap-openers found bear sign on another line today (Sunday) so we had to leave those traps closed. But thankfully my awesome crew already pre-baited and placed traps on a brand new line elsewhere.  We're excited to see what that will bring this week.
Our slow week came to a temporary halt on Wednesday afternoon when one of the trucks decided it'd had enough.  We had to call a tow truck to haul its sorry butt out of the woods. To make matters worse, the trailer it was towing got a flat tire that came off the rim. If there were frequent flyer miles at the auto shop, we would be VIP members!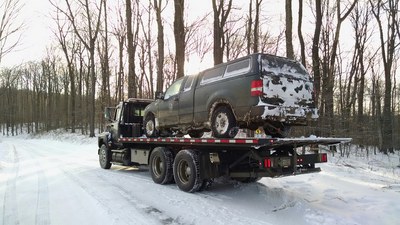 Over the weekend, while checking on a malfunctioning doe collar, we listened for a few collared fawns along the way and heard one in mortality mode. An impromptu investigation ensued resulting in the discovery of a dropped collar at the top of a mountain (because, where else would a fawn drop a collar?). [fawns collars are elastic and eventually wear and break]
This upcoming week, we're hoping to rocket net as much as weather will allow. Here's to 100 deer captures!
-Hannah
Field Crew Leader

PGC Deer and Elk Section
From the Southern Crew:
Hi all,
A pretty wild week in the Southern Study Area! We couldn't open clover traps until Wednesday because of the storm that rolled through. With the mild winter, I thought for sure we wouldn't need to use tire chains at all this year. The blizzard made it very clear that I was wrong.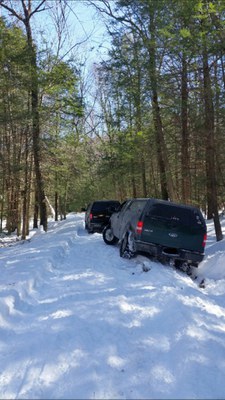 Overall, Rothrock had about 7-12 inches and Bald Eagle had 12-18, depending on which side of the forests we were on. We kept traps open through the weekend and caught 8 new deer between clover trapping and rocket netting. 
We put our last buck collar and final two VIT collars out, as well! Our captures included 2 adult does, 1 adult buck, 5 button bucks and 4 turkeys (2 jakes, 2 hens). 
It felt like the 2016 deer trapping season again when I looked at the cameras.  Deer established a steady schedule and came flooding into the rocket net sites right around dark after we got this snow! I'm sure it won't last, but it was a nice throwback moment. At one site, 13 deer were in the field at 7 PM. Four of those deer were previously tagged.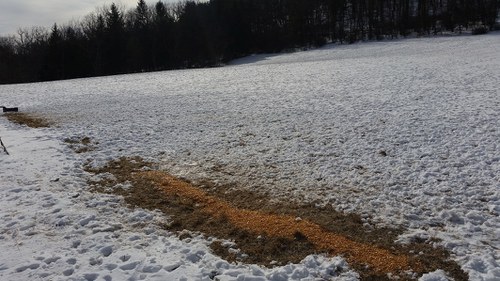 We received two mortality event emails this week. One was a GPS collared buck from 2014. Kate and I checked out the mort site.  We found only two deer beds, deer tracks and scat.  His collar was back in "live" mode and he was up on the mountain above us. Tess thinks it's about time to drop-off his collar [based on battery life, which is something we can monitor]. 
The other was from a doe that was tagged in 2016, recaptured this year and fitted with a GPS collar. We visited the "mort" site and again found two deer beds and deer tracks. Her collar was also in "live" mode too. We were thinking that the doe was bedded down for the inclement weather we had this week. Tess said she'd continue to monitor both of these deer. 
Although it definitely slows us down more, I like to think the snow added a little spice and some excitement to the week. The worst is yet to come—ice. The traps are becoming muddy again, but still not the mud pits we were used to seeing this year.
-April
Field Crew Leader
PGC Deer and Elk Section
If you would like to receive email alerts of new blog posts, subscribe here.
And Follow us on Twitter @WTDresearch