[Comments in brackets by Jeannine and Duane]
From the Northern Crew:
Dear deer people,
We caught 12 deer last week, all of which were new deer except for one trap-happy buck that we caught twice (for the third & fourth time this year). Last Monday, we launched our fifth rocket net of the year. This means that every crew member has now sat in the tree stand and successfully caught deer under a net! There were 3 deer on bait when the rockets fired, but one lucky deer managed to escape. The two deer we did catch happened to be adult does, both of which were big enough to receive a VIT and collar.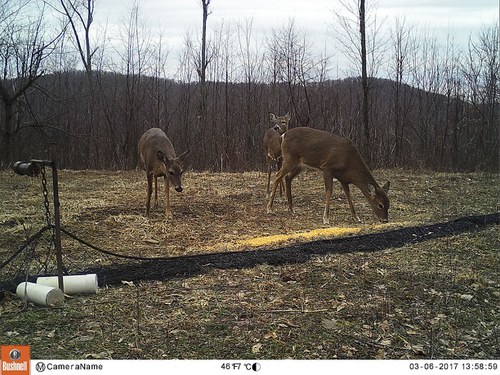 We had to shut down another trapline due to bear activity. We're running out of options as to where to move Clovers. This is the EIGHTH line we've had to close on account of bears this year! In response, we will be shifting our efforts more towards rocket-netting in place of Clover-trapping.
We worked on Saturday with 9 volunteers accompanying us (no pressure). Unfortunately, the deer didn't cooperate for us that day (so much for my superstition about volunteers bringing good luck). Traps have been closed since then, and we're going out to rocket-net this afternoon in hopes that the deer will be moving prior to the big snowstorm. The forecast is calling for 9-15 inches of snow! We might get to put that snowmobile training to use after all.
-Hannah
Field Crew Leader

PGC Deer and Elk Section
From the Southern Crew:
Hi all,
This week we captured 5 deer.
For the first time this year, we captured two deer in a single trap—an adult doe and button buck! It was awesome to get a two for one kinda deal.
They were bedded down in the trap upon our arrival. The fawn was tagged and released first. The doe was drugged and receive a collar and VIT. We still have at least two VIT/collars in our stock.
The ground has been so soft with the mild winter that just about any trap that a deer gets in turns to a mud pit. Hopefully, the predicted snow and cooler weather will help with that issue. In addition, we pulled some of our traps to be moved and rocket netted twice without luck.
Since we are expecting a heavy snow storm, my crew did not open Clover traps today. We have other work and rocket netting planned for tomorrow while we wait to see how it pans out. We will likely be trapping into the weekend. The snow will slow us down quite a bit, but we definitely could use it!
PGC Deer and Elk Section
If you would like to receive email alerts of new blog posts, subscribe here.
And Follow us on Twitter @WTDresearch