From the Northern Crew:
Dear deer people,
We had a shorter trapping week on account of the holiday, but it was productive nonetheless. Even without snow, we managed to catch a few deer in traps. Call me superstitious, but volunteers seem to bring good luck. Brandon (the bear bio aide) sat a rocket net with us on Thursday, and two bucks strolled in at dusk–both ending up under the net!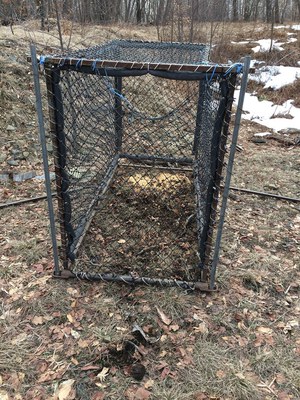 Tess and 3 others joined us on Friday when it was darn near 70 degrees and we caught 2 deer on one of the new traplines. It should have been 3 deer, but one somehow escaped through the door netting. "We'll get 'em next time" is our unofficial motto…sigh. 
When we weren't checking traps, we were pre-baiting new traplines and setting up new rocket nets. My crewbies are moving almost half of the traps to new locations today (Sunday).  We're excited to see what that will bring in the way of new deer this week. At one site where we've been pre-baiting for a rocket net, we captured a 6-point buck still sporting his headwear on February 19th! [Completely normal BTW-bucks can lose their antlers anywhere from December to March and now is the best time of year to be hunting for them]
We haven't forgotten about the 2 collars that need to be dropped (but 1 has a dead battery & 1 has a malfunctioning drop-off mechanism). Our game plan is to catch them at rocket-net sites instead. Stay tuned.
-Hannah
Field Crew Leader

PGC Deer and Elk Section
From the Southern Crew:
Hi all,
A rather warm week for February brought us 6 captures. We recaptured 3 deer on Friday alone. One was our trap happy (and hungry) VIT doe. Another was a doe we captured in 2016 at the same site. She received a VIT this year. The last recapture was a buck in Bald Eagle ~4.3 miles from his original capture site. Our other 3 captures were bucks as well.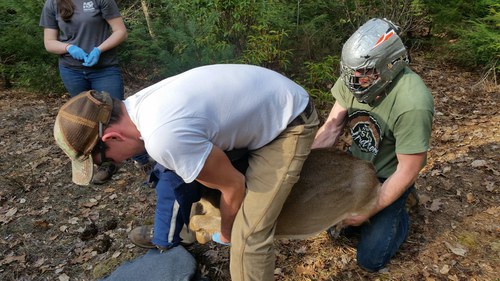 We tried our hand at rocket netting twice this week. Once again, coming up empty. On Sunday, we had non-target deer in and out of the rocket net field until about 8:30 when a doe and a fawn came in. We saw this same doe and fawn around 5:40. The doe had a tear in her right ear and what looked like a gray tag in her left ear.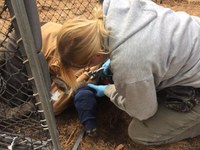 Could she have been a tagged deer? We may never know because they were close enough to the left side of the net to slip out. We've rocket netted this site a number of times in the past (it's been our best site for the past 2 years) and have never had a deer escape. Thursday, we had at least 10 deer in our field of view. We patiently waited for our target deer to get on bait. There were at least 2-3 adult does present, none of which chose to spend time at the bait. 
Levi and I saw an American mink cross the road which was a bit of a surprise. In addition, we found wood frogs singing on Friday in Rothrock in the 75 degree temps.  There was a somewhat inflated wood frog floating in the vernal pool.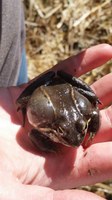 I asked a friend about it and he said, "This occurs when air gets forced into the lymph because of a tear or other injury to the membrane that separates the vocal sacred and the lymph. As the frog calls, it inflates the skin." While all his/her froggy friends dove under water to escape, the inflated frog was stayed afloat due to its unfortunate condition.
We moved traps on Friday. The crew also moved and set traps on Sunday. Here's to another week…hopefully better with luck rocket netting!
PGC Deer and Elk Section
If you would like to receive email alerts of new blog posts, subscribe here.