From the Northern Crew:
Dear deer people,
Where to begin…We caught 9 deer this week. We also caught our first antlered buck of the year and successfully executed use of the purse net [a net which is outstretched in front of the trap door; the door is then opened so the deer will run out into the purse net and be restrained]. We also recaptured an adult doe that we had ear-tagged last winter as a fawn on the same trapline; she received a collar this year.
Continuing the positive vibes, Mother Nature brought us some colder weather and lots of snow this week! We captured a few collared does on trail cams at the nets including 1 whose collar we dropped off a few weeks ago. You can still see where it was on her neck. The other doe still sporting her collar seems to be taunting us. Her collar battery is dead and we've been trying to find her for several weeks to drop it off!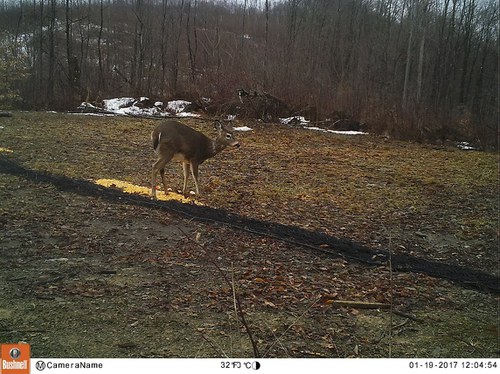 We attempted to rocket-net on Tuesday night. Parking the trucks a wary 1000-feet away from the net and putting a single person in a tree stand, the deer still busted us. Just before sunset, a deer snorted a few times about 100 yards upwind of the net (which doesn't make any sense). We'll be trying again this week!
PGC Deer and Elk Section
From the Southern Crew:
Hi all,
We hauled most of our Clover traps out this week and allowed the traps to sit a few days before we set them so that the deer could hopefully become acclimated to the traps. We landed our first two deer captures in Rothrock by Sunday (our first active trap day)!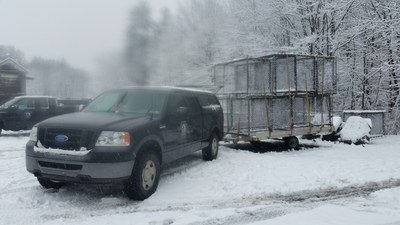 We captured a buck and a VIT doe. It was a little crazy (but exciting) to have an adult doe on our first day. It took us more than a few weeks to capture our first adult doe during the 2016 capture season. I had to do a double take and then check her incisors to confirm that she was an adult. I was also surprised at how quick she got up after the reversal drug, ~10 minutes of waking up and then she was outta there!
The ground is soft and we've only had a little snow here and there, nothing that has stuck. We've "mega-staked" our traps and are now in somewhat of a rebar shortage. There should be some snow accumulating over the next few days. Temps have dropped some and the ground is becoming more solid. We got an additional rocket net put out as well.
We had two of the 2016 collared fawns at two of our rocket net sites. Seven fawns feeding while some of the older deer watch from behind. They're no fools. Where were these fawns during capture season!?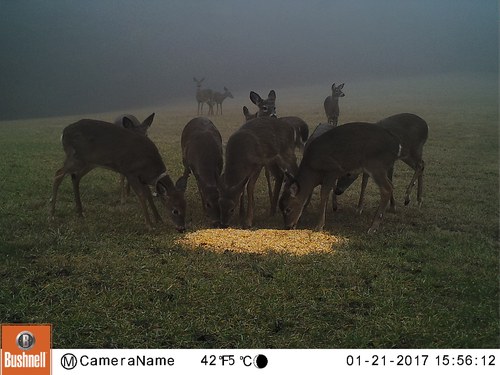 I put a camera on one of the traps that we caught our 6-time-Clover-trap-champion buck in last year to see what his collar looks like this year. Sure enough, there he was but with antlers this time!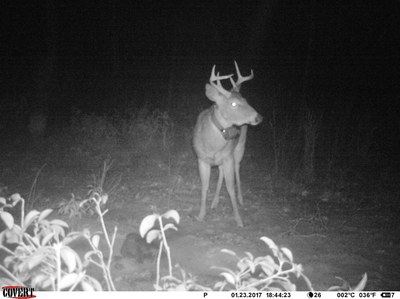 He was captured, un-antlered last year. He was with another buck that kept running him off the bait pile. We got a nice sized bobcat on this camera too!
Next week, we will continue to check traps in Rothrock while hopefully jumping into some rocket netting. We are looking to stake down our BE traps but are limited on rebar. We will see what we come up with.
-April
Field Crew Leader
PGC Deer and Elk Section
If you would like to receive email alerts of new blog posts, subscribe here.