From the Northern Crew:
Dear deer people,
A week of tire chains, training, chainsawing, collar drop-offs, baiting, and trap-setting! With almost a foot of snow on the ground at the beginning of last week, we were optimistic and eager for the upcoming trapping season to get underway especially after last year's disappointing weather. However, following some heavy rain and warm days, we've watched our winter wonderland slowly melt away. There's still a little snow cover, but the forecast doesn't look promising with highs in the 40's every day and no cold front in sight.
On a happier note, we successfully dropped off another 4 collars this week! The only 2 we have left are low-battery collars that we've had difficulty locating. While 2 people were dropping collars, the other 3 drove around clearing traplines.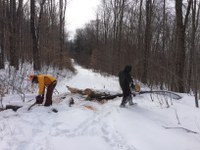 I thought I'd been just about everywhere in the study area, but we managed to find uncharted territory! Our exploration led to the discovery of a shortcut from one of our traplines down to another part of the ATV trail. Granted, we had to clear about 101 trees off the road to find the end, but hey–now we have an alternate route!
Sunday was the first day we could bait, so the crew has been hard at work the past two days getting all 28 traps out. The traps aren't set to capture deer yet, but we're gearing up for it! Tomorrow's weather is looking bleak (100% chance of rain/freezing rain all day), but Wednesday or Thursday we'll open them for a trial run. In the meantime, we'll be pre-baiting rocket-net sites and potential traplines.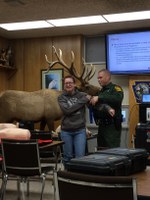 At CPR/1st-aid training, we all learned some very useful skills. In regard to tourniquets, the official party line is, "I'm hurting you to help you!" Crew members, take note. 😉
-Hannah
Field Crew Leader
PGC Deer and Elk Section
From the Southern Crew:
Hi all,
We had a few more gatherings to get out of the way this week—VIT training and First Aid/CPR certification.
At the beginning of the week, I trained the crew in rocket net use. We did a few trail runs at the Rothrock pole shed so that the crew could get a feel for them. Finding the right angle of the rockets can be tricky.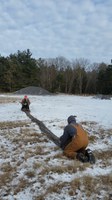 Bret and I conducted a class demonstration this week, as well. The Penn State Mammalogy Lab learned about and used the rocket nets and clover traps. I also explained some of our capture equipment.
Friday the crew scouted trapping locations while I went looking for the collared fawns. One fawn had gone off air – only the ragged collar was found. Faded, all folds opened, stitching loose, and elastic torn near the antenna [that is exactly what the expandable collars are supposed to do].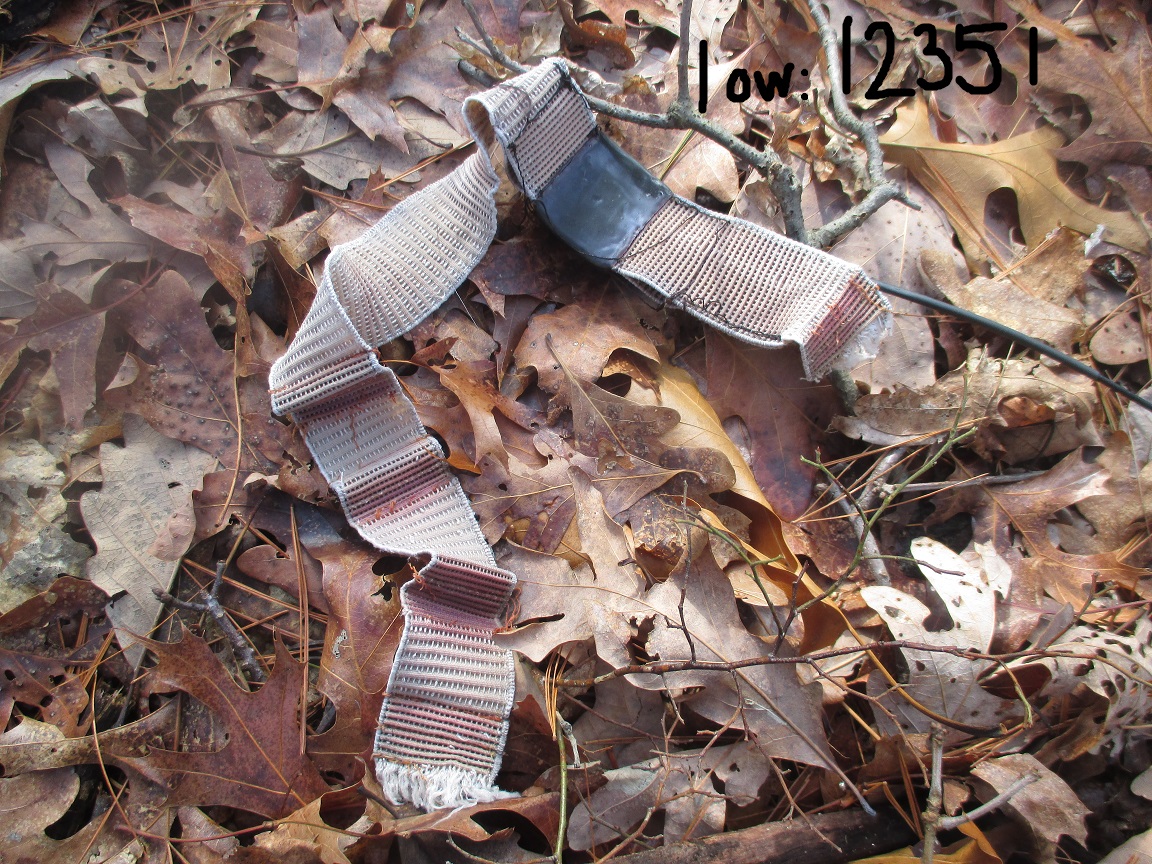 I created a deer trapping site map for the Southern Study Area. It's not finalized, but I can finally export a nice map! Some of the sites overlap with trapping locations from a previous years. I'm working on weeding those out. If anyone is willing to explain to me how to create a shapefile for the study area boundaries, I'll be your best friend! Otherwise, I'll look into that after trapping season.
I got my truck (Squirtle) back this week and for those of you who guessed that the manifold was shot again, you are correct! Should've taken bets. Also, our clover traps are mostly complete. We fixed holes, patched, and replaced some paneling last week. There are 3 traps that need doors replaced, but those are on the back burner for now.
Next week, we will be focusing on scouting and baiting. We'll likely get at least one or two additional rocket nets out this week. We will be trekking into Rothrock to locate 17185 to drop off her GPS collar as well. She still has a fawn associated with her collar. In fact, this fawn was our very first capture last year.
-April
Field Crew Leader
PGC Deer and Elk Section
If you would like to receive email alerts of new blog posts, subscribe here.