April was pulling double duty while Hannah was away for the holidays. I hope they both got some rest as there will be no relaxing the next few months.
[Comment in brackets are by Jeannine and Duane]
From the Northern and Southern Crew:
Hi all,
There was a mortality event in the north while Hannah was away, so I trekked up there with two volunteers to find the deer.
I examined the home range of the deer the night before. From the looks of her home range, I was fairly certain that we'd pick up her signal from Cherry Springs State Park, but that wasn't the case. There was one gated road that we hadn't searched. We retrieved the gate keys from the DCNR office and down the road we went. After a few miles, we had found the sweet spot.
The signal was streaming faintly from across the road. Once we found the signal direction, we parked the truck and walked about 1.3 km. We found the doe lying in a birch stand with a gunshot wound to the gut.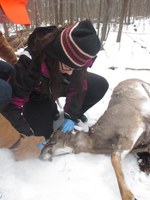 Erin was a trooper and was all for getting her hands dirty, so we let her cut the jaw out for deer aging. While we were there, we checked a few of the fawns in the area as well.
Tom volunteered most of the week. We checked fawns, unloaded clover traps, tried to start the snowmobiles (unsuccessfully), got some supplies out of the pole shed, and assembled a ladder stand to send up north next week. I was able to get just a few fawn locations, submit my LOAS files to Alyssia, and complete auto reports.
The trapping crew begins next week. We will have immobilization training, tour the study area, fix the netting on the clover traps, and practice using tire chains. [Let the games begin!]
-April
Field Crew Leader

PGC Deer & Elk Section
If you would like to receive email alerts of new blog posts, subscribe here.