[Comment in brackets are by Jeannine and Duane]
From the Northern Crew:
Dear deer people,
I woke up Monday morning to a winter wonderland outside. Had to brush 4 or 5 inches of snow off the PGC truck that had accumulated over the weekend. I'm fairly certain we already have more snow than we had on any given day last "winter." Hopefully it sticks around for trapping season!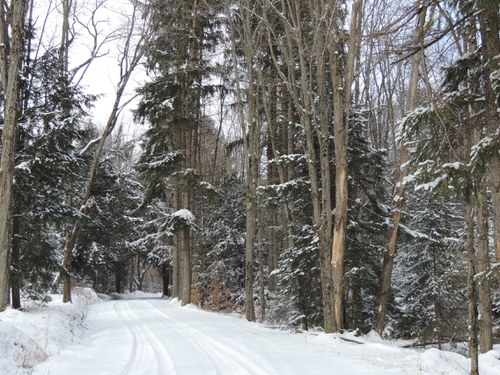 The unplowed Susquehannock roads made things interesting, but I was still able to get around without tire chains. However, I had to take that truck into the shop because some error codes started flashing on my dash. This is the same truck that has been spontaneously shutting off while driving. On that note, I'm also going to drop my third truck off on Tuesday to have them check the starter while I'm away for the holidays. Here's to hoping for 3 road-worthy vehicles come January! [Constant vehicle woes make for interesting trapping seasons]
I spent the first half of Monday aging deer and then conducted a mortality run in the afternoon. Wednesday, I followed up with a hunter harvest in Ulysses to retrieve a doe collar. The remainder of the week involved collecting a few final fawn locations for 2016.
I will be driving down to State College next week to hand off my laptops to April for replacement and to deliver 4 GPS collars to Tess from harvested deer. Then I'm heading back to Wisconsin until the New Year [a rest before the craziness of trapping season]. See you at orientation in January!
-Hannah
Field Crew Leader
PGC Deer and Elk Section
From the Southern Crew:
Hi all,
It was a week for the trucks. Highlights include: moving the last of the Clover traps to Penn Nursery (SCORE!), getting new tires for my truck (YES!), getting my truck mirror fixed, and picking the crew truck up from the garage. Not to mention, I saw plenty of wildlife, including four of the collared fawns,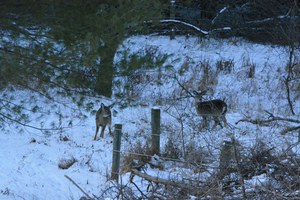 an American Kestrel, Yellow-bellied Sapsucker, and a raccoon. ☺  I got a decent look at 12714's collar and it looks to be stretched out pretty good already [the fawn collars are designed to expand as the fawn grows so we like to make sure the collar design works as planned]. 

Levi volunteered two days this week to help me haul the last 11 traps from State Game Lands 215 to Penn Nursery [newly renamed the Mira Lloyd Dock Resource Conservation Center – you really should click on the link about this woman]. I also spoke with a few landowners to gain permission for deer trapping on their properties this winter.
I will be driving the crew truck for the rest of the year while my truck goes into the garage to get inspected and to fix a possible muffler issue. This week, I started noticing a strong exhaust smell in the cab of the truck and hearing a ticking sound when I pressed down the gas pedal. The exhaust odor was overwhelming, so I visited the mechanic immediately. Both exhaust manifolds were replaced last winter, so that shouldn't be the issue [still sounds like an exhaust manifold to me – anyone taking bets?]. My truck repairs usually have something to do with bad rust.
First thing Monday morning, I'll gather all of the computers from the interns and Hannah to exchange with Ian for newer laptops. I plan to work in ArcMap as well, which will keep me plenty busy. Other than that, I'll continue to monitor the fawns and get locations in my spare time.
If you would like to receive email alerts of new blog posts, subscribe here.
And Follow us on Twitter @WTDresearch