[Comments in brackets are by Jeannine and Duane]
——————————————————————–
From the Northern Crew:
Hi everyone,
Last week marked the end of the 2022 trapping season. It's hard to believe it's over already! It was a successful week for Clover trapping, and we even had another successful rocket net shot. The deer have begun shedding in earnest and it's going to take forever to get all the deer hair out of my clothes!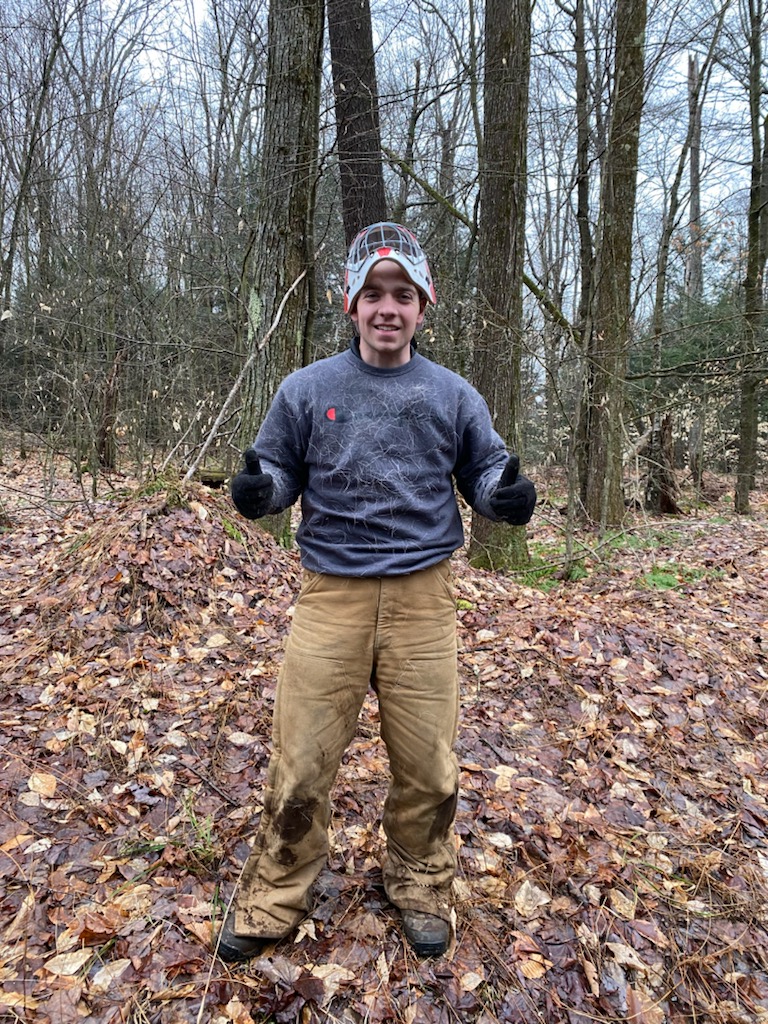 Despite our initial struggles this season, we achieved 61 total captures with 34 brand new ear-tagged deer. If you had asked us a month ago, we would not have guessed at such a result. In the entire month of February, we logged only 10 total captures, and our outlook was pretty bleak. But thanks to the persistence and efforts of Matt, Michael, and Matthew continuing to hard work every day despite not catching a single deer for over two weeks, we pulled off an incredible 51 captures in the month of March!
Although trapping has come to an end, we don't have time to rest just yet. We're removing our traps from the forest in preparation for the upcoming turkey season, and we began our first nighttime thermal deer surveys which will carry on for the next couple weeks. We've all gotten used to hitting the hay early to be ready to start trapping at 8 am every morning, so now we have to train ourselves to stay up late for these surveys which often go past 10 pm.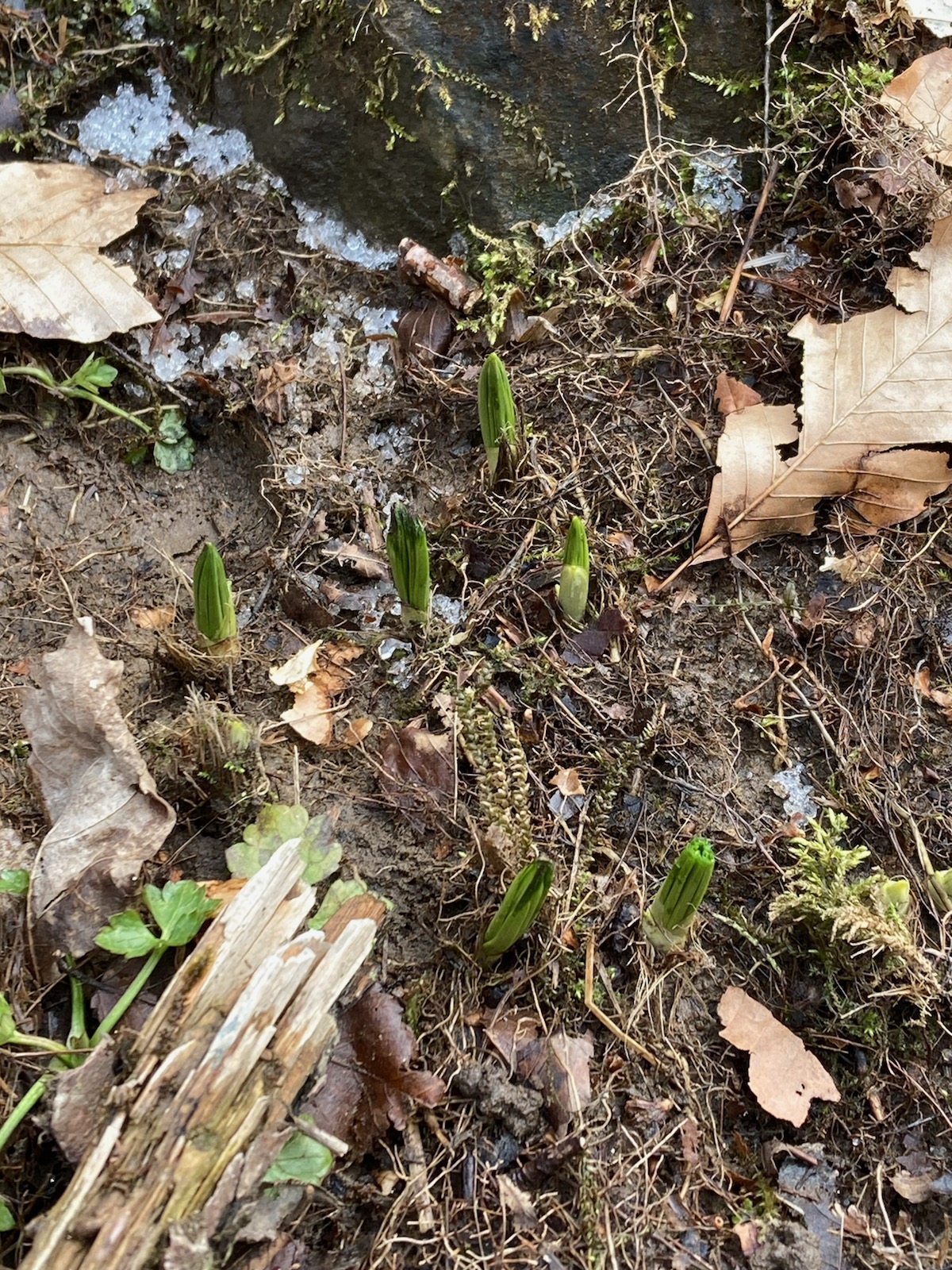 The woods are on the verge of green-up, and we're starting to see leeks poking out of the ground. The forest is also teeming with trout fishermen after the season opened last weekend. Spring is here!
-Amanda
Northern Field Crew Leader
Game Commission Deer and Elk Section
——————————————————————–
From the Southern Crew:
Hi all!
Last week was our final week of deer capture for the 2022 season and we were sitting on our rocket nets as much as possible. Since our Clover traps were getting no deer action, we opted to sit on a rocket net every single night for our last week of deer capture. The weather was a little cold and wet at times with rain, sleet, tornado warnings, thunderstorms, and Real Feel temperatures in the single digits, but we road those waves to capture deer! Our goal was still to get all of our deer collars out and with only female collars remaining, adult does were our primary target.
At one site in Bald Eagle, we ended up taking shelter in our trucks during a severe storm. We knew that there may be a few small thunderstorms floating around the area, but we were taken by surprise when the NOAA alerts started coming across the radio mentioning 60-70 mph winds and hail. So, we rushed to the trucks to wait it out and I'm glad we did. After the storm passed, it was a beautiful evening as we sat there listening to some jakes learning to gobble in the evening light.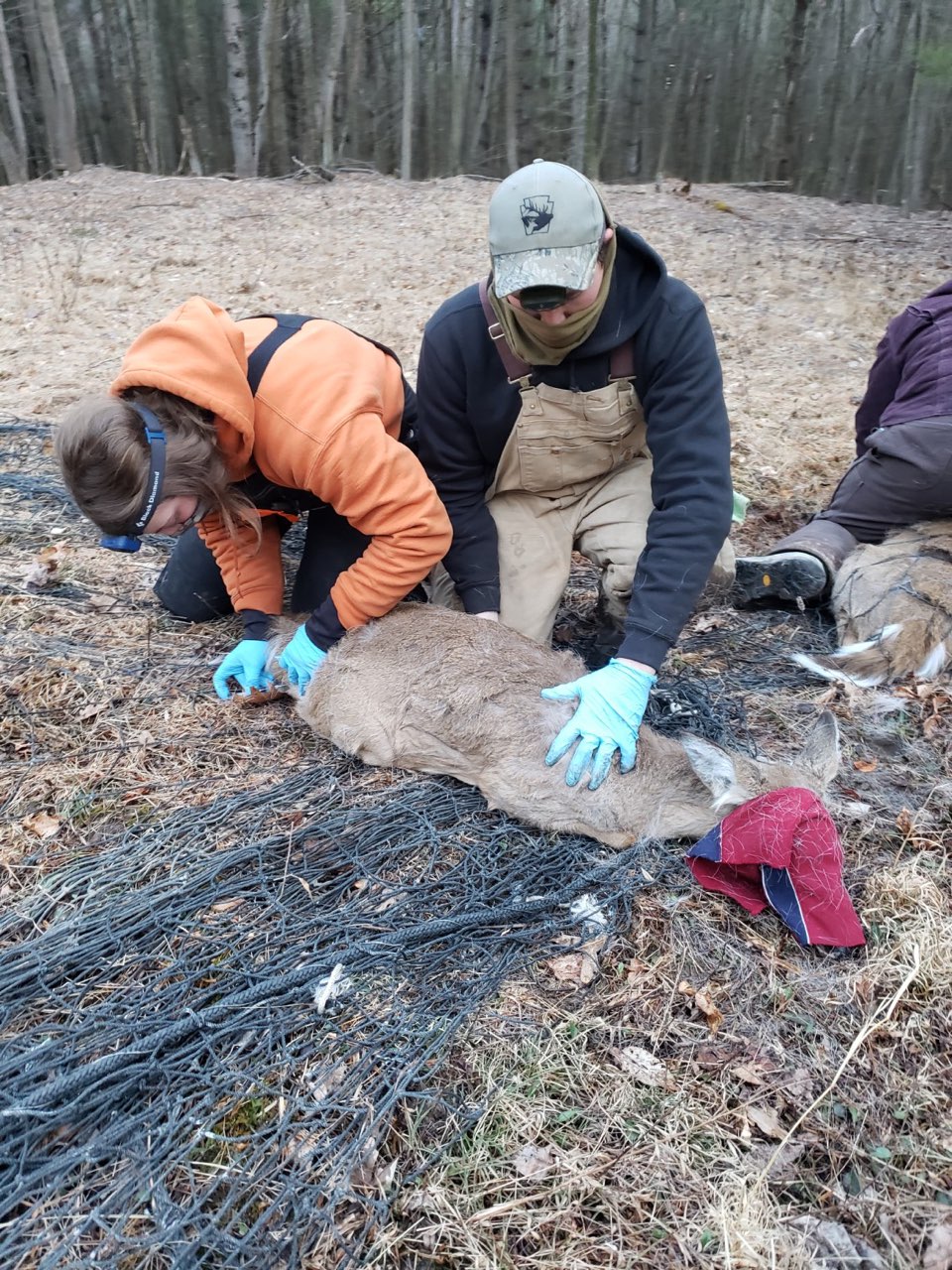 That night we ended up firing the net and captured a fawn but didn't get a collar out. On Friday night, our final night of deer trapping, my crew and I were all prepared to sit all night until we captured some deer. The goal was to put out at least One. More. Collar. Of course the night we were prepared to sit until 0300, my crew fired the net on a group of 3 deer at 1915! Driving up the scene was a little hectic as Sarah and Erika were restraining the deer and there may have also been a small grass fire from the rocket. But we quickly put that out and got right to tending our final deer of the year. It was a great reward to 1) Capture deer on our final night. 2) Be able to process deer in the daylight. 3) Get another doe collar out!
All in all, this was a tough season. The 2022 Southern Deer Crew of Sarah, Erika, and Michaela did an excellent job of keeping high spirits, coming up with new ideas, and always being optimistic of capturing some deer! Even through the worst of it. Our bare minimum goal in the South is about 30 captures and none of us thought we'd capture that many let alone 40. Yeah, we didn't get all of our collars out but we can't say that we didn't try as hard as we possibly could!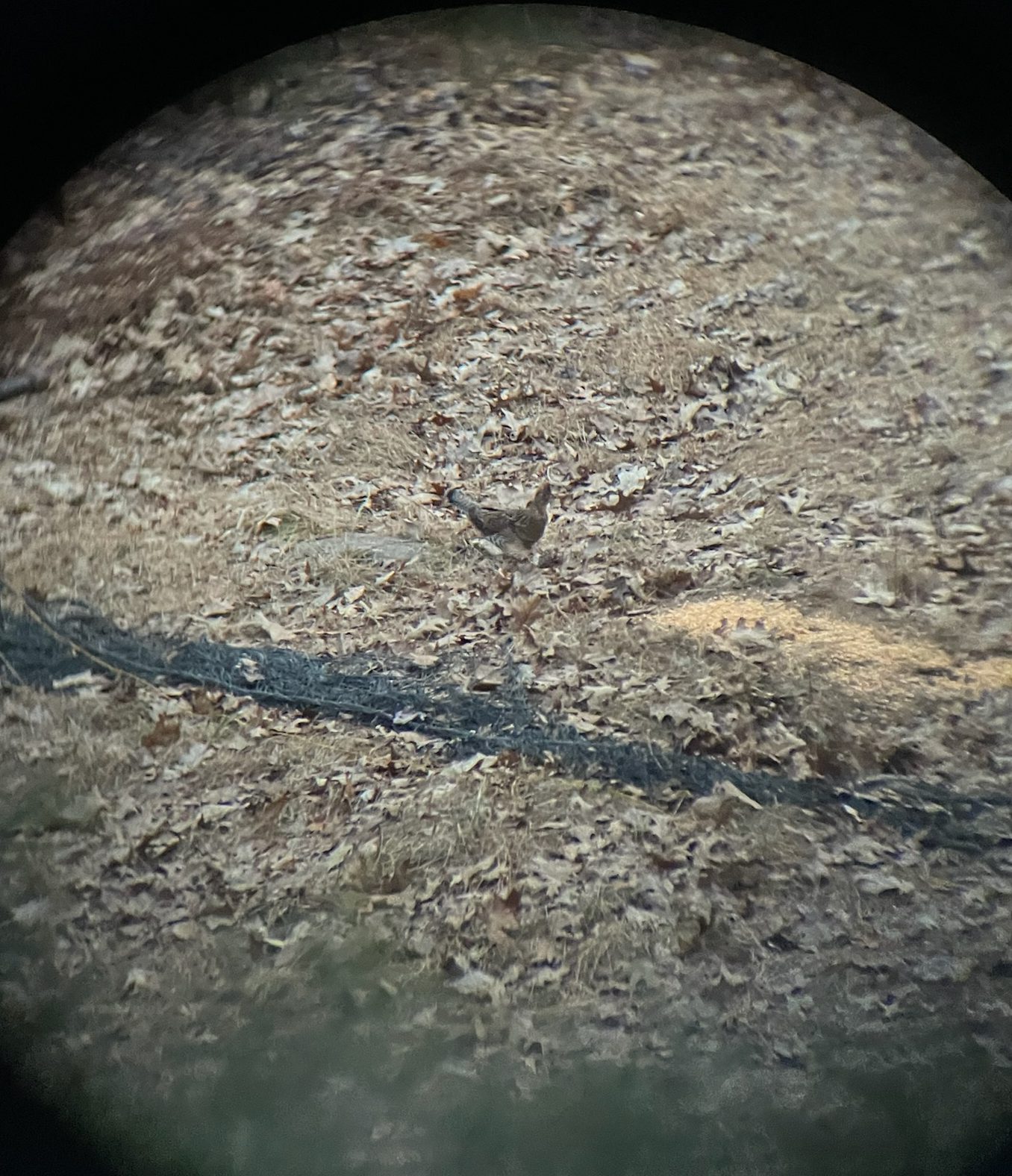 Now, we begin our clean up as we have to collect all our Clover traps and rocket nets that are still sitting in the woods and begin to re-organize all of the equipment for the 2023 crew. We will also begin our nightly FLIR surveys that will be done each night for the next 2 weeks or so. The night shift is pretty familiar to everybody from rocket netting the last 2 weeks, but we already miss the adrenalin rushes that you get while capturing deer.
Have a good week!
-Levi
Southern Field Crew Leader
Game Commission Deer and Elk Section