Welcome to the 2022 trapping season!
[Comments in brackets are by Jeannine and Duane]
——————————————————————–
From the Northern Crew:
The 2022 deer trapping season has officially begun! On Tuesday the technicians arrived – two are from north-central PA and the other is a returning technician from the 2020 crew. We began by prepping vehicles for field use and getting some maintenance done on them, and then transitioned into assessing the state of our Clover traps and beginning repairs.
It's crazy how different the start of this season is from last season – namely, there's no snow here! Finally we got an inch or two, but it's hard to figure out where the deer are when you can't see their tracks. Hopefully we'll get a bit more snow here and there over the next couple weeks to help us find the most promising locations for trapping.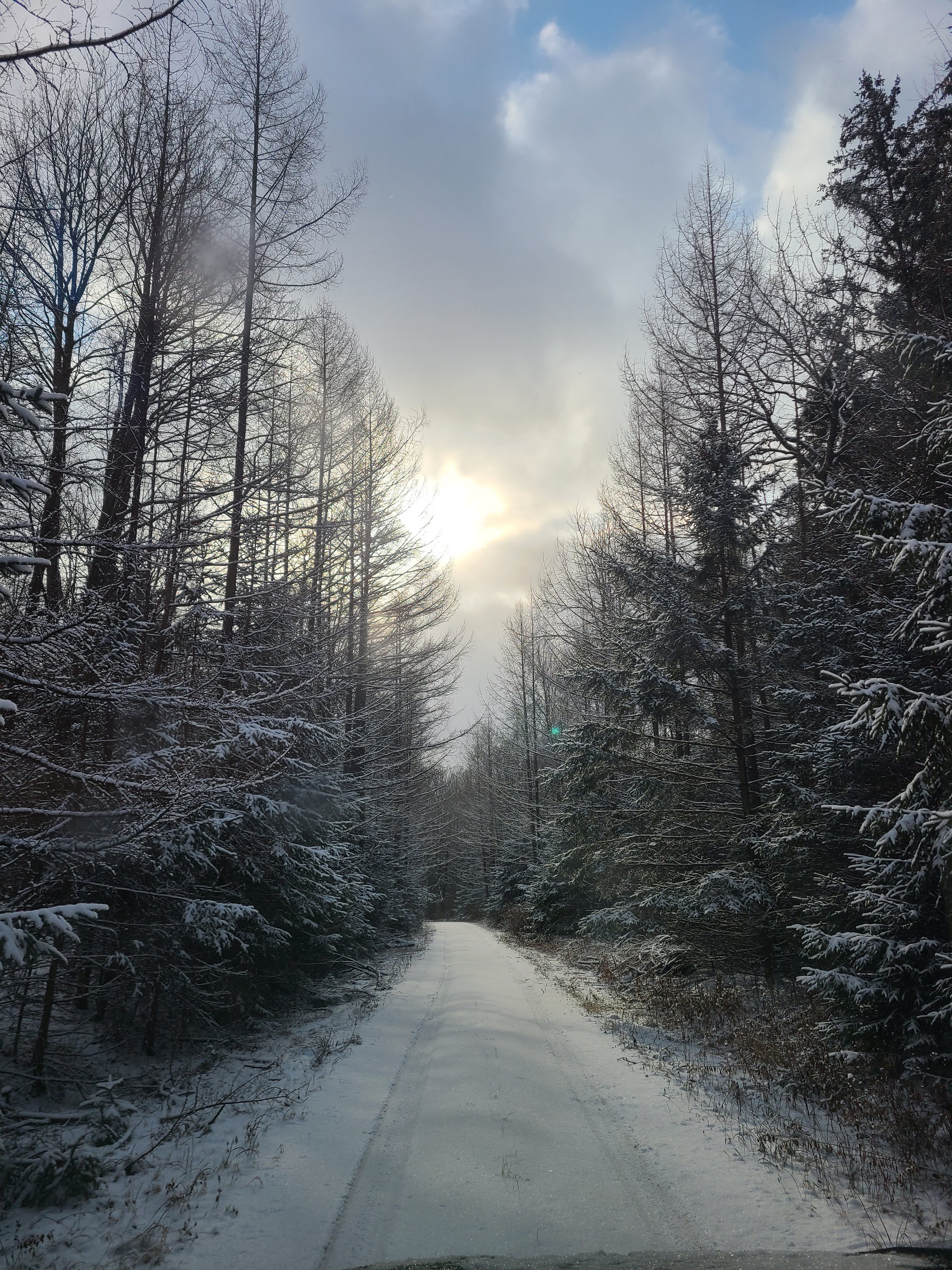 On the other hand, no snow means much easier driving conditions. We went over chain use but won't need to use them for a while. We're using this as an opportunity to check out some of the trails that aren't maintained in the winter so that we can get some trapping in before we get a real snow storm.
Other than that, we've all been working on doing online training modules and getting them out of the way before trapping begins. This week we have our official orientation (in-person this year!).
-Amanda
Northern Field Crew Leader
Game Commission Deer and Elk Section
——————————————————————–
From the Southern Crew:
Last week was the first week with our new crew and the beginning of the 2022 trapping season!
We spent our time doing all kinds of pre-trapping activities to get the crew and our trucks ready. There was a little bit of truck shuffling back and forth from the garage to get us to 2 fully functioning, ready-to-go trucks. Hopefully it will be 3 before the actual trapping season begins! Then, we made sure both trucks had all the needed gear for winter deer trapping and the crew also learned how to use our tire chains. We didn't have any snow at the beginning of the week but sometimes it can be nicer to learn how use chains when you aren't laying in snow and getting dripped on from the truck.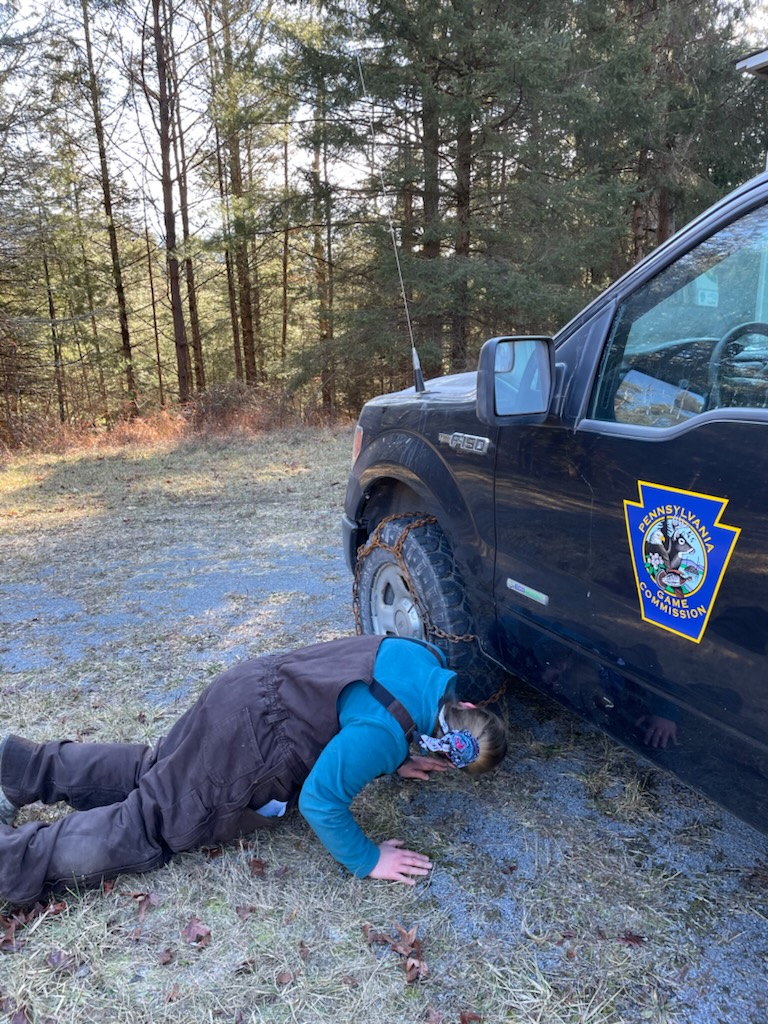 When we weren't having fun with truck equipment, the crew and I worked on our Clover traps. Some of them are in pretty good shape from last year but others must have had some rowdy deer captures in them because they needed a lot of material fixed and/or replaced.
Between some state forest tours, the crew also got to try their hand at radio telemetry and a collar drop with success! This doe was in Rothrock in the large hollow so there was a little bit of signal bounce that the crew had to contend with. However, they stuck to it and kept listening eventually figuring it out to walk right up to the dropped collar!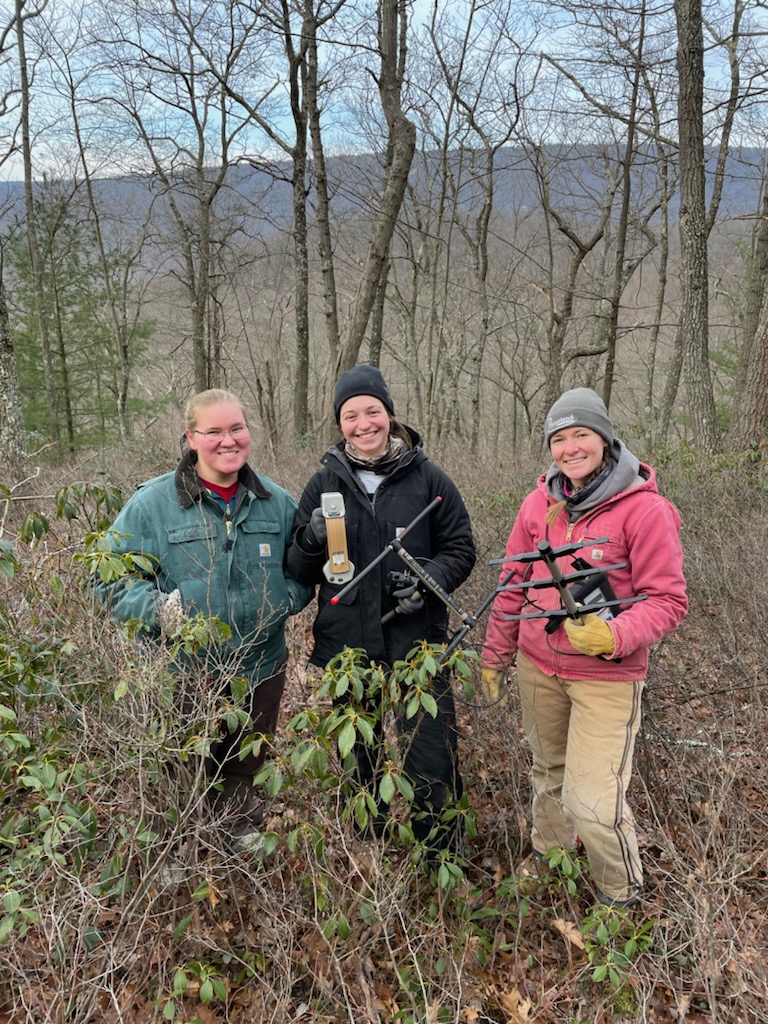 Have a good week!
-Levi
Southern Field Crew Leader
Game Commission Deer and Elk Section