A weak winter is turning into spring
From the Northern Crew:
The deer totals for this week only came to two. We captured a new juvenile male and a recaptured adult male. This keeps the total adult male captures for the season just slightly above the total adult female captures. However, when it comes to the young deer, a curious trend has been developing over the weeks. While we have captured several juvenile males, we have yet to capture our first juvenile female!
As we greeted March, we also welcomed our first taste of Spring-like weather. The snow is melting up here, and although it makes spotting deer sign more challenging, we are happy the roads are beginning to clear. However, it would not be a deer-trapping week without some kind of vehicle challenge.
Following warm days and freezing nights, very thick and slick sheets of ice can still be found covering large sections of the forest roads. We found a particularly icy patch early in the week. As we were making our way down one of the steepest slopes in our area, our truck managed to slide so badly that we were fully perpendicular to the road by the time we managed to stop! A sticky situation for sure, especially when you add a trailer into the mix. We were able to make it safely to the bottom of the hill with help from the Lyman Run State Park DCNR folks [those people are life savers].
We are starting to see an increase in deer sign around the forest. Perhaps the deer are feeling the effects of spring as well. Hopefully, we will have more captures next week. The warm weather may be an indicator that the end of the season is not so distant.
-Carolyn
Northern Crew LeaderPGC Deer and Elk Section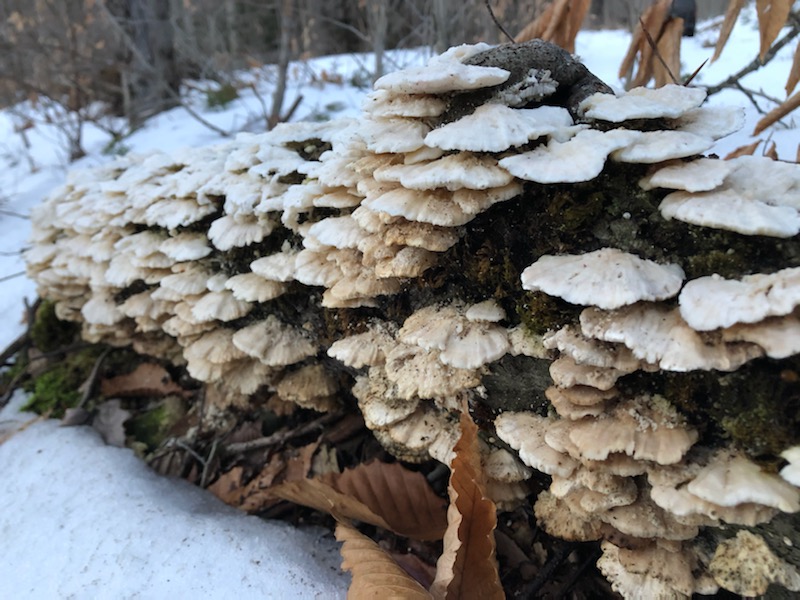 ---
From the Southern Crew:
Greetings from Rothrock/Bald Eagle! After a slight drop in activity last week, the deer decided to cooperate this week leading to 7 captures. We still need to deploy a few more collars to meet the quota for Bald Eagle, but we're almost complete for Rothrock. We managed to add another collared buck, who was actually a recapture from a previous year. The processing and fixing of the collar went fine, so we were somewhat surprised when we got a notification that he was in mort mode a few days later. Lucky for us and him, we headed to the location where he was supposedly laying and found nothing. The VHF signal from his collar indicated that he was alive and a pretty fair distance away likely a simple case of collar malfunction.
Other notable captures consisted of another adult doe in Bald Eagle and our biggest deer yet in Rothrock. We hadn't really caught anything huge all season, but we could just tell that this fella was a bruiser. Two of us got him on the ground while the rest of the crew tagged him, but he was still army-crawling out of the trap with two of us draped on him. Farewell friend, it was meeting you but please don't come back! Outside of these, we got the usual bevy of small, slippery fawns.
Rocket netting was once again a bust this week, but at least we had deer show up this time! After a couple hours of sitting in the blind, I was peering out with the night-vision binoculars when two pairs of glowing orbs started approaching the net. It was somewhat spooky the way they were walking, their heads real low to the ground making it hard to identify them at first. My adrenaline started going like crazy thinking we might have a shot, but they didn't stick around long. The pair never got within range but at least saw them. Baby steps, right?
With anticipated temperatures in the 50's and 60's this upcoming week, it's hard to say what our success rate will be. We've done just fine on these warmer days before, but it's also very reasonable to assume that our participants will be more finicky. Why risk the corn in the freaky-looking trap when there's no snow, it's warm, and new plant growth is starting to happen? Let's just hope for greedy deer.
-Ben, Southern
Crew Leader
PGC Deer and Elk Section 
If you would like to receive email alerts of new blog posts, subscribe here.
And Follow us on Twitter @WTDresearch