Sometimes winter, sometimes spring
From the Northern Crew:
It was a four-capture week on the deer-trapping front. Although three of these were recaptures, we were still able to put a collar on one. Going deep into the records, this deer was captured all the way back in 2017!
Our easiest capture of the week was a petite adult doe who was having as much trouble getting sturdy footing in the trap as we were. With the constantly changing weather conditions (snowing, melting, and then refreezing), many of our trap sites have developed thick layers of ice inside the trap.
With the inconsistent weather, the forest roads have been continuously causing problems. While it takes quite a bit of time to chain-up our tires, unchain them, and then re-chain, up to three times a day, we have found it to be a necessary precaution. We have been working with just one vehicle for several weeks now, but we were happy to obtain a second working truck on Friday! We welcomed this additional truck with great enthusiasm given our dire circumstances. Some major transmission issues have all but retired our previous second truck.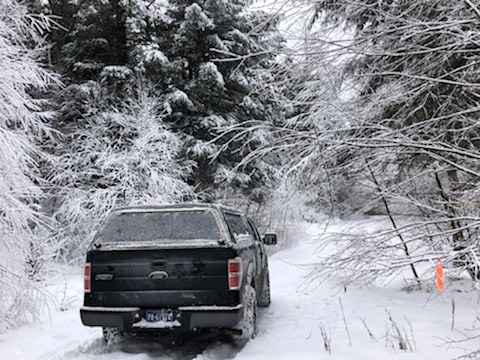 Although trips to the auto-repair shop are stressful affairs, a small spark of happiness in the form of a very friendly and playful chocolate lab named Finley is always there to meet us at the shop door. While I handle the truck conversations with Brandon, our very helpful mechanic, my crew gets to play with Finley. It is hard to pull them apart when it is time to leave. 
It is hard to believe that it is already March. While we are all a little anxious of the looming end to the trapping season, there is still a lot of time left to catch more deer! 
-Carolyn, Northern Crew Leader PGC Deer and Elk Section
---
From the Southern Crew:
Things were all hunky-dory to start the week until Old Man Winter decided to briefly rear his ugly head again.  In all fairness, we can't complain one bit as we've had a ridiculously mild winter. We've grown accustomed to these downright balmy days. So it was quite a shock to the system the second half of the week as temperatures barely got above freezing.  Thursday threw us a batch of freezing rain, driving winds, and a skiff of snow reminding us that it's not quite springtime yet.  
We managed 4 captures for the week, a buck fawn and three adult does, with all three females receiving GPS collars.  Two of the does collared in Rothrock proved to be rather feisty. One actually managed to pull the trap stakes right out of the ground flipping the trap sideways.  Lucky for us, she seemed to be a little disoriented, and we managed to restrain and process her albeit in unorthodox fashion.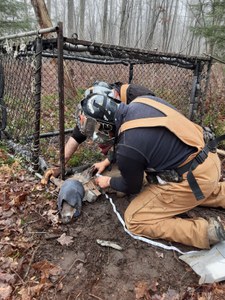 We were skunked again on the rocket net this week and are hoping these animals cooperate sooner rather than later.  Aside from finicky deer, we also had a few weather issues to contend with.  After a very warm, wet Wednesday, temperatures plummeted on Thursday and Friday.  As we checked our Clover traps on these days, it appeared that roughly half of our traps were frozen stiff. Even if a deer had set foot inside and hit the tripwire, the mesh doors wouldn't have closed properly.  We estimated we maybe lost two captures from it.  We expect big things next week with a big heatwave which always seems to put the deer on the move.

-Ben, Southern Crew LeaderPGC Deer and Elk Section 
If you would like to receive email alerts of new blog posts, subscribe here.
And Follow us on Twitter @WTDresearch