From the Northern Crew:
Trapping season is over! With only 5 captures and 3 new deer this week, we have called it quits for the season and have started pulling our traps out of the woods. Our very last deer of the season turned out to be a good one – a doe that received the last collar we had to get out. She was captured in a part of the study site that doesn't have any collared individuals nearby. Hopefully she lives long enough to provide meaningful data for that area. If she's a scrapper like she was in the Clover trap, I have no doubt she'll do just fine. While catching deer is quite the adrenaline rush, we're all relieved that the cage match portion of the season is over and we all emerged unscathed (mostly).
We have moved on to FLIR surveys. Using specialized infrared cameras mounted on our trucks, we drive pre-determined routes searching for deer. This information is used to calculate population estimates in the study area. Starting just before sunset, we use the cameras and special software to pick up heat signatures of deer then record the group size, distance from the road, etc. The technology is pretty remarkable as it allows us to pick up all manner of wildlife from deer to small mammals. We just started on Friday, but I think we're getting the hang of it.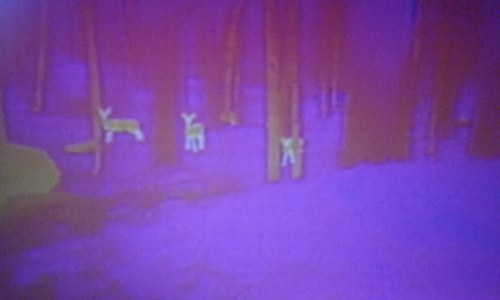 Now that spring is here, the forests are starting to come back to life. Several gobblers have put on roadside displays, trying to woo any potential partners. In fact, there were 2 jakes standing right outside a Clover trap with a deer into seemingly mocking their less intelligent woodland counterpart. Woodcock activity has picked up tremendously as well, particularly near one of our rocket sites. Entertaining little birds, but not so funny when they explode off the ground just feet from the blind you're sitting in. Even little spring peepers and toads are starting to emerge. Needless to say, it's a breath of fresh air to see spring arrive. Hopefully we'll have some cool FLIR footage to share over the next couple weeks.
-Ben
Field Crew Leader
PGC Deer and Elk Section
From the Southern Crew:
As I mentioned before, this would most likely be our last week of trapping due to deer activity and the weather. Deer activity around our traps was almost non-existent. At the start of the week we had 31 Clover traps open and it felt like we were only feeding squirrels and birds. Crew morale was getting low since nobody really wanted the trapping season to end. We continued to push forward this last week hoping for one more deer.
By Thursday we only had 12 traps open. We came up empty handed. We agreed that Friday would be our final day checking traps. As we headed out that morning, someone had asked me if I thought we would get a deer today. I confidently told them that we would! Now I have been pretty optimistic the whole season even during our 14-day lull in captures, and this time I was really hoping my statement was correct.
As we checked traps, it began to rain/sleet. Some of the traps looked to already have too much ice on the mechanism and we weren't sure if a deer would be able to trigger even if they went in. As we got to the end of the trap line, we had decided that the whole crew would walk to the last trap to close it down. Of course, I told them that they were going to have to go to the trap anyway because there was going to be a deer.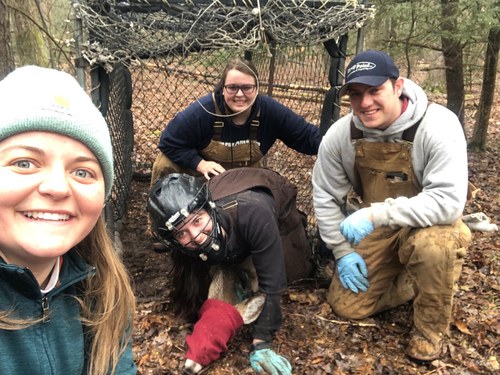 Well sure enough, we pulled up to our final trap and there was a deer! Someone exclaimed, "there's a deer, there is really a deer!" We bolted into the woods with a little extra excitement this time and captured our final deer of the trapping season. It was a recapture from a week or so before, a button buck. We took down his tag information, checked him over, snapped a quick photo, and released our last capture. The season couldn't have ended any better than that.
-Helen
Field Crew Leader
PGC Deer and Elk Section
If you would like to receive email alerts of new blog posts, subscribe here.
And Follow us on Twitter @WTDresearch