From the Northern Crew:
The heat wave brought with it continued trapping success with 13 newly tagged deer and a total of 25 captures. Tuesday we had 15 captures in one day! It's a good thing that happened because deer activity flipped like a switch the rest of the week. We speculated weather may have played a factor. Maybe deer don't like dreary, rainy, and overcast days either.
We performed our first collar retrieval of the season – one of our collared females in the southern Susquehannock kicked into mort mode. She was pretty accessible about 200 ft off a hiking trail. We didn't get to her quick enough to decipher cause of death as the only parts left were the spine, pelvis, and legs. There were numerous piles of deer hair scattered around the kill site along with coyote tracks and scat. While coyotes were evidently present, it's impossible to say whether they were a free meal or actually had to work for it. We retrieved her collar to use again.
We had our first successful rocket net capture of the year. The site had been getting hit consistently from 4:30pm-7:30pm daily and our expectations were pretty high. It was a fairly windy evening and we worried deer would detect our scent. A group showed up at 6:00pm. They fed on the bait pile we waited for the chance to fire. We fired on 2 bucks but the smaller buck closer to the edge of the net managed to escape. But the big one was safely under the net and was an excellent candidate for a GPS collar. This was also a great opportunity for the crew to experience the first chemical immobilization of a deer this season. This buck handled the processing great, recovered fine, and trotted off with a very expensive necklace.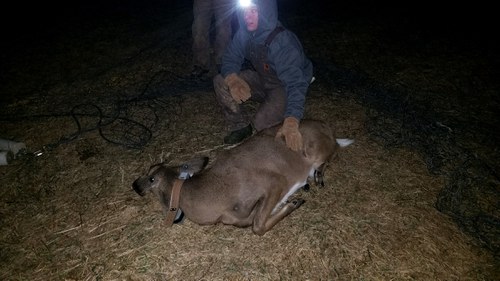 The number of recaptures from our Clover traps have been increasing, so we shifted most of our traplines. With the change of scenery, hopefully we'll be catching new deer soon.
-Ben
Field Crew Leader
PGC Deer and Elk Section
From the Southern Crew:
We set our traps in Bald Eagle for the week. With 12 traps out and pre-baited, we put 3 more out for the full trap line. One of the crew members had a friend in town so we had an extra set of hands. Bonus! Our first capture of the week was a black lab with no collar hanging around on the side of the road. He was very sweet and excited to see us. We knocked on some doors but with nobody around we took him to the nearest vet.
Our luck seemed to go downhill from there. We caught a well-behaved adult doe and fitted her with a GPS collar (the first deer in Bald Eagle for the season!). When we let her go she immediately rejected the collar refusing to get to her feet. We quickly captured her, adjusted the collar and let her go again. Nothing. We took the collar off and she hightailed it out of sight. I hope she doesn't tell her friends throwing a tantrum works!
We sat a rock net in Rothrock and got skunked there too. We saw 5 deer around our net, but none ever came close enough for capture. We may give this site one more chance before moving on to another location.
While we were empty-handed with captures, we did get a good amount of work
done. We were able to clean and organize the beds of the trucks. We had accrued a good amount of garbage and with one truck always being in the shop, our supplies were a bit of a mess. When we finished, we knew what supplies we had AND where they were.
We also able moved Clover traps from our old line in Rothrock to another location in the forest so they are ready to go when we are done focusing our efforts in Bald Eagle. This was all thanks to the help of our 4 volunteers. A few too many hands for trapping, but a huge help when it came to moving traps. A special thank you to them!
We got a new rocket net site established in Rothrock and have had a great amount of activity. I'm excited to see what this location has in store for us.
-Helen
Field Crew Leader
PGC Deer and Elk Section
PS. After reading this, someone may be wondering about that "first capture". The vet was unable to locate an owner and called to see if I wanted to take him. Unfortunately, he didn't seem to be dog friendly and we already have a resident canine. Thankfully, someone who was dog-less was more than willing to take him in. So it's a happy ending!
If you would like to receive email alerts of new blog posts, subscribe here.
And Follow us on Twitter @WTDresearch