From the Northern Crew:
Dear Deer People, 
Summer back to winter this week. With the lingering snow here in the North we struggled to get many pellet transects done, but we had some very successful nights of distance sampling [details on what this is all about next week]. 
We were unable to do pellet transects through most of the week. We had gotten about three inches of snow on Sunday and the temperature never got to a point to melt it all off.  And with small snow showers throughout the beginning of the week, any melting was erased. 
Time to catch up on office work!  I ended up getting a bunch of accordion style file folders and organized all the paperwork for the last 4 years. Everything is much more organized now and easy to reference. 
We are enjoying distance sampling and using the FLIR cameras. We have been seeing all kinds of critters with these cameras. We have taken video of deer, raccoons in creeks, raccoons up on trees, skunks, and porcupines! It is very interesting to see how each one of these animals throws a unique thermal signature. 
I am now down to 40-hour weeks.  The crew is still working on pellet transects with the help of Brandon. Both Tom and Brian have found some very impressive deer antler sheds while doing pellet transects this week. It is always an exciting bonus of the job.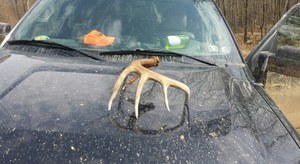 This week we are supposed to get quite a bit of rain and even some snow, but we will continue with pellet transects while doing distance sampling each night. This is looking to be the last week for the crew and we are trying to get everything done before hours run out. We are hoping that this will be the week that a bear shows its self on FLIR and that the snow doesn't hinder us too much. 
-Nate
Field Crew Leader
PGC Deer and Elk Section
From the Southern Crew:
Hello all,
Distance sampling and pellet surveys galore continued this week in the warming weather. The crew has been chipping away at the pellet surveys one by one. I anticipate this being the last week my crew is on. But there will be plenty of pellet surveys and distance sampling to complete once the crew finishes up.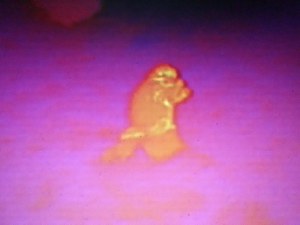 Overall, we had a good week. We started our first pellet surveys in Bald Eagle and continued to bounce back and forth between Rothrock and Bald Eagle to complete distance sampling. We got some great footage of a porcupine snooping around at the edge of the road in Bald Eagle. Each night, we completed either 3 or 4 surveys.
I completed a fawn mort run this week and discovered two fawns went missing. Possibly temporarily or maybe not, but I am going to search from them again in the coming week. I will complete a censorship datasheet for a separate fawn that has been missing for over a month now. I held out hope that I could maybe locate him again, but I think it's time. 
One of the collared fawns that I was searching for on Friday ran past my truck. Seeing her this close, but not hearing her signal until I used the H antenna, helped me to confirm my omni antenna wiring is bad. I whipped out the old back up omni antenna after this.
This coming week we will battle it out with some rain and snow. We will try our best to work around the rain, but will have to see how the weather changes over the week. We are hoping to knock out our pellet transects on Knob Ridge this week. I am hoping to recruit a few people to help out, but we shall see. 
-April
Field Crew Leader
PGC Deer and Elk Section
If you would like to receive email alerts of new blog posts, subscribe here.
And Follow us on Twitter @WTDresearch