From the Northern Crew:
Dear Deer People,
Last week provided some great weather for deer trapping. We are just shy of my goal of 100 captures!
We finally had all of our new trap lines fully established and started to catch some new deer. We had our third double deer clover capture of the year – a nice adult doe and a buck fawn. Kim and I both jumped into the trap to restrain the two deer. It is always fun having two deer, plus two adult humans in one small clover trap. Once they were restrained, both were surprisingly calm which was a nice change from the other two doubles we have had.
The crew hours are starting to dwindle so we are unable to sit more nets this week. We managed one sit, but the weather was not helping with on and off hard snow falls. We were hoping that deer would come out before the main storm, but they unfortunately never showed up.
By Thursday afternoon, catching 2 deer a day was MO. We had missed a few deer throughout the week from doors not dropping properly or deer blasting through the doors and breaking the cables that hold them together. This was frustrating to see. We doctored them up and reinforced others.
Friday was a very fun day. The first deer we captured on Friday was an enormous adult buck that was a brand new capture. He was by far the biggest deer of the season and it took two people to restrain him. We ended with 4 captures that day all of which were new deer. What a day!
This week, the crew will continue to cut hours. The weather is going to start warming up, but more of our traps getting hit. As long as the weather cooperates, we hope to keep catching deer. We are pushing hard to break the 117 captures from last year. It is a high goal to beat. Only time shall tell.
-Nate
Field Crew Leader
PGC Deer and Elk Section
From the Southern Crew:
Hello all!
Working last Saturday paid off for us! We captured two fawns on Saturday. One of the fawns had an injured but what seemed to be healed/healing front leg. We handled her with caution, but when upon release, you wouldn't have known the difference. She's a gimp, but that doesn't seem to have slowed her down.
We took the Juniata Wildlife Management Techniques class out with us on Tuesday to check Clovers in Rothrock. And the best part is that we captured a new buck with the class, Chris, and Bret along! [Quite an audience!]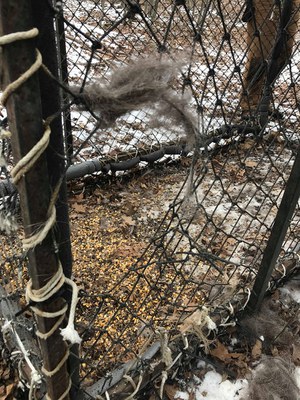 But we clearly had a deer escape and possibly two others escape from two separate Clover traps. Fur was scattered throughout a trap in Bald Eagle which was odd until we noticed a hole at the rear of the trap. The deer pushed itself through and made larger! Nothing I have seen before. The other trap was tripped, had deer tracks in it but no deer.
We rocket netted Friday night with no luck. The camera had been stolen from our rocket net site in Bald Eagle, so we decided to wing it and see if we could land ourselves some deer since we have put so much time into the site. I sat in the tree stand on what ended up being a cold and windy night on the ridge.
Fortunately, I heard the deer running in through the crunchy snow right around 7:30 PM. Perfect, I thought! This was about an hour later than we had previously seen on the camera and it made sense since daylight savings time had struck over the weekend. They lollygagged around a little before I heard them continue to run towards the site. However, before they reached the site, I heard them stop and one snort-wheezed once. I didn't hear them run off though. The wind had kicked up and sent a strong gust their direction. Over the course of the next half hour, the wind continued to be unpredictable with 15 mph wind gusts and at one point it started going across the rocket net field. I decided to call it a night.
We prebaited Clover trapping sites and Graham took a truck in to get the spare tire replaced since the crew got a flat this week.
We are moving some traps and very hopeful for some new captures. We are looking at another week in the forties but nights in the mid-twenties. No significant amount of snow predicted yet, but we will give it our best shot without the snow [they have snow now…at least for a few days].
Trapping season is winding down quick which is very hard to believe. The season always flies by. We have about two weeks of trapping left before we will call it quits and move onto pellet surveys. My crew has been very patient considering the slow season we have been having here in the south. A nice dusting of snow would be nice to help us out, though! [ask and you shall receive 😉]
-April
Field Crew Leader
PGC Deer and Elk Section
If you would like to receive email alerts of new blog posts, subscribe here.
And Follow us on Twitter @WTDresearch