From the Northern Crew:
Dear Deer People,
With my truck still in the shop and the four-wheel drive in the other truck not functioning, we were officially side lined for a day. Thankfully the truck was done in a timely matter for us to our week back on track.
Three recaps on one line told us that we were making the right move establishing new lines. We moved 3 old traplines to new lines that we have been getting ready. This big move would indeed pay off.
The weather was much better this week and our capture numbers definitely reflected that. Clover trap and rocket nets were both producing. We ended the week with captures from the brand new lines.
Tom dropped one of our trucks off in Lewistown to exchange for a newer one. The old truck is going to be surplused and after the four-wheel drive went out, we weren't sorry to see it go. It was great to have two functioning trucks again and not have everyone squeezed into one like the last two weeks.
Newly established lines with good weather will hopefully lead to more captures this week. It is crazy how fast things are coming to a close.
-Nate
Field Crew Leader
PGC Deer and Elk Section
From the Southern Crew:
Hello all,
We finally received a few inches of snow and slightly colder overnight temperatures – which meant a 3 collar week for us and our first successful rocket net capture in Bald Eagle!
As you can imagine, the crew was pretty hyped about our rocket net captures. I was initially concerned that our night was taking a turn for the worst due to changing wind conditions. After an hour and a half of seeing deer come and go, we had three deer in a secure position, so I gave Randi the signal. Low and behold, we finally had three beautiful deer!
We recaptured a doe sporting a malfunctioning collar that lost connection with satellites in March of 2015. We removed that collar and replaced it with a brand spanking new one. It had been over a month since we captured an adult doe in a clover trap. The weather has been so mild that there was no need for them enter our traps when there is natural food available. Since we had the conditions, we chose to leave our traps open for Saturday in hopes that we could land a few more captures before the weather warmed up again.
We closed a few traps due to mud and bears! Yep, you heard that right—BEARS! We had our first case of bears robbing and vandalism. We noticed some odd activity at a trap site in the middle of the week. The door was dropped and some minor damage had occurred to the foam. We placed a camera on the trap site to ID the culprit.
When we approached the trap Friday, it was obvious what critter had been visiting our trap site. The soil in the trap was disturbed with large tracks settled in the dirt, the corn was gone, and foam was destroyed. The trap was tripped and the rope was torn from the door loosening the netting and creating a large escape hole. There was also a hole the size of a basketball chewed in the netting at the back of the trap with a large hole dug in the soil where the thief reached in to pull the corn out of the trap.
We checked the camera and discovered that it was not only one bear, but two! Both were tagged during the Fawn Study. The raccoon cleanup crew visited both nights after the bears for good measure. Needless-to-say, that was the end of that trap site. [see the below pictorial for how it unfolded]
Bears find trap:
Bear enters trap: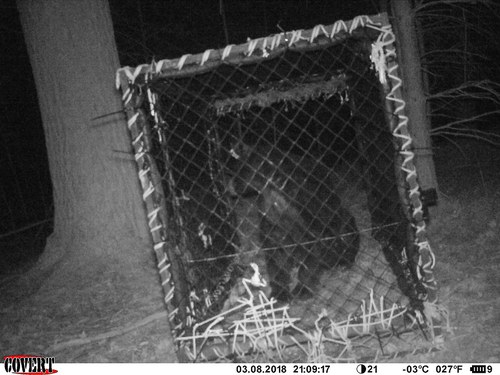 Bear trips trap: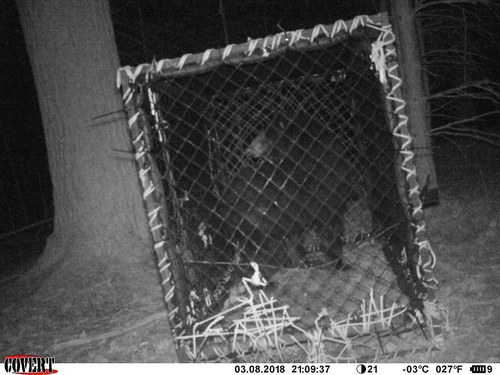 Bear clean up crew: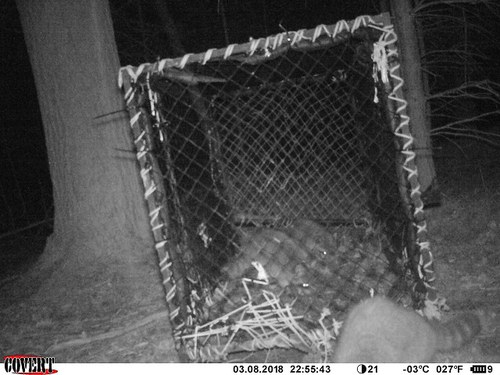 The aftermath: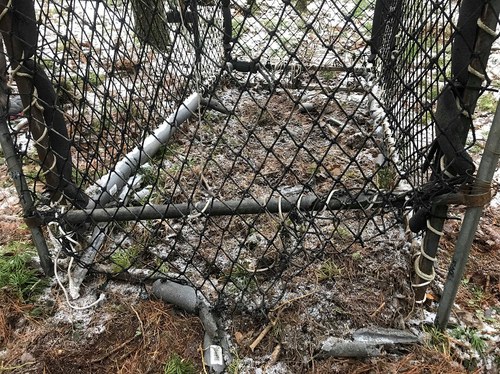 We are quickly running out of hours and trapping time. Nick is leaving for another job the beginning of April, so we have been trying to take advantage of the hours he has left to assist in pre-baiting Clover trap and rocket net sites.
-April
Field Crew Leader
PGC Deer and Elk Section
If you would like to receive email alerts of new blog posts, subscribe here.
And Follow us on Twitter @WTDresearch