From the Northern Crew:
After coming into the week with high expectations, our hopes were dashed with a less than average number of captures. We're down to the nitty-gritty, quite literally, here in the Susquehannock.
We've entered the mud and ice portion of the season, with the daily freeze and thaw cycles making tire chains mandatory to access our traplines. These fleeting warms spells have effectively converted the insides of our Clover traps to slurry pits, adding a new, grimy twist to the task of deer takedown.
We try to move the traps so they're not just standing puddles, but with all this melt and runoff, it only takes one captured deer to muck up the inside. However, if it's a by-product of a successful capture, we can live with that.
The week consisted of a blend of new and old deer, headlined by a trap-happy little fawn recapture, one of our does whose collar transmitted a mortality signal (but is quite alive), and an adult buck who received the final male collar of the season.
We've now met our quota of 3 bucks and 7 does for each study area, and have just a few more extra doe collars to put out in the right spots. Wish us luck as we hope to catch some mature does in areas that don't have any collared individuals yet.
One of our stranger encounters involved a juvenile male this week. While driving up to the trap, we could see him bouncing around as captured deer typically do. All of a sudden, he hit the deck and disappeared from view. Our initial reaction was "Oh my, did he just keel over dead?"
He laid flat out with his head down against the ground; it appeared he had channeled some long-dormant, neonatal instinct to hunker down and be still. Sorry buddy, but you're too big for that to work now. Regardless, he scampered away just fine after processing.
The forests of the north must be springing to life after a deep winter slumber, as other wildlife sightings have increased greatly. Turkey and ruffed grouse sightings are up, as well as certain visitors to our rocket net bait sites (who knew gray foxes loved corn so much?).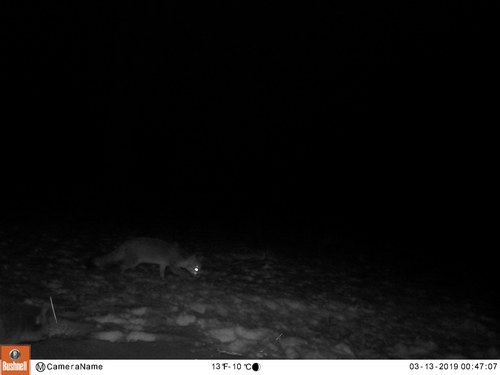 We got skunked a few times on the rocket net this week, with a wily old doe outsmarting us one evening. Towards the end of the week we had a successful rocket capture, but it involved some patience. We had hoped some deer would show around 7:00pm, and boy did they ever.
Eight deer entered the area, with 5 on bait. However, we couldn't jeopardize the safety of the animals by firing on more deer than we had people, so it was a waiting game for the herd to thin out a bit. Luckily, we ended up capturing a doe and fawn. With the amount of activity there, something tells me we'll get a chance to capture more deer.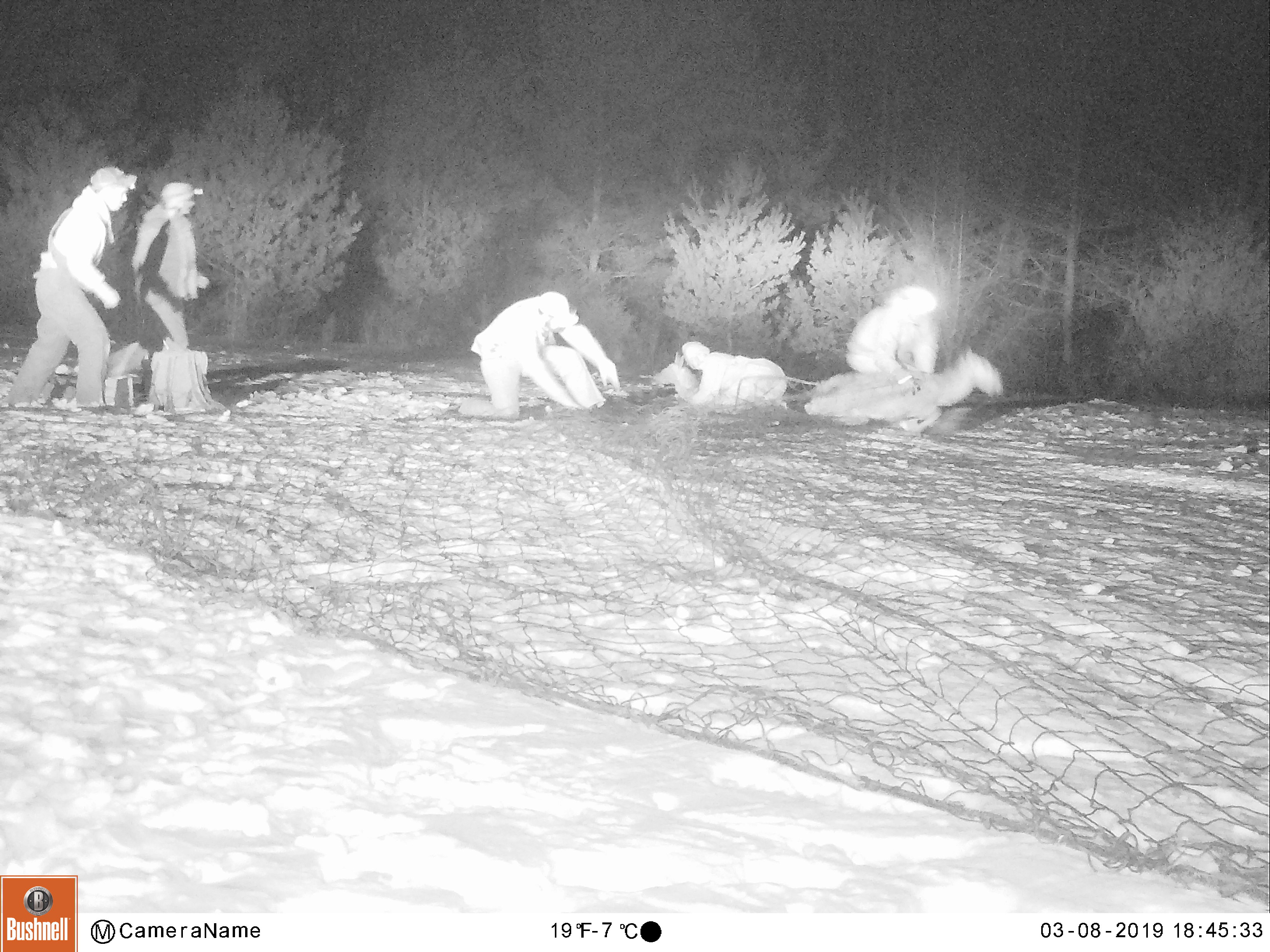 -Ben
Field Crew Leader
PGC Deer and Elk Section
From the Southern Crew:
As we hoped, the warm weather really made for an exciting week, capturing a total of 4 deer! It even made working conditions more comfortable and at times maybe a little too comfortable considering we like to layer up for some extra protection when handling the deer. So even being too warm in our gear, the crew was having a blast with captures. All the deer this week had some interesting stories.
First, the fighter, was an adult buck in Rothrock. This buck was determined to not let the tacklers get a hold of him and after a brief struggle, he quit fighting and just stood his ground. This made it difficult to take him down, but we did manage to restrain him, and he was processed quickly.
Next the escapee. We captured a button buck in Rothrock and everything with our processing went well. This Clover trap had a trail camera because deer had escaped from this site in the past. Looking over the camera card we noticed that when this button buck was captured, there was another juvenile in the trap! (He should've been taking notes when his buddy managed to escape). We even saw that two other deer came to check out the captured button buck before we arrived the next morning. This is a very popular trap site where we hope to have more success in the coming week.
The third deer was an adult doe in Rothrock. She laid down in attempt to hide from us until we got closer. We processed her as usual and gave her a GPS collar but, unfortunately, she wasn't a fan and tried kicking off the collar, after some adjusting, we decided to take it off. Taking the collar off was a bit of a bummer because she would have been the last doe we needed to collar in Rothrock to meet our quota for the season.
Fortunately for us, we captured another adult doe the following morning. This trap was staked down nicely but with the melting snow the ground inside was solid mud. Our main and back up tacklers were pretty muddy by the time we were done.
This doe was fitted with a GPS collar, and we hoped that she would be more accepting. As I affixed the collar, I decided to tell her that she was just fitted with a beautiful, new set of earrings and fancy necklace, and that all the other doe would be jealous of her new stylish looks. It must have worked because she released perfectly, and we were able to reach our Rothrock collar quota!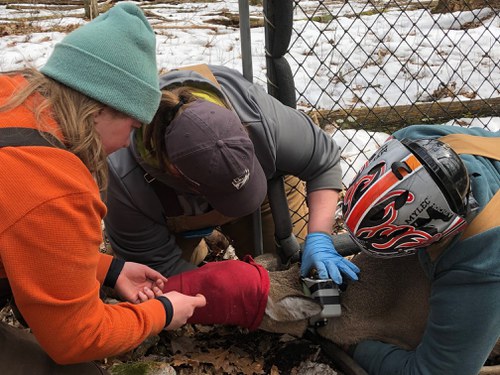 We also attempted an early rocket net, because when the weather changed our evening group began coming around 8AM. So, we headed out and were set up by 7AM and sat a few hours but they decided to switch back to their evening schedule.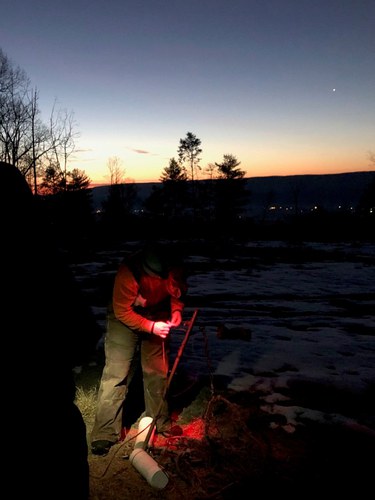 With the coming weeks' weather, I would hope that capture success continues. However, as more natural food becomes available the less likely deer will be to enter our traps. So, we are going to work to make sure our sites are irresistible!
-Helen
Field Crew Leader
PGC Deer and Elk Section
If you would like to receive email alerts of new blog posts, subscribe here.
And Follow us on Twitter @WTDresearch