Buck 28356 was at least 3.5 years old in 2018. Unfortunately, he won't be getting any older as he was harvested on opening day of the 2018 rifle season.
His home range was just north of Rte 44 in an area with travel access only via gated logging roads. The elevation ranged from about 2000' at the stream to 2460' on the tops of the ridges. You can see for yourself. Plug Latitude 41.691535, Longitude -77.863201 into an online map – the coordinates are near the center of his home range.
If we generalize, Buck 28356 is pretty typical in his movements. In early October, he averaged 97 yards per hour. Note that there are only 2 locations when he traveled less than 5 yards in an hour. The breeding season technically has started but only a few does are in estrus at this time, but the bucks know what's coming.
Slow and steady wins the race. Bucks do not travel fast, but they travel constantly.
In late October, he averaged 88 yards per hour. Statistically not different from early October. However, he does start to expand his travels further south.
In November things change big time! He now averages 259 yards/hr and he greatly expands his home range. The only locations where movement was less than 5 yards/hr were in a clearcut. Did he find a lady friend there?
You've seen the graphs of the turning angles of his movements. Below is November's graph to refresh your memory.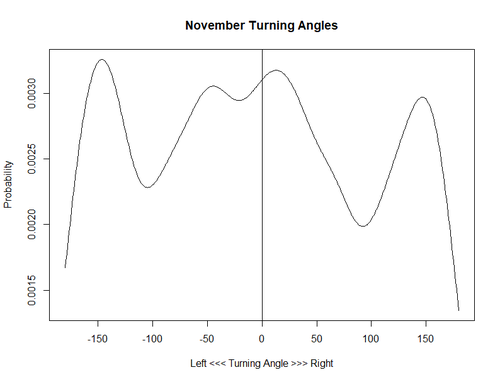 Notice how there are peaks at -150 degrees and +150 degrees. Evidence that he made long-distance moves across his home range, then made a near about-face and headed to the other side of his home range. By crisscrossing his home range, he is maximizing opportunities to find females in estrus.
-Duane Diefenbach
If you would like to receive email alerts of new blog posts, subscribe here.
And Follow us on Twitter @WTDresearch