From the Northern Veg Crew:
Week 6 was short and sweet! We found raspberries (
Rubus
sp.) for the first time in the north. In that respect, this week was quite literally the sweetest we have had so far.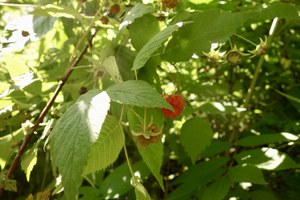 This is science in progress. We aren't the first veg crew and we won't be the last.

To that end, we always try our best to leave nice little notes and maps for future crews.

So they can work easier and more efficiently than we do!

No sense repeating the mistakes of crews past.
A couple of years ago, the crew hiked about a mile to get to a plot. They really hiked! Down a mountain, across a stream bed, back up the other side, and down a little bit more! Look at the photo below—they hiked from that ridge over there!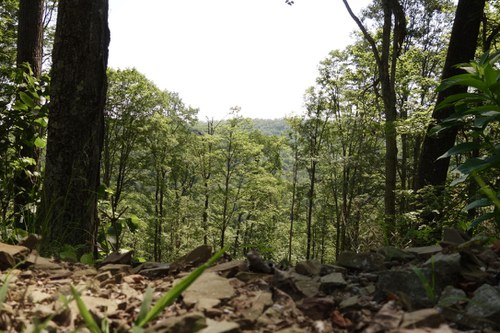 Thankfully, we found something a little easier on our journey to that place. The photo below is taken from the same place as the previous one, about 250 feet from the site we were trying to get to! A picture is worth a thousand words.

We'll be sure to leave a note for next year's crew.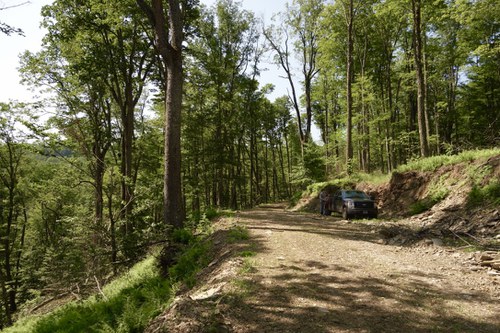 The most complicated gate in all of Susquehannock has three separate locks on it in puzzle fashion. This week as we were trying to get home before a downpour (spoiler – we didn't) and Zach had to open it. And to add insult to injury, I had to take a little extra time to photograph it.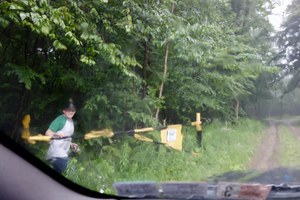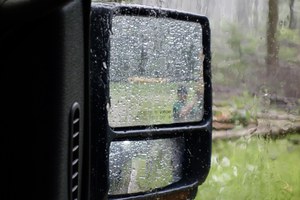 -Jacob
Northern Veg Crew Leader
From the Southern Veg Crew:
The weather was our biggest challenge this week. With a heat index of over a hundred degrees, we did our best to stay safe and be productive. It's not easy climbing ridges in this weather. But the boys from the south were up for the task.
Monday greeted us with one of the more demanding plots of the field season. The hike involves a steep ascent up a ridge, a short hike on a flat section of the Mid State Trail, and a quarter mile of bushwacking through mountain laurel. High heat and humidity increased the difficulty. I'm glad we chose to do it first thing in the morning.
However, we were still on that ridge top during the hottest part of the afternoon. It was like working in an oven. Any time spent in a break of the forest canopy was brutal. I advised the crew to limit exertion and drink plenty of water. Heat warnings are no joke and we did our best to stay safe!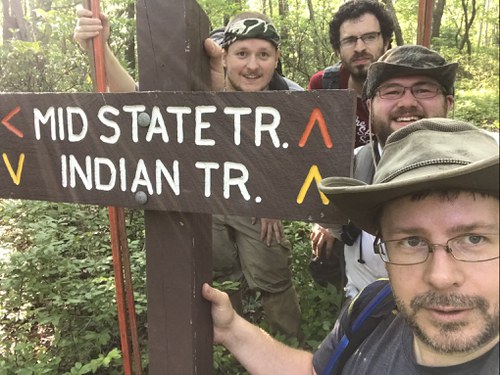 The next day provided a couple of interesting sites. One of our hikes took us under a hemlock stand where we found Putty Root Orchid. I spied the peculiar plant growing out of the moss next to a small stream.
This species only has a reproductive stalk during the summer. It does most of its photosynthesis in the colder months when it grows its leaves. That was the first time I saw this species and had a great time learning about it.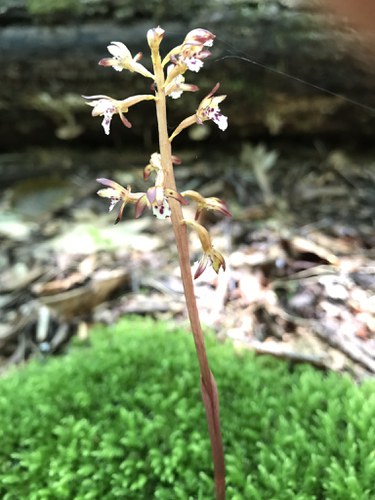 Towards the end of the week, the weather got more bearable. Unfortunately, we got kicked out of one of our plots by a passing thunderstorm. We worked though the rain but retreated when the thunder roared.
Here is Curtis showing a Chestnut Oak some love.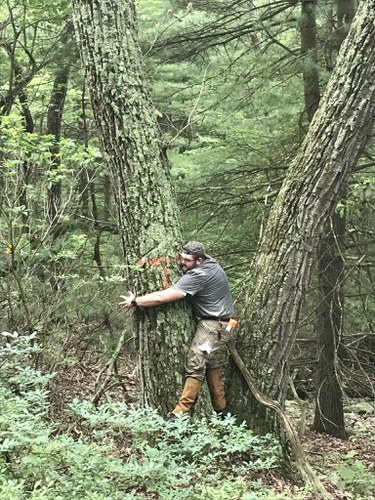 Oh, one more thing. Did I tell you that Indian Pipe is emerging from the forest floor? It's certainly one of my favorite plants! It is ghostly white and does not photosynthesize. Instead it parasitizes mycorrhizal fungi for energy.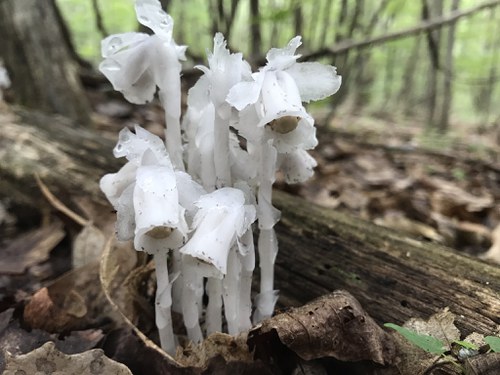 -Mike
Southern Veg Crew Leader
If you would like to receive email alerts of new blog posts, subscribe here.
And Follow us on Twitter @WTDresearch