From the Northern Veg Crew:
It feels great to finally be free to explore (read: work long days in the hot sun, fighting ticks and flesh-eating flies) in Potter County after our intensive training over the past two weeks! It's good to be a plant-nerd. It's not often you get to see the rare sight of this nerd herd in nature, staring at tiny plants for ten to twelve hours a day—but if you're out and about in northern PA this summer, there is a chance you might catch a glimpse or hear muffled curses as we carry field gear through dense understory.
In all seriousness, the members of the northern veg crew are loving Susquehannock State Forest! We are all excited to learn and are delighted to be able to share our experiences with readers each week!
This week we started with a bang with larger-than-usual plots in treated areas (harvest/herbicide). This came with a few challenges, such as plot stakes hiding from us underneath fallen trees or lying flat on the ground. I have been very impressed with the ability of crew members to locate these small stakes in difficult areas.
There is a point, however, where no amount of skill can help find your stake. For example, Zach and Rosa discovered that one of their plots had been completely replaced with a new road! No surveying to be done there!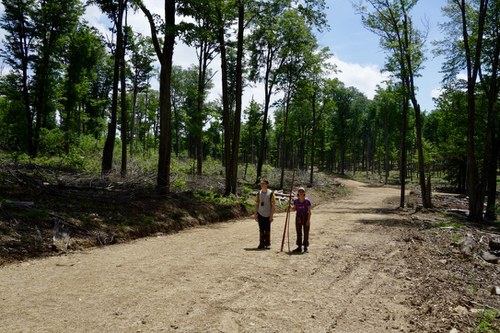 The most important lesson we learned from training was to NEVER TRAMPLE THE MICROPLOT. Jacob encourages us to find ways to survey those little plants without trampling them! Efficiency is sometimes called creative laziness—and for good reason.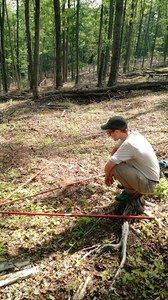 The plots we surveyed this week also had quite a bit of measurable deer impact. From extreme browsing to a lack of certain plant species (and poop), it was clear to us that the deer had been there. Check out this bonsai Eastern hemlock (Tsuga canadensis) found near one of our plots! This tree is probably pretty old for its size, and has been taking a beating from the deer browsing!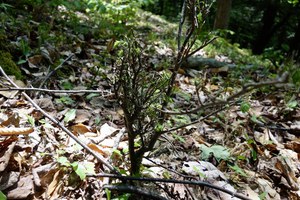 While hiking out of one of our treatment areas, we came across a garter snake (Thamnophis sp.) shedding his skin!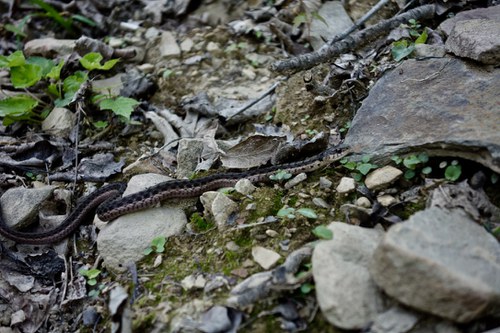 Once he had finished, we were left with one of the freshest and most pristine snake skins any of us had ever seen!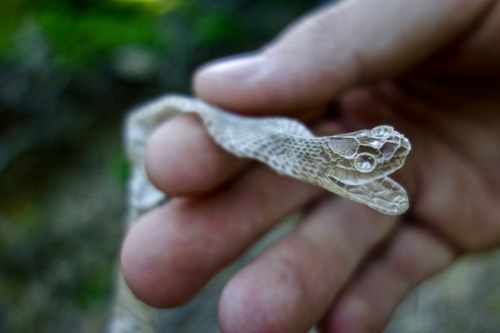 In the spirit of learning new plants, here is a quiz to end this week's blog post: try to identify all of the little green stuff in these photos!
Q1: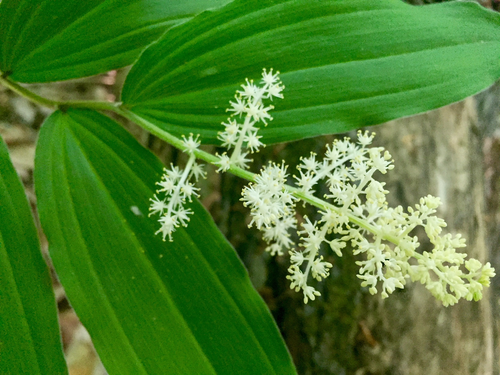 Q2: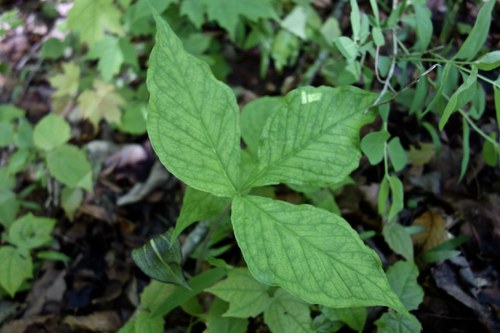 Q3: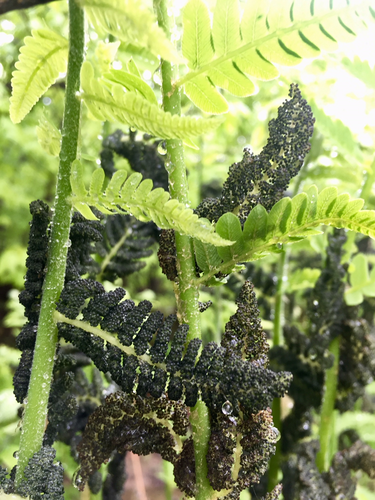 Q1 = False Solomon's seal (Maianthemum racemosum)
Q2 = Jack-in-the-pulpit (Arisaema triphyllum)
Q3 = Interrupted fern (Osmunda claytoniana).
-Jacob
Northern Veg Crew Leader
From the Southern Veg Crew:
Greetings from the boys in the south! We will be exploring all things green in Rothrock and Bald Eagle State Forests. Let it be known that most of our crew are wildlifers (those of us trained in wildlife science or management) that have turned to the plant side. Yes, plants are that cool!
After two intense weeks of training, we are ready to botanize. Those eighty plus hours were a whirlwind tour of Pennsylvania's flora, an introduction to crewmates and study areas, and an understanding of our complex data collection protocol.
We are glad that we passed all tests with flying colors. Indeed, our botany skills have been fine-tuned and polished. Our team is functioning like a well-oiled machine. We, as plant-nerds, are ready to dive into our field season.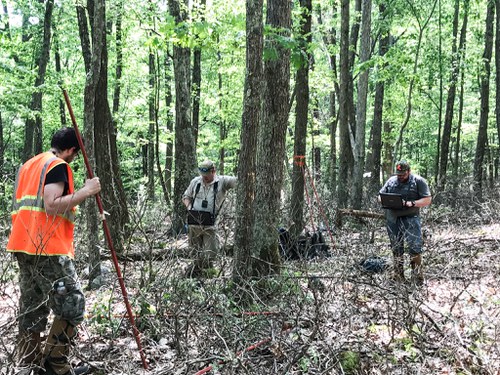 Our first week included a rather ambitious schedule but we were up to the task. We surveyed 66 subplots that included two treatment areas, two of Danielle's superplots, and three normal plots. Not bad for our first week! Luckily, we knocked out one of those superplots as our "final exam" that concluded our training last week. Additionally, one of our normal plots was under a hemlock stand (almost bare forest floor) and another was missing a subplot because of its location near a road. Thunderstorms threatened our productivity but they never came and we completed our mission.
While surveying our first plot this season, we discovered an impressive eastern rat snake. He was shy and didn't want his picture taken. However, this beautiful red salamander posed for the camera.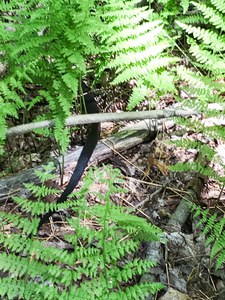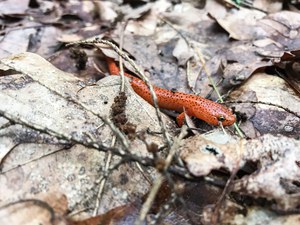 The plots we visited showcased diversity in an otherwise ericaceous landscape. Rothrock and Bald Eagle are dominated by mountain laurel, rhododendron, blueberry, and huckleberry. This week, however, two of our plots were located in lowland areas with rich, moist soil. Here we observed an abundance of indicator plants and other less common species.
These areas are not only interesting but break up the monotony of cataloging vast quantities of ericaceous species and challenge our plant id skills. Conversely, the treatment areas we surveyed look like wastelands at first glance. These areas were sprayed with herbicide in years past and have a stark understory. It's always interesting to visit these places (treatments, clear-cuts, or other disturbed areas) and see what is returning to the forest floor.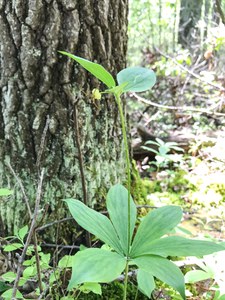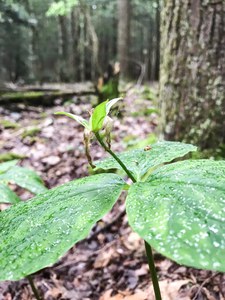 Overall, we had a great first week and we are excited to see what the summer brings!
-Michael
Southern Veg Crew Leader
If you would like to receive email alerts of new blog posts, subscribe here.
And Follow us on Twitter @WTDresearch