The date is set every year – when the sun rises on the Monday after Thanksgiving, the chase begins. An army of deer hunters enters Penn's woods.
While these games are deadly, there are many winners. And when the dust finally settles after those 2 weeks, many deer tributes still stand – outwitting and outlasting the army of hunters. But what are the odds a doe, fawn, or buck will succeed? Or for that matter, how long do hunters last? How long will they roam the woods in the hopes of outsmarting a deer tribute?
In the beginning, the drive is strong in hunters. If you hunted the rifle season every possible day, you'd have 12 days to chase those elusive deer tributes. But the average rifle hunter chases for only 4 or 5 days.
In 2013 about 762,000 hunters entered the woods. They took 352,920 deer (134,280 antlered and 218,640 antlerless). About 1 in 6 hunters brought home a buck and about 1 in 3 at least one deer.
What's the playing field look like for deer?  All of Pennsylvania is in play, so where you live makes a difference. If a deer hails from "District" 2G and is female, the odds are on her side. Eighty-eight percent of females will survive their first round as fawns. And 83% will make it through their second. After this, each year 89% of females will survive the hunting season. These girls know how to outsmart the army. They have to – it's life or death. 
Almost 29% of the adult females in 2G are 6.5 years old or older.
The odds aren't quite as good if you are a male. Less than 9% of males in 2G are 6.5 years old or older. If you are sporting antlers on your head, everything changes.
Only 69% of males survive their second encounter with the army (which would be their first with antlers). When the next season arrives, 30% are harvested.
But those odds for a buck in 2G are still pretty good when you consider the survival of deer from "District" 2D…
Deer from 2D have an uphill battle. Only 78% of them (male or female) will survive their first season as fawns. Only 68% of females survive their second; while only 15% of males survive to experience their third hunting season! Less than 2% of males in "District" 2D are 5.5 years old or older!
It is obvious what district you want to be from if you are a deer that wants to stay alive in Pennsylvania. In fact, we recently found the Katniss Everdeen of the deer world. Our first meeting with our heroine was in 2001 when we tagged her as a cute yet clever 8.6-lb fawn in the Quehanna Wild Area in "District" 2G. We hadn't seen or heard from her since 2002.
But last month she reappeared – her photo snapped on a trail camera.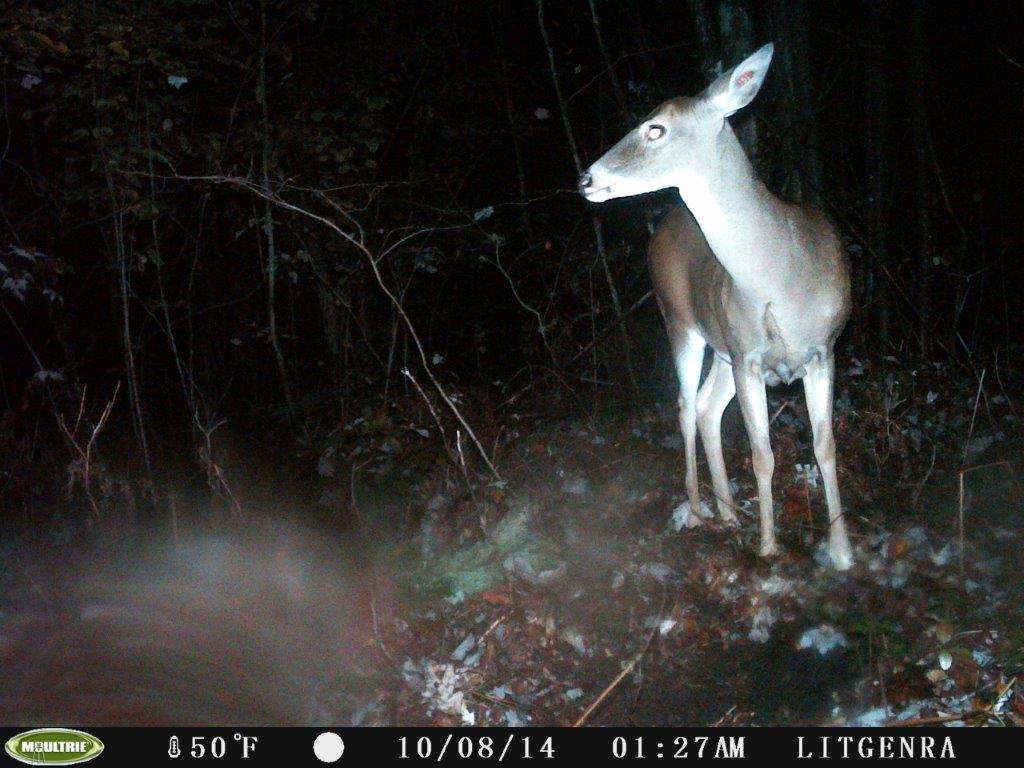 Ms. Everdeen is now 13.5 years old living in the same area where we first met her. Her odds of surviving to this age? About 1 in 100. If we were ever to crown a victor of the Deer Hunger Games, she would be it.
-Jeannine Fleegle
Deer and Elk Section Biologist
Postscript
How do we know all this about deer in Pennsylvania? For more than a decade we have captured and fitted thousands of deer with radio-collars and monitored their fates. Add to that the thousands of hunter-killed deer that are field-checked each year by PA Game Commission staff and we get a pretty good picture.  From these harvest and survival rate data, the age structure of the population in each wildlife management unit can be reconstructed. The rarity of coming across a deer that has survived 13.5 years simply confirms the accuracy of the conclusions we make from these data.
If you would like to receive email alerts of new blog posts, subscribe here.
And Follow us on Twitter @WTDresearch